Six hours of free acting & filmmaking workshops will be held on Saturday, April 6, 2019.
About this event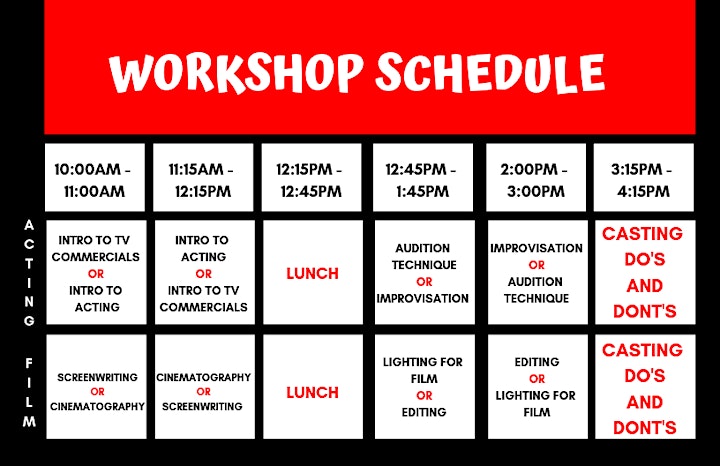 ** PLEASE ONLY SIGN UP FOR ONE CLASS PER HOUR**
This event is geared toward students seeking professional training, and/or a college education in Acting & Motion Picture Production.
*THIS OFFER IS ONLY FOR HIGH SCHOOL SENIORS/GRADUATES AND ADULTS. *
INSTRUCTIONS:
Please choose ONE workshop for EACH hour by clicking the ticket for the workshops of your choice and following the instructions OR call the school at 214.638.0484 to reserve your spots.
*There are two workshops offered per hour for each program.
EXAMPLE FOR ACTING:
10AM-11AM: Intro to Acting
11:15AM-12:15PM: Intro to TV Commercials
12:15PM-12:45PM: Lunch
12:45PM-1:45PM: Improvisation
2PM-3PM: Audition Technique
EXAMPLE FOR FILMMAKING:
10AM-11AM: Screenwriting
11:15AM-12:15PM: Cinematography
12:15PM-12:45PM: Lunch
12:45PM-1:45PM: Lighting for Film
2PM-3PM: Editing
(You have the option to mix and match between film and acting if you choose)
Once you've signed up and attended the workshops of your choosing, you will be granted an opportunity to partake in a Q&A with a casting director and talent agent. You must have attended at least 2 workshops to qualify for the Q&A.
We're excited to have a great day with you all! If you have any questions or concerns, please call 214.638.0484 or email admissions@kdstudio.com!
Organizer of LIGHTS, CAMERA, ACTION: A DAY OF PROFESSIONAL ACTING & FILMMAKING WORKSHOPS