LIGHTROOM 5 PRINTING WORKSHOP: How to Choose Fine-Art Papers and Print Your...
Location
New York City (14th St. and 9th Ave.)
New York
New York, NY
Description
LIGHTROOM 5 PRINTING WORKSHOP: How to Choose Fine-Art Inkjet Papers and Print Your Images
Instructor: Andrew Darlow
DATE: Saturday, December 7, 2013
TIME: 1:30pm - 4:30pm
Location: New York City (14th St. and 9th Ave.). Address will be disclosed to attendees.
This Event is Limited to Just 10 Participants
Each participant will receive 40-50 sheets of letter-size fine-art papers from more than five different companies, including:
• Canson Infinity
• Hahnemühle
• HARMAN by Hahnemühle
• Moab Paper
• Museo Fine Art
• Premier Imaging Products, and
• Red River Paper
Andrew Darlow demonstrating how a print looks under gallery light while teaching a printing workshop at an Arts Cener in NJ.
Level: Intermediate to Advanced
Who Should Take This Workshop: This workshop is ideal for those who have some working knowledge of Lightroom and inkjet printing (or printing with a pro lab), and who want to learn how to streamline the process and start making consistent, high quality, color-managed prints.
Andrew Darlow (right) with three participants at a printing workshop in NJ. SoLux lamps and bulbs with a range of color temperatures are shown in the photo, and will be used during this workshop to show how you can quickly match your photo lab or home/studio-made prints to your monitor(s). (Photo Credit: Jim Roselli)
Workshop Overview: Adobe Photoshop Lightroom 5 is a powerful application with many features to help photographers of any level work more efficiently and print more effectively to either desktop or lab printers. In this three hour workshop, award-winning author and photographer, Andrew Darlow, will cover the following:
• An overview of a proven, easy-to-use system for importing media cards and organizing your photo collection (never see another question mark in your catalog(s) again!;
• An overview of Lightroom 5's Print Module;
• How to use the Print Module to do a color-test for any desktop printer or Pro lab;
• How to use the Soft Proofing features in Lightroom 4 and 5;
• How to choose the right lighting in which to view your prints;
• How to choose the right paper for your specific needs (books, portfolios, cards, fine-art prints, etc.);

• How to use paper profiles (a.k.a. output profiles) properly, and how to find and test profiles from different paper companies;
• Sharpening techniques for popular types of photos;

• Tips for custom cropping, and how to make contact sheets;
• Tips for batch processing (creating JPGs from RAW files, for example); and
• How to save Print Presets and apply them to one or many images.
Print Samples: Sample prints will be shown by Andrew using the same papers provided in the sample sheet pack, with specific written descriptions about the papers so that you can easily find the right paper for your projects (and budget).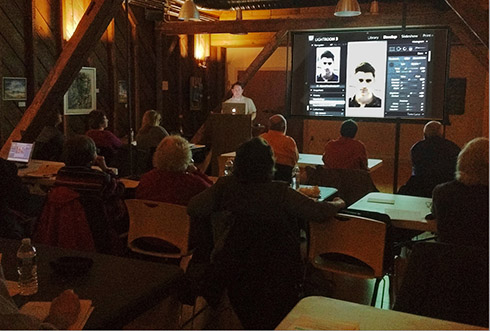 Andrew Darlow conducting a Lightroom workshop in Princeton, NJ
Mac OSX will be used, but Windows-specific information will also be explained for those who use Windows. You are welcome to bring your laptop, however it is not required. Those who register for this workshop will receive a printed course guide and link to a webpage with many additional resources. Each attendee will also receive a small high quality, semi-gloss color calibration print (about 3x3 inches) of the file Andrew recommends for testing, as well as a link to the file so that you can compare it to your screen and your prints in Lightroom or Photoshop.
-----------------
A few testimonials from prior attendees of a similar workshop:

"I am a platinum printer with the need to make enlarged digital negatives and have been contracting this work out because even though I have followed the various blogs, I didn't understand the requirements of what it means to be a digital printer. Andrew's class gave me the framework to understand the process. He discussed the various options for hardware (equipment AND papers) and software from an unbiased, user viewpoint. This is VERY important. The week before I took Andrew's class I went to the NY PhotoPlus Expo hoping to get a handle on my digital printing questions by talking to the various company reps and came away even more confused! Andrew clarified all the sales hype and in a very straight forward manner showed what is needed to make great digital prints. Using participant's digital files, he printed the images on various papers demonstrating the strengths of each and he also demonstrated the power of using Photoshop in such a clear manner that it is no longer a scary, black box, but a tool to be used. I highly recommend this class for anyone wishing to make digital photographs, and for experienced digital printers who wish to make better digital photographs." -Lyle Allan

"Andrew gave a clear and detailed overview of printers, inks and most importantly settings that control the final quality of the prints. I love knowing that there is such a vast range of papers to choose from and how to get the best results from them. I stayed up quite late last night experimenting with the settings discussed in the class and I ended up with a print that I am pleased with! This is great, thanks so much for unlocking this mystery! The workshop more than exceeded my expectations." - Polly W.
-----------------
BIO-Andrew Darlow
Andrew Darlow is a photographer, author and digital imaging consultant. He is the former Editorial Director of Digital Imaging Techniques Magazine, and the current editor of ImagingBuffet.com, an online imaging magazine. His photography and how-to articles on topics from marketing to fine-art printing have been featured in numerous magazines and websites, including Photo District News, PDN Gear Guide, Popular Photography, Rangefinder, and Studio Photography magazine. For more than 15 years he has taught thousands how to improve their photography, workflow and digital print output at conferences, industry events, and educational institutions, including the PDN PhotoPlus Expo, WPPI Las Vegas, the Arles Photo Festival (Arles, France), Columbia University, and the International Center of Photography (ICP) in New York. He regularly exhibits his work and his prints are held in many private collections.
His book, 301 Inkjet Tips and Techniques: An Essential Printing Resource for Photographers, (Course Technology PTR), is a resource that covers many aspects of digital printmaking, and includes the imagery and advice of over 20 photographers and other artists. He also publishes the Inkjet & Imaging Tips Newsletter, available free to subscribers. http://www.imagingbuffet.com. He is also author of Pet Photography 101:Tips for Taking Better Photos of Your Dog or Cat - http://www.PhotoPetTips.com.
Workshop Fee: $89 (Fee includes 40-50 sheets of letter-size fine-art papers from more than five different companies).
Cancellation Policy: 100% refund when cancelled via e-mail 7 or more days prior to the workshop. 50% refund when cancelled via e-mail 4-6 days prior to the workshop. No refunds issued within 3 days of the workshop.