Location
San Antonio Recreation Area
2091 New Pleyto Road
Bradley, CA 93426
Description
Lightning in a Bottle, California's premiere boutique music and arts festival is a world-renowned innovator in festival culture blending music, art, wellness and sustainability. Do LaB's Lightning in a Bottle 2016 takes place Memorial Day Weekend May 25 - May 30 at the Lake San Antonio recreation area in central California. To get inspired for LIB 2016, watch the Official Lightning in a Bottle 2015 Video, but know that it is only a small testament to what lies ahead at Lightning in a Bottle 2016.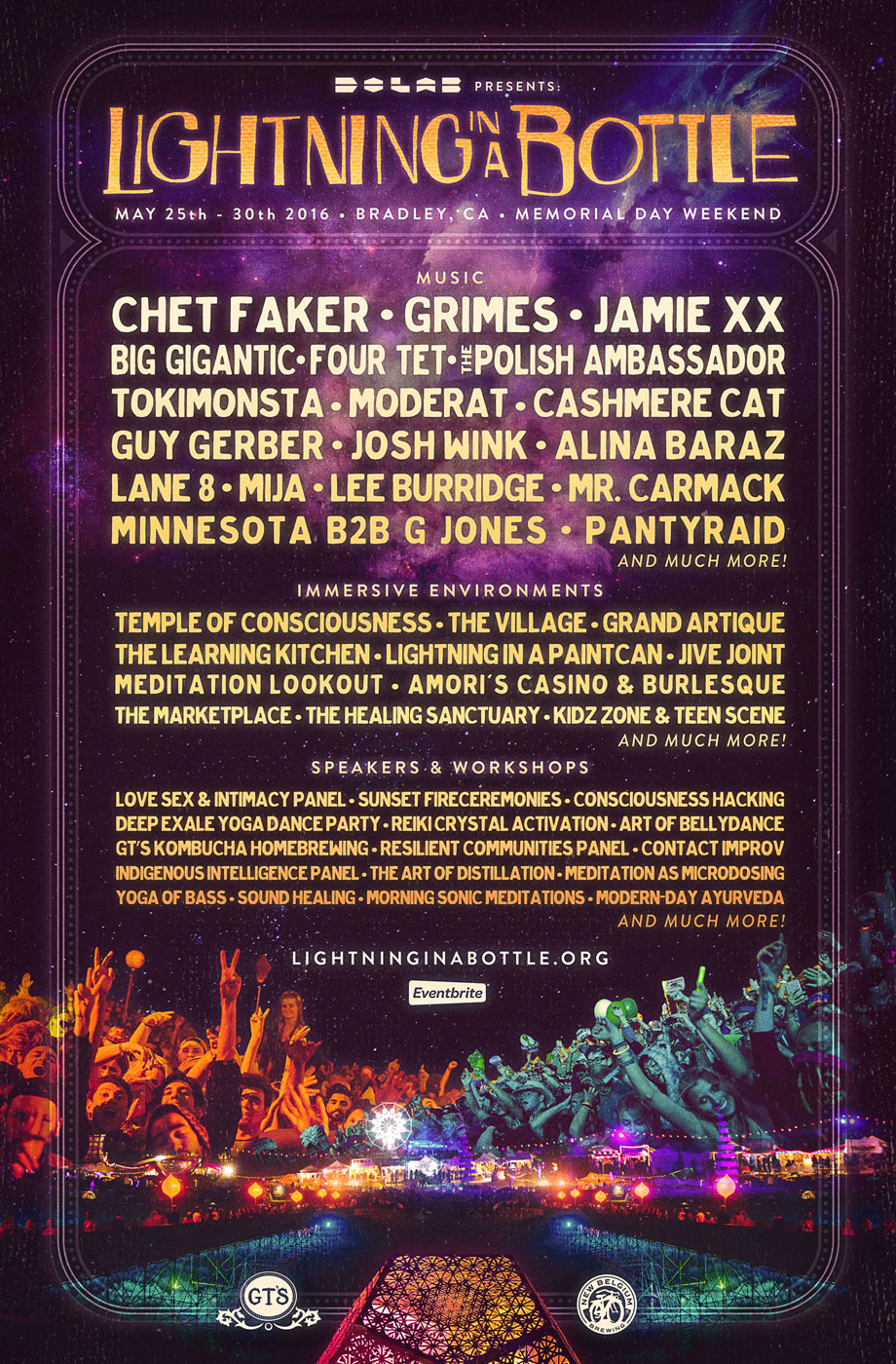 TICKET INFORMATION
• Once you purchase, you will receive an order confirmation email from Eventbrite on behalf of Lightning in a Bottle.
• IMPORTANT: If you do not see your order confirmation in your inbox, make sure to check your junk/spam folder. If you still do not see your order confirmation, click here to access the Eventbrite help center.
• Primary festival admission tickets are not issued as PDF tickets for this event, all admission ticket-purchasers will receive a festival wristband by mail. Lightning Bus tickets will be picked up on the bus via valid government issued ID. Boutique Camping passes will be picked up at the event box office. Only Early Arrival tickets are issued as PDF tickets.
• If you are having any other technical ticketing-related issues with your order, click here to contact Eventbrite. For general festival info, click here.
• All wristbands will begin shipping in late April 2016. Please allow to early May for your wristbands to arrive. Wristbands will be sent to the shipping address specified on your order. All international orders will be held at will call.
• Need to view or update your shipping address? Click here for instructions. You will be able to update your shipping address until April 15, 2016.
• All sales final. No refunds or exchanges.
• Event is rain or shine.
• Artists and schedule subject to change.

FAQs
Are there ID requirements or an age limit to enter the event?
Everyone under 18 must be accompanied by a parent or legal guardian.
+ Children 5 and under = FREE
+ Children 6 - 12: $50 CASH ONLY (available for purchase at the on site box office only)
+ Children 13 – 16 = $135 CASH ONLY (available for purchase at the on site box office only)
+ Anyone 17 or older = REGULAR PRICE (purchase a normal full weekend pass on this page)
What are my transport/parking options getting to the event?
Lightning Buses offer transport to and from Los Angeles, San Diego and San Francisco to LIB. The Lightning Bus offers quickest entry to the festival and drops you off right inside the campgrounds! Parking in the festival parking lots is free for vehicles with more than one occupant.
Is tent camping included with festival passes?
Yes. 4 Day Weekend and Two Day Festival Passes include tent camping. If you'd like to camp with your car, you'll need to purchase a Car Camping Pass in addition to your festival pass.
Is there a payment plan?
Yes, Layaway Packages will be available on January 5th at 10am from the layaway ticketing page.
Will 2 day tickets be available?
Yes! 2 Day (Saturday & Sunday) Passes will be sold starting January 5th at 10am!
Single Day Tickets:
If 4 Day and 2 Day tickets sell out before the event, single day tickets will not be available. 4 Day and 2 Day tickets sold out in 2015, and this very likely to be the case again this year.
Does each person need a car camping pass who is camping with a vehicle?
No, each adult will need a 4 Day or 2 Day Weekend GA pass to receive their wristband and enter the festival, however you'll only need one car pass per vehicle. So one of you should buy the Full Weekend with Car Camping, and the other just buy a Full Weekend Pass by itself.
What qualifies a vehicle as Car Camping vs RV Camping?
Van or Camper-Van = Car
Car with Trailer = RV
5th Wheel = RV


If interested in purchasing the Early Arrival Pass, does each person in our group need to get a EA Pass or do we only need one per vehicle?
Each person in your group must purchase the Early Arrival Pass to arrive at LIB on Wednesday, May 25th.
Are the Early Arrival Pass Holders allowed to camp outside of the High Grounds Campground?
The purpose of the High Grounds Camping area is for the early arrivals to have their own spacious and conveniently located campground. We're highly encouraging early arrivals to utilize this space. Upon arriving Wednesday, you will be directed to the High Grounds Camp. There is no guarantee that any other areas of the festival will be open to camping on Wednesday.