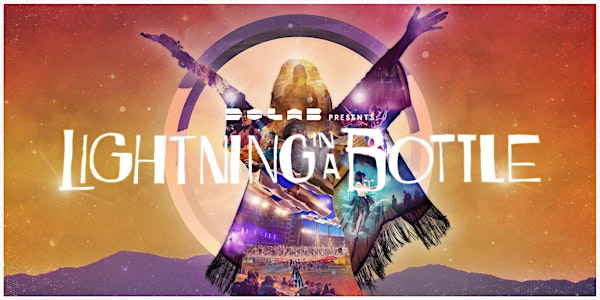 Lightning in a Bottle Arts & Music Festival 2017
Date and time
May 24, 2017 · 2pm - May 29, 2017 · 12pm PDT
Location
San Antonio Recreation Area 2091 New Pleyto Road Bradley, CA 93426
Performers
Headliners
Bassnectar
Bonobo
Rufus Du Sol
Kaytranada
Richie Hawtin
Nic Fanciulli
More Performers
Hernan Cattaneo
Troyboi
Paper Diamond
Perfect Stranger
Bob Moses
Bomba Estereo
Big Wild
Nombe
Thao & The Get Down
Nicola Cruz
Jhen� Aiko
Description
Lightning in a Bottle, California's premiere campout music and arts festival is a world-renowned innovator in festival culture blending music, art, wellness and sustainability. Do LaB's Lightning in a Bottle 2017 takes place Memorial Day Weekend May 24 - May 29 at the Lake San Antonio recreation area in central California. To get inspired for LIB 2017, watch the Official Lightning in a Bottle 2017 Video, but know that it is only a small testament to what lies ahead at Lightning in a Bottle 2017.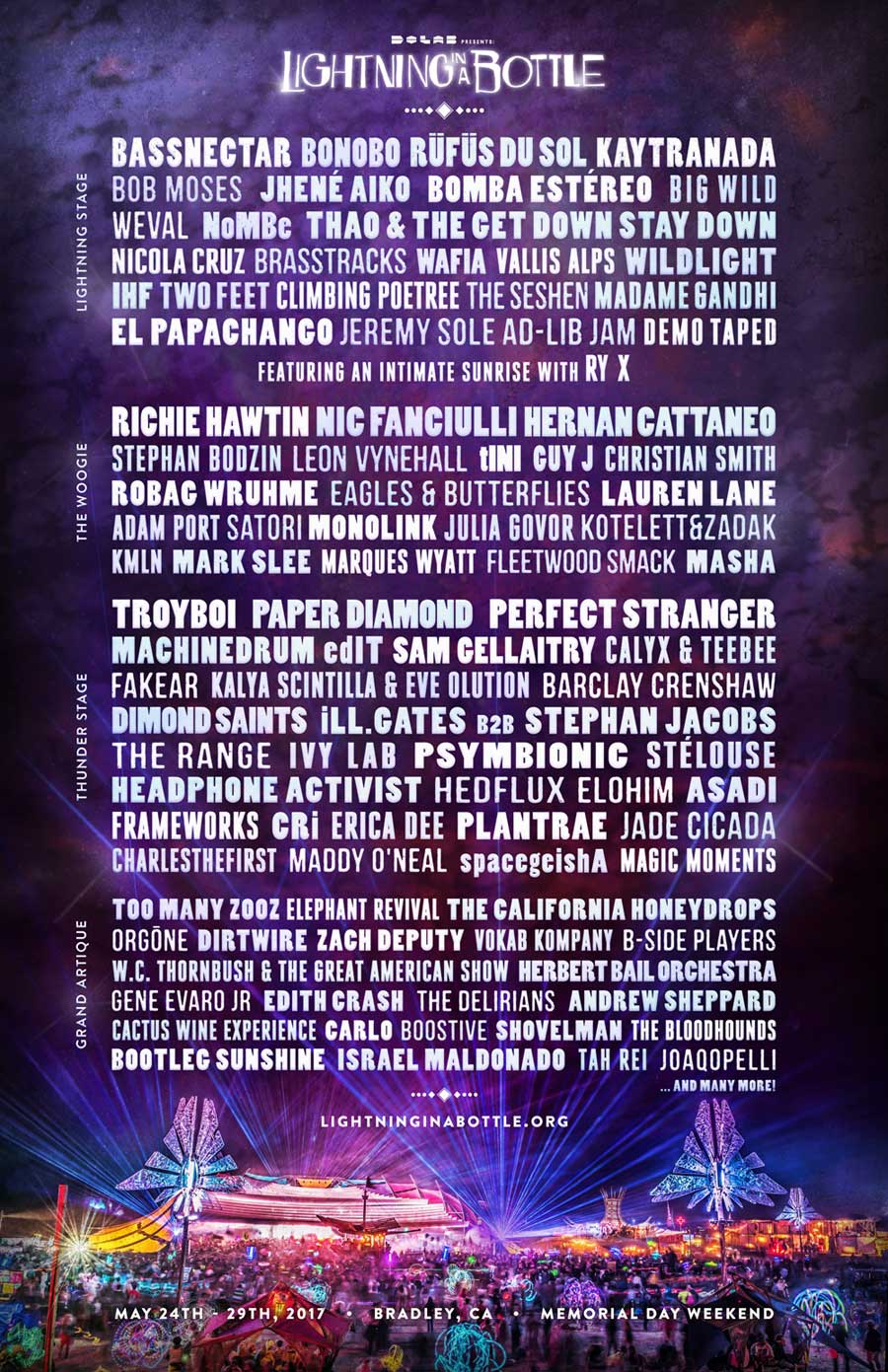 ---
NEW PAYMENT PLAN OPTIONS
Easy monthly payment plans will now be available with any LIB ticket purchase, not just your Festival Pass. Just select "Affirm" in the payment method drop down menu (instead of a credit card) during checkout. The green 'PAY NOW' button will change to a green 'CONTINUE WITH AFFIRM' button and you will be able to pick from a three or six month installment plan. When you use Affrm to buy tickets to Lightning in a Bottle on Eventbrite, you'll go through a quick application process. Affirm provides a real-time credit decision and, if approved, allows you to choose between 3 or 6 monthly payments (rates from 10-30% APR).
Have questions? Check out Affirm's FAQs for more details: affirm.com/faqs/
No single day or 2-day passes will be available in the 2017 pre-sale or general onsale. LIB is a 4 (or 5) day experience!
---
THE NEW AND IMPROVED LIGHTNING BUS
By popular demand, the bus is back! Sport your best jammies and get ready for a roadtrip because this year we've got a brand new bus partner with state of the art vehicles and a whole lot more fun. Now you can get all your camping gear to LIB with ease, avoid the cramped and costly airlines and ride in style with fantastic folks just like you. Plus, with one-way tickets and rides available in twice the towns and new departures to pick from on Wednesday and Sunday, Campers have more options (and fewer excuses) than ever!
Lightning Bus tickets are available through Share the Bus here: https://www.sharethebus.com/events/lightninginabottle
ONE-WAY TICKETS
For all your one-way transportation needs we now have one-way tickets so you only need to take the bus (you guessed it) one-way!! Hop on the fun bus on the way to LIB and stay with a friend after the festival or drive out early in a carpool and pick up a bus ride for the way back. No need to commit to a roundtrip ticket anymore if you only need a lift to or from the event. Pay for all the bus you need, and none that you don't!
NEW BUS PICKUP LOCATIONS
Los Angeles
San Francisco
San Diego
Phoenix
Portland
Salt Lake City
Denver
MORE DAYS TO TAKE THE BUS If you're the type who likes to beat the line and you want to arrive early or leave early we've got you covered with our Wednesday and Sunday options. That's right! The Lightning Bus is packing two extra days for 2017 to make getting to or leaving LIB easier than ever. Why stress your busy schedule when you can bus your way to bliss?
Please Note: Departure times and locations are subject to change. Seats are limited and the most preferred options sell fast, so buy your bus ticket early. Got questions or need support with your purchase? Contact SharetheBus.
---
BOUTIQUE CAMPING
Lightning in a Bottle's Boutique Camp offers two options of convenient and luxurious tent rentals, all of which include fully furnished premium on-site accommodations for up to four guests. Boutique Camp is a campground available to registered guests from Thursday, May 25 – Monday, May 29. The location of the campground is in the heart of the festival, near the iconic Woogie stage.
All Boutique Camp guests will be greeted at the on-site box office for check in and directed to the campground. There will be one complimentary parking pass allotted per tent in a nearby parking lot for easy access for loading and unloading. There is no car camping or additional tent set up in this campground.
SPECIAL FEATURES EXCLUSIVE TO BOUTIQUE CAMPING GUESTS INCLUDE:
Private Restroom Suites
Complimentary Private Showers with Full Length Mirrors
Pre-Event Communication with Boutique Camping Management and On-site Staff to Enhance Your LIB Experience and Handle Any Questions/Requests
Access to The Lush Lounge, which includes:
Comfortable Seating and Shade
Phone Charging Station
Daily Morning Coffee and Tea Service
And Much More!!
REALLY GOOD PACKAGE - $1,450 for One Bed, $1,650 for Two Beds
A spacious 10'x14' Canvas Tent with Interior Height of 6'6" and 140sq ft of Living Space
One or Two Full Size Beds complete with real mattresses and fresh linens
Battery Powered Tent Lantern, End Table, and Rug
Outdoor Shade and Seating Area
Two Lush Lounge Visitor Wristbands for Guests' Friends not staying in Boutique Camp

*showers and restrooms not included
UBER GREAT PACKAGE - $2,300 for One Bed, $2,550 for Two Beds
16' Luxury Canvas Bell with Interior Height of 9'8" and 200sq ft of Living Space
One or Two Full Size Elevated Beds complete with real mattress and fresh linens and shower towels
Indoor Furniture, Lighting, and Power Outlets
Personal Cooler w/ Complimentary Ice
Outdoor Shade and Seating Area
Two Keepsake Lightning in a Bottle Water Bottles
Two Lush Lounge Visitor Wristbands for Guests' Friends not staying in Boutique Camp

*showers and restrooms not included

On-site Concierge Service for custom order runs to town or advance scheduling of unique festival activities
Welcome Package from our Sponsors
NEW! - ULTRA COOL PACKAGE - $2,600 for One Bed, $2,850 for Two Beds
Everything included in Uber Great Package
Personal AC unit to keep your tent cool all day long!
Please Note:
All package prices are per tent, not per person.
Event wristbands are not included in camp package price; each resident must purchase a festival pass.
All packages are subject to a $250 security deposit, which will be charged at check in and released at check out after inspection.
---
IMPORTANT TICKET INFO:
Once you purchase, you will receive an order confirmation email from Eventbrite on behalf of the Lightning in a Bottle 2017.
IMPORTANT: If you do not see your order confirmation in your inbox, make sure to check your junk/spam folder. If you still do not see your order confirmation, click

here

to access the Eventbrite help center.

No barcoded tickets will be issued for this event, all ticket-purchasers will receive a festival wristband by mail.
All wristbands have already began shipping.
Orders already placed can no longer adjust shipping addresses.
The last day to order wristbands with shipping is May 10th.
All international orders will be held at will call.
If you are having any other technical ticketing-related issues with your order, click

here

to contact Eventbrite. For general festival info, click

here

.

Event is rain or shine.

Artists and schedule subject to change.

All sales final. No refunds or exchanges.
All purchasers and attendees agree to comply with the Lightning in a Bottle terms & conditions
TICKETING FAQ:
Are there ID requirements or an age limit to enter the event?
Everyone under 18 must be accompanied by a parent or legal guardian.
• Children 5 and under = FREE
• Children 6 - 12: $50 CASH ONLY (available for purchase at the on-site box office only)
• Children 13 – 16 = $135 CASH ONLY (available for purchase at the on-site box office only)
• Anyone 17 or older = REGULAR PRICE (purchase a normal full weekend pass on this page)


Is tent camping included with festival passes?
Yes. 4-Day Weekend Festival Passes include tent camping. If you'd like to camp with your car, you'll need to purchase a Car Camping Pass in addition to your festival pass.
Does each person need a car camping pass who is camping with a vehicle?
No, each adult will need a 4-Day Weekend GA pass to receive their wristband and enter the festival, however you'll only need one car pass per vehicle. So one of you should buy the Full Weekend with Car Camping, and the other just buy a Full Weekend Pass by itself.
What qualifies a vehicle as Car Camping vs RV Camping?
• Van or Camper-Van = Car
• Car with Trailer = RV
• 5th Wheel = RV
If interested in purchasing the Early Arrival Pass, does each person in our group need to get a EA Pass or do we only need one per vehicle?
Each person in your group must purchase the Early Arrival Pass to arrive at LIB on Wednesday, May 24th.
Are the Early Arrival Pass Holders allowed to camp outside of the High Grounds Campground?
The purpose of the High Grounds Camping area is for the early arrivals to have their own spacious and conveniently located campground. We're highly encouraging early arrivals to utilize this space. Upon arriving Wednesday, you will be directed to the High Grounds Camp. There is no guarantee that any other areas of the festival will be open to camping on Wednesday.
---
PERFORMING ARTISTS:
LIGHTNING STAGE:
Bassnectar, Bonobo, RÜFÜS DU SOL, Kaytranada, Bob Moses, Jhené Aiko, Bomba Estéreo, Big Wild, Weval, NoMBe, Thao & The Get Down Stay Down, Nicola Cruz, Brasstracks, Wafia, Vallis Alps, Climbing Poetree, IHF, Two Feet, Kllo, The Seshen, Madame Gandhi, El Papachango, Jeremy Sole & Friends, Demo Taped, Featuring an intimate sunrise with Ry X
THUNDER STAGE:
TroyBoi, Paper Diamond, Perfect Stranger, Machinedrum, eDIT, Sam Gellaitry, Calyx & Teebee, Fakear, Kalya Scintilla & Eve Olution, Barclay Crenshaw, Dimond Saints, iLL.GATES B2B Stephan Jacobs, The Range, Ivy Lab, Psymbionic, StéLouse, Headphone Activist, Hedflux, Elohim, Asadi, Frameworks, CRi, Erica Dee, Plantrae, Jade Cicada, Charlesthefirst, Maddy O'Neal, spacegeishA, Magic Moments
WOOGIE STAGE:
Richie Hawtin, Nic Fanciulli, Hernan Cattaneo, Stephan Bodzin, Leon Vynehall, tINI, Guy J, Christian Smith, Eagles & Butterflies, Lauren Lane, Adam Port, Satori, Monolink, Julia Govor, Kotelett&Zadak, KMLN, Mark Slee, Marques Wyatt, Fleetwood Smack, MASHA
GRAND ARTIQUE STAGE:
Too Many Zooz, Elephant Revival, The California Honeydrops, ORGŌNE, Dirtwire, Zach Deputy, Vokab Kompany, B-Side Players, W.C. Thornbush & The Great American Show, Herbert Bail, Orchestra, Gene Evaro Jr, Edith Crash, The Delirians, Andrew Sheppard, Cactus Wine Experience, CARLO, Boostive, Shovelman, The Bloodhounds, Bootleg Sunshine, Cannibal Catering Company, Israel Maldonado, Tah Rei, The Great American Talent Show, Lucia Soaring Diamonds, Those Folk, JoaqoPelli, Brenda Carsey & The Awe, The Little Miss, Jeremiah and The Red Eyes, Breck Dolan, Dusty Wagons aka Mugger