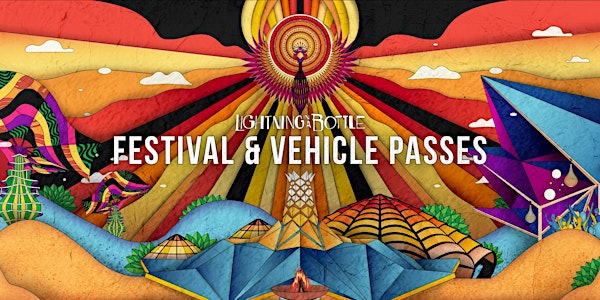 Lightning in a Bottle 2019 - Festival & Vehicle Passes
When and where
Location
Lightning In A Bottle Festival Buena Vista Lake 13601 Ironbark Rd Bakersfield, CA 93311
Performers
Headliners
DISCLOSURE
BIG GIGANTIC
FLYING LOTUS
SANTIGOLD
More Performers
GRAMATIK
TORO Y MOI
KHRUANGBIN
RISING APPALACHIA
MASEGO
ELOHIM
CAUTIOUS CLAY
JAN BLOMQVIST
CHANNEL TRES
FRAMEWORKS
ÌFÉ
LUM
MOBLEY
SLENDERBODIES
LANE 8
DJ KOZE
DAMIAN LAZARUS
IZHEVSKI
SHIBA SAN
BEDOUIN
RECONDITE
ESCAPADE (WALKER & ROYCE + ARDALAN)
ESCAPADE (WALKER & ROYCE + ARDALAN)
RAMPUE
NICO STOJAN
DOC MARTIN
LUTTRELL
OSUNLADE
GORJE HEWEK & IZHEVSKI
GORJE HEWEK & IZHEVSKI
GORJE HEWEK & IZHEVSKI
OMNOM
VNSSA
ANTON TUMAS
ZACH WALKER
DUCHESS
G JONES
THE POLISH AMBASSADOR
OPIUO
CLOZEE
SHADES
PRÓXIMA PARADA
1788-L
DESERT DWELLERS
CHARLESTHEFIRST
DIMOND SAINTS
Description
Immerse yourself in the magical world of Lightning in a Bottle, North America's premier independent music and arts festival. From our world-class fusion of electronic music, to the extensive yoga offerings, and educational workshops, LIB's overarching embodiment of cultural and environmental consciousness is an event where attendees from all walks of life can find a way to connect with others as well as themselves. Don't miss this, the latest and greatest chapter of Lightning in a Bottle yet!
Monthly Payment Plans with Affirm are now available during checkout. Simply select 'Pay by monthly payments with Affirm' on the Payment Info drop down during checkout from this ticketing page.
Other LIB 2019 Ticket Pages
Boutique Camping Packages --- Lightning Bus
Please review all the 2019 ticket information on this page before purchasing.
---
IMPORTANT TICKET INFO:
Please READ the TERMS OF SALE you are agreeing to before purchasing passes.

Once you purchase, you will receive an order confirmation email from Eventbrite on behalf of the Lightning in a Bottle 2019. IMPORTANT: If you do not see your order confirmation in your inbox or junk/spam folder, click here for further assistance.

Shipping is available in the Continental United States only. Canadian & International purchasers will pick up wristband and other credentials at on-site will call.

LIB is all ages. Ages 5 and under are free. See ticket FAQ below for more info.

Any attendee under 18 must be accompanied by a parent or legal guardian.

Event is rain or shine.

Artists and schedules subject to change.

All sales final. No refunds or exchanges. Electronic order transfers are allowed.

LIB does not assist in any 3rd party transactions. For your own protection, do not purchase LIB wristbands from any third party sellers. We are not responsible for any counterfeit tickets or wristbands.

There is a $20 lost wristbands replacement fee. Please keep your wristbands safe and secure!

For more info on ADA services click here.
TICKET SUPPORT HOW-TO'S
Still have questions?
For Eventbrite account, ticketing-related issues or purchasing support ------ contact support here
Event-related questions visit the LIB website HERE
---
---
TICKETING FAQ:
Do you offer payment plans?
YES, Easy monthly payment plans are now available for the entirety of your LIB ticket purchase as well as for Boutique Camping purchases. To pay via payment plan, select your tickets on this page (or the Boutique Camping ticketing page) and then at the payment screen select "Affirm" as your payment method (instead of a credit card) before clicking checkout.

You will then be taken to the Affirm website to complete your purchase. When you use Affirm to buy tickets to Lightning in a Bottle on Eventbrite, you'll go through a quick application process. Affirm provides a real-time credit decision and, if approved, allows you to choose between 3 or 6 monthly payments (rates from 10-30% APR)*.
Have questions? Check out Affirm's FAQs for more details: affirm.com/faqs/
Are there ID requirements or an age limit to enter the event?
Everyone under 18 must be accompanied by a parent or legal guardian.
Children 5 and under = FREE
Children 6 - 12: $60 (available for purchase at the on-site box office only)
Children 13 – 16 = $160 (available for purchase at the on-site box office only)
Anyone 17 or older = REGULAR PRICE (purchase a normal full weekend pass on this page)
How and when will wristbands be delivered?
Shipping is available in the Continental United States only. Credentials will begin shipping in mid-April 2019. When your order has shipped, you will receive an email from fulfillment@eventbrite.com with shipment tracking info.
All Canadian & International purchasers will need to pick up credentials at on-site will call. Will Call and event gate hours will be posted & emailed in advance of the festival.
Orders after April 22nd will not ship - purchasers will receive a PDF ticket via email that must be printed out and brought to the on-site box office and exchanged for a wristband and/or vehicle pass.
What happened to the Early Arrival Pass?
*NEW IN 2019* Early Arrival Passes will no longer be a separate add-on ticket this year. Instead, you will now purchase the 5-Day Festival Pass that includes your full weekend entry and access to the festival on Wednesday. Vehicle passes are sold separately.
Is camping included with my festival pass?
YES. 2-Day, 3-Day, 4-Day & 5-Day Passes include general walk-in camping. If you'd like to camp with your car, you'll need to purchase a Car Camping Pass in addition to your festival pass.
Is there Boutique (or EZ, luxury, etc.) Camping at LIB?
YES! We offer several kush and cozy pre-pitched packages which you can browse and purchase HERE.
Is there onsite parking if I don't want to purchase a car camping pass for my vehicle?
YES, there is a parking lot for those driving to LIB, but not camping with their vehicles. Single occupant vehicles are charged $30 to park in the parking lot. Vehicles with one or more passengers (not including the driver) are granted free parking. Thanks for carpooling and keeping LIB green!
Does each person inside a vehicle need a car camping pass?
No, you'll only need one car camping pass per vehicle. Only one person in the vehicle needs to purchase a car camping pass if you plan to camp with the vehicle. Each adult in the vehicle needs their own Festival Pass (5-Day or 4-Day Pass or 3-Day Pass or 2-Day pass).
What qualifies a vehicle as Car Camping vs RV Camping?
Van or Camper-Van = Car
Car with Trailer = RV
5th Wheel = RV

*All lengths of vehicle passes are for combined total length of RV and any vehicle towing*
What else is super important for me to know about RV passes?
RV areas will be much closer to the action this year! RVs with Power will be in a separate RV campground than RVs without power. All RVs will be placed in order of arrival and at the discretion of the RV placement team. We cannot accommodate self selection during the arrival process. For best chance of neighboring with your friends, please stay in line together. All RVs have a limited amount of space along side the RV and is considered your "personal space" which accomodates opening the awning for a cool social space between you and your neighbor. Small unstaked tents may fit in this space if desired, but cars are unlikely to fit. There is no sewage dumping for any RV upon exit of the festival. As with general event policy, no unathorized amplified sound! Please respect the neighborhood vibes of a cozy RV camp. More information on RVs will be on the LIB site and buyers can expect a reach out with more information closer to the festival.
Can I bring my pet?
NO, Absolutely no animals or pets of any kind are permitted at Lightning in a Bottle (except your spirit animal of course!)
This means:
NO Emotional Support Animals
NO Therapy Dogs
NO Exceptions
Medical alert animals (those used to warn the owner of a life-threatening medical condition) are permitted on a case-by-case basis. Please contact our ADA department at ada@thedolab.com for more information.


Can I bring a generator to use at my campsite?
Due to safety and fire concerns, the use of any personal generators inside the festival and campgrounds is now prohibited. We sincerely apologize for any inconvenience this causes our attendees. We appreciate everyone's support and understanding as we work together with the Kern County Fire Department to keep LIB safe.
The festival will have safety staff monitoring the campgrounds to enforce all safety regulations.
For more FAQ's please visit our Festival Info page HERE
Other LIB 2019 Ticket Pages:
Boutique Camping Packages --- Lightning Bus