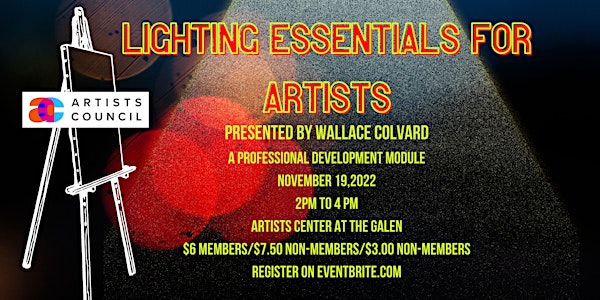 Lighting Essentials for Artists Lecture
This lecture will help artists understand how lighting affects and influences the outcomes of their work
When and where
Location
Artists Center at the Galen 72567 Hwy 111 Palm Desert, CA 92260
Refund Policy
Refunds up to 7 days before event
About this event
Lighting principles for Artists lecture will help artists understand how lighting affects and influences the outcomes of their work
Description:
This professional development module is designed to help artists understand lighting in their work in order to achieve realism or depart from it. Once these concepts are learned, the artists will have an additional set of tools to use in the decision-making that goes into creating their work. During this two-hour presentation the following will be covered.
Part 1: Basic practical lighting and how it works, sunlight vs spotlight, candlelight, etc. I cover inverse square falloff, what creates a soft or hard shadow and basic analysis of a scene that makes it easy to know where and how light and shadow will fall in a scene.
Part 2: Advanced lighting concepts, ambient occlusion, radiosity and other ways to easily use light to make your art great.
Q & A with lighting analysis of artwork to analyze for realistic lighting.
About the lecturer:
Wallace Colvard is an Artists Council member who works in color, design, depth and emotion as expressed through digital media, including pure digital design, photography and digital collage. His professional background and experience makes him uniquely prepared for this presentation.
With an educational background in both graphic design and computer science before there was a recognized field of computer graphics, he worked as a digital commercial artist for over 40 years in the fields of textile design, television art direction, film animation and live action visual effects at NBC, Disney, DreamWorks, Sony and other firms.