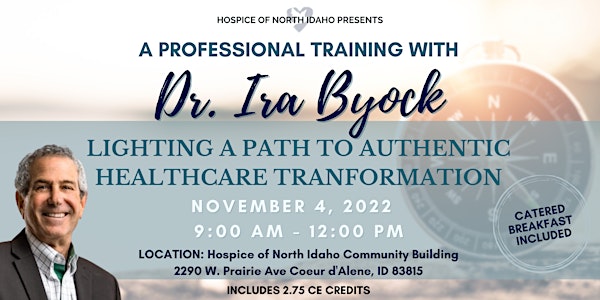 Lighting a Path to Authentic Healthcare Transformation With Dr. Ira Byock
Examine tangible ways clinical fields contribute to redesigning healthcare systems while honoring human wellbeing through the end of life.
When and where
Location
Hospice of North Idaho 2290 West Prairie Avenue Coeur d'Alene, ID 83815
About this event
Under the strain of the Covid-19 pandemic stress fractures within our healthcare broke apart in public view, revealing how vulnerable we are, and how pressing the need is for authentic transformation. This cold reality highlighted the breadth of human caring – from meeting basic biological needs to skillful use of science and technology, to honoring the potential for human wellbeing through the end of life. Core values and principles of hospice palliative care along with human-centered design, offer a path for transforming healthcare. In this presentation, Dr. Byock will examine tangible ways our field contributes to redesigning healthcare systems. His approach to change employs person-centered standards, monitoring performance against those standards, innovating health records and streamlining workflows "to make the right way the easy way" and giving clinicians and patients a common language to craft highly personalized care plans. Grounded in ethics, committed to best practices, fueled by data and the science of system change, we can reclaim our human potential – as individuals, families, and communities.
*Breakfast is included at this event
2.75 Contact Hours Available.
Learning Objectives:
At the conclusion of this presentation, participants will be able to:
1. Explain the importance of anchoring a change strategy within the formal priorities of a large healthcare organization.
2. Identify at least 4 of the 6 domains of health care quality delineated by the Institute of Medicine (National Academy of Sciences) in 2001 Crossing the Quality Chasm report.
3. Recognize mutually reinforcing components of a non-incremental change strategy that has measurably advanced value and whole-person caring across a multi-state health system.
4. Identify key elements of a "non-incremental change strategy" that has produced measurable progress toward healthcare transformation in a large multi-state health system.
(Setting Quality Standards, Measures and Monitoring, Optimizing Systems, Educating Clinicians, Educating Patients, Engaging Communities, Optimizing Palliative Care, Caring for Our Own – and Fostering a Culture of Whole Persons, Caring for Whole Persons)
5. Articulate how goals-of-care conversations and, when indicated, specialty palliative care are essential for quality of care for seriously ill patient
*This nursing continuing professional development activity was approved by Montana Nurses Association, an accredited approver with distinction by the American Nurses Credentialing Center's Commission on Accreditation.
About Speaker:
Dr. Ira Byock, a Fellow of the American Academy of Hospice and Palliative Medicine, is a leading palliative care physician, author, and public advocate for improving care through the end of life. Dr. Byock has been involved in hospice and palliative care since 1978. His research has contributed to conceptual frameworks for the lived experience of illness that encompasses a continuum from suffering to wellbeing; related measures for subjective quality of life during illness; and effective life-completion counseling methods. Dr. Byock has been the recipient of numerous awards for academic achievement and community services. In 2014 he was recognized as a Visionary by the Academy of Hospice and Palliative Medicine, as well as being given the Academy's most prestigious honor, the Lifetime Achievement Award. He is a sought-after speaker and consultant to health care organizations.
Books by Dr. Ira Byock:
Dr. Byock's first book, Dying Well, (1997) has become a standard in the field of hospice and palliative care. The Four Things That Matter Most, (2004) is used as a counseling tool widely by palliative care and hospice programs, as well as within pastoral care. His most recent book, The Best Care Possible (March 2012) tackles the crisis that surrounds serious illness and dying in America and his quest to transform care through the end of life.