Location
Frank Lloyd Wright Turkel Home
Palmer Woods
19145 Strathcona Drive
Detroit, MI 48203
Sales Have Ended
Ticket sales have ended
Thank you for your interest in People for Palmer Park and our "Light Up the Cabin" Campaign to preserve and restore the historic Palmer Park Log Cabin and restore and repair the stained glass windows. For more info and to donate, please visit peopleforpalmerpark.org
A Garden Celebration @ the Frank Lloyd Wright Turkel home to support People for Palmer Park's Log Cabin restoration & Park revitalization
About this event
Fundraiser for People for Palmer Park
A Garden Party at the Frank Lloyd Wright Turkel Home
Sunday, July 24, 2022 • 2-5 pm
Tickets: logcabinparty2022.eventbrite.com
Enjoy a summertime party at the beautiful Frank Lloyd Wright Turkel home and gardens to raise funds for People for Palmer Park's "Light up the Cabin" campaign. Funds raised will help continue the restoration of Palmer Park's 1880's Historic Log Cabin and also support People for Palmer Park's ongoing efforts to revitalize and beautify this regional destination for all ages.
Silent Auction • Garden Party • Food & Wine • Tour a portion of the home • Live Music with A. Spencer Barefield & Shahida Nurullah • Food by Chef Kiki Louya
Enjoy wine, delicious locally-prepared food, and the magnificent gardens — plus tour a portion of the Turkel home. People for Palmer Park and our hosts, Norm Silk and Dale Morgan, owners of this beloved home and Blossoms Birmingham, welcome you. Just as they saved their historic home, they are supporting the restoration of the Palmer Park Log Cabin, an important landmark and architectural treasure.
We will also have a small silent auction with unique experiences and special opportunities!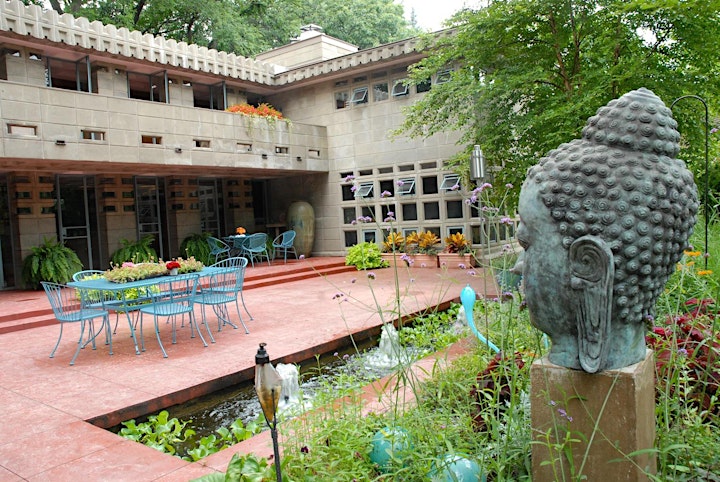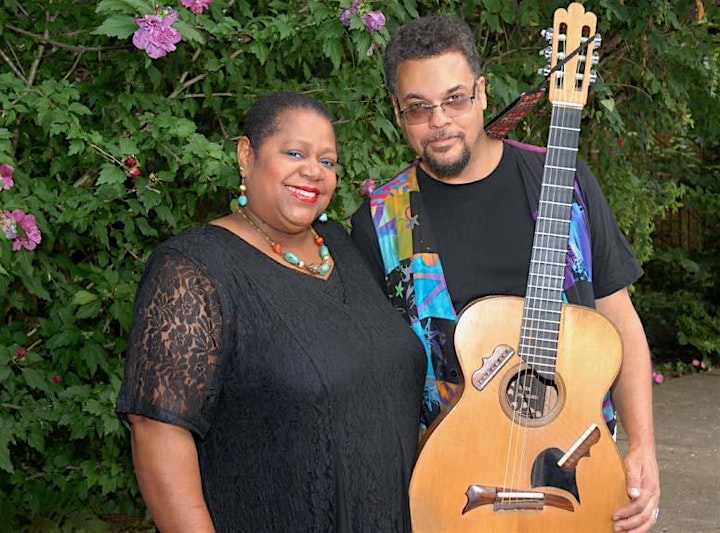 Chef Kiki Louya
A delicious array of culinary delights will be created by Kiki Louya, a fabulous chef, writer, food activist and restaurant consultant. The New York Times named her one of "16 Black Chefs Changing Food in America" and she was a 2021 contender in Bravo's Top Chef. A Detroit native, Kiki received critical acclaim for her work as founder/chef/owner of Detroit's Folk and the Farmer's Hand, two award-winning Corktown food establishments. We can't wait for you to taste her food, prepared with locally sourced, healthy and yummy ingredients.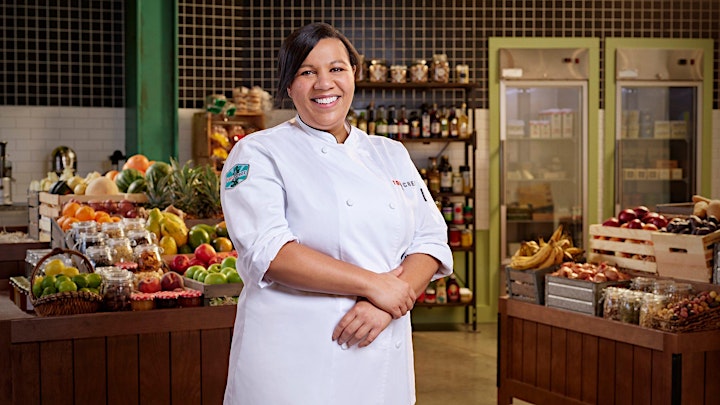 The Log Cabin looks magical since the City of Detroit rebuilt the roof, foundation, porch, and exterior. People for Palmer Park (PFPP) raised funds for the restoration of the stained glass windows (Sevonty Restorations) and the wooden Dutch front door (Darren Lasko of Detroit Millwork). PFPP has also raised funds to upgrade the electricity and purchase and install period-similar lighting fixtures throughout the cabin and exterior. Two of the four sets of Victorian pocketdoors have been fixed and restored. A grant from the Michigan Architectural Foundaton will allow us to restore the kitchen and Mrs. Palmer's original Detroit Jewel Stove in the coming year. But there is still much to do to complete the restoration.
How your help will benefit Palmer Park
Your support also will help People for Palmer Park, a 501(c)(3) charity, continue organizing recreational programs, beautification activities, and revitalization throughout the Park. In the Log Cabin, the ongoing restoration work will allow us to present more special events, concerts, art exhibits, educational gatherings, storytimes and children's activities, weddings, and celebrations of all kinds.
Future projects include: restoring the stairway, floors and other beautiful woodwork throughout the cabin, fixing the plaster and painting walls, rebuilding the chimney covers, installing a heating and cooling system, and more. PFPP is working hard to totally restore this legendary home, built and designed by legendary architects Geoge D. Mason and Zachariah Rice in 1885 for Senator Thomas and Lizzie Merrill Palmer. The Palmers donated the land and the cabin to the City of Detroit as a public park for, as Senator Palmer stated "for the good of everyone." 
You (and your guests) must be vaccinated against Covid-19 or bring proof of a negative Covid test (home test is fine) taken within 24 hours of the event. We request that you bring your Covid vaccination card or photo of it to the event check-in.
ou will be sent a detailed map, address, parking directions and more details the week of the event. All tickets must be purchased in advance. For more info visit peopleforpalmerpark.org or contact barbara@peopleforpalmerpark.org or call Barbara Barefield, 313-891-2514. Tickets are not refundable.
Garden Party • Silent Auction • Food & Wine • Live Music • Celebration at the Frank Lloyd Wright Turkel Home
Please join us!