Light of Unity Festival: World Citizenship "Equality of Women and Men"

Saturday, November 11, 2017 from 7:00 PM to 9:30 PM (CST)
Event Details
Global Citizenship: Equality of Women and Men
Join us at the Baha'i House of Worship in Foundation Hall for a presentation and discussion with two trailblazers, Layli Miller-Muro and K. Sujata, who are leading the way of advancing the equality of women and men. Hear their stories, learn from their experiences, and find out how you can advance this movement in Chicago, nationally, and globally. 
Layli Miller-Muro 
Founder and CEO of the Tahirih Justice Center, which provides free legal services and engages in advocacy on behalf of immigrant women and girls fleeing human rights abuses. 
In its 20th year, Tahirih is located in 4 cities in the United States and has protected over 22,000 women and girls courageously rejecting violence.  Layli founded the organization in 1997 following her involvement as a law student in a high-profile case that set national precedent and revolutionized asylum law in the United States. The case was that of Fauziya Kassindja, a 17-year-old girl who had fled Togo in fear of a forced polygamous marriage and a tribal practice known as female genital mutilation.  After an uphill legal battle, Fauziya was granted asylum in 1996 by the US Board of Immigration Appeals. This decision opened the doors to gender-based persecution as grounds for asylum. Using her portion of the proceeds from a book she and Fauziya co-authored about the case (Do They Hear You When You Cry? Delacorte Press, 1998), Layli established Tahirih.
Prior to joining Tahirih as Executive Director, Layli was an attorney at the law firm of Arnold & Porter where she practiced international litigation and maintained a substantial pro bono practice. Prior to joining Arnold & Porter, Layli was an attorney-advisor at the U.S. Department of Justice, Board of Immigration Appeals. Layli was named Newsweek/Daily Beast's 150 Most Fearless Women in the World, GoldmanSach's Top 100 Most Innovative Entrepreneurs, and won the Washington Post Award for Management Excellence.  She lives in Virginia with her husband and three young children.
For more information about the Tahirih Justice Center go to http://www.tahirih.org/
K. Sujata 
President and CEO of Chicago Foundation for Women since 2011, a grantmaking organization focused on basic rights and equal opportunities for women and girls in the greater Chicago area. Sujata led the foundation through double digit growth, managing a strategic alliance with the former Eleanor Foundation in 2012. She is a strong advocate for women and girls with broad experience in Chicago's philanthropic, business and nonprofit communities. 
Sujata has worked at several notable nonprofit agencies in Chicago: Eleanor Foundation, Apna Ghar, Chicago Continuum of Care, among others. Prior to joining the nonprofit sector, Sujata worked in the manufacturing industry. She received her Ph.D. from Northwestern University, and an MBA from IIT.
Sujata serves on the Board of the Women's Funding Network and the Steering Committee of the Asset Funders Network.

Her blog can be found at http://www.huffingtonpost.com/k-sujata/. Follow her on twitter @k_sujata.
For more information on Chicago Foundation for Women go to www.cfw.org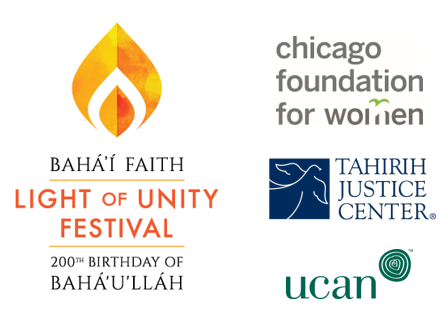 When & Where

Baha'i House of Worship, Foundation Hall
100 Linden Avenue
Wilmette, IL 60091


Saturday, November 11, 2017 from 7:00 PM to 9:30 PM (CST)
Add to my calendar
Organizer
Light of Unity Festival
(Download a printable version of the entire 9-week calendar here: http://bit.ly/2xN9rJq)
Light of Unity Festival is a nine-week series of events celebrating the 200th anniversary of the Birth of Baha'u'llah, Founder of the Baha'i Faith. From September 10 - November 12, 2017, the Baha'i House of Worship is collaborating with like-minded individuals and organizations to host these events and share some of the unifying principles of the Baha'i Faith: Race Unity, Gender Equality, Harmony of Science & Religion, and Oneness of Humankind.
This Holy Day will be celebrated by six million Baha'is and friends worldwide. Join us on this momentous occasion!
So powerful is the light of unity that it can illuminate the whole earth. --Baha'u'llah
For more information contact the Baha'i House of Worship at 847.853.2300