Saturday, 10-2-21 Celebrate Light of Hope, with the amazing Grady Nichols Band in concert, dining & dancing to Jazz Under the Harvest Moon!
About this event
Saturday, October 2, 2021 - Celebrating Light of Hope!
Join us as we enjoy a fabulous concert, dinner, dancing, and wonderful evening together listening to the famous Grady Nichols Band! This Jazz concert will inspire us to dance, laugh, and relax under the Harvest Moon!
This LOH celebration will be held at Rogers State University in the Dr. Carolyn Taylor Center Ballroom. Doors open at 5:30pm. Dinner is served at 6:30pm. Grady Nichols will play throughout the night.
We will have powerful opportunities for you to hear from our Honorary Event Chairs, John & Chelsea Feary, as well as other leaders of our community, and hear how Light of Hope is impacting this world.
Balcony will be open for night time relaxation.
Tables of 8 can be purchased and sponsored to hold for large groups.
Tickets are $125 each. Purchase link https://bit.ly/3DzTqZ6
This includes the Grady Nichols concert, dinner, dancing, and the mission to support Light of Hope non-profit.
www.lightofhopeinc.org
918-373-4560
Text to donate: 918-265-4045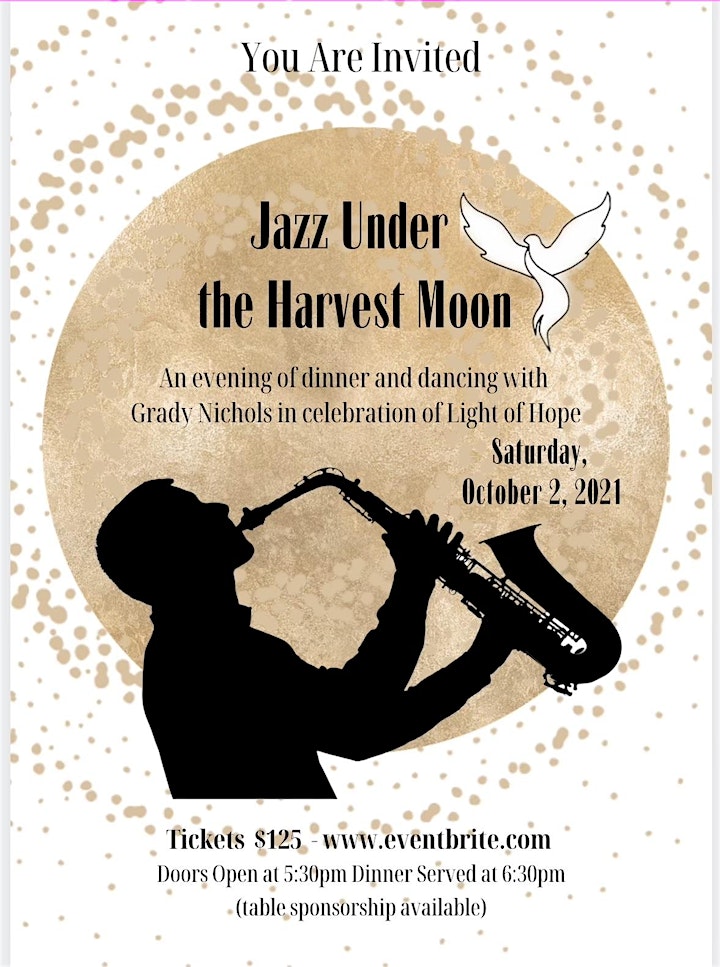 Light of Hope is a 501(c)(3) non-profit ministry for addiction and other life difficulties, assisting families and individuals through weekly support groups, classes, community education, school drug education, workplace readiness, helpful resources, and encouragement for the future.
All proceeds from this event will go directly into Light of Hope programming.
Light of Hope relies on the community and private funding donations to operate. We do not recieve federal dollars, therefore we are able to meet the needs as the needs arise. Due to the ongoing COVID pandemic, our services have been in high demand. We are helping more people than ever. Additionally, it is more important now than ever, to educate and empower our children through our LOH School Drug Education Program, called LEAD. We are actively in mulitple school districts, providing a critical drug education program FREE to all schools. We are partnered with the Drug Enforcement Administration, and work hand in hand to provide this much needed education to children of all ages. Here is an example of some schools we serve: All of the Rogers County Schools, Broken Arrow, Tahlequah, Grove, Lincoln Christian, Riverfield, Owasso, etc.
We are so thankful for your support. Together, we are "Helping People See the Hope".
www.lightofhopeinc.org (find out more about Light of Hope)
Text to donate: 918-265-4045 (type the words "supporting hope")
Organizer of Light of Hope/Grady Nichols Concert/Dine/Dance -Jazz Under the Harvest Moon