LIFT THE LID WALK for Mental Health - Kippa Ring-North Lakes & Pine Rivers
LIFT THE LID WALK for Mental Health will get you walking and get us all talking while we raise vital funds for Australian Rotary Health.
About this Event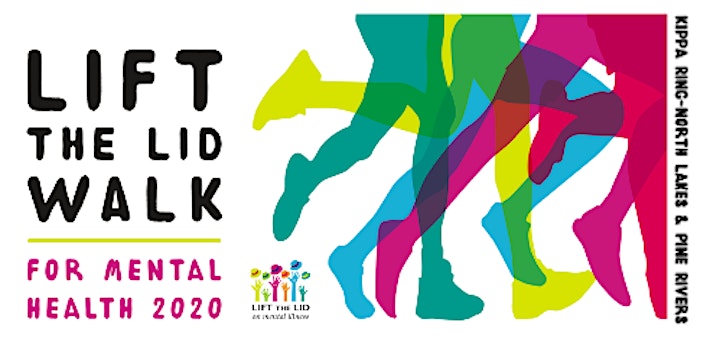 When: Sunday November 15th 2020
Where: Lake Eden, Lakefield Drive, North Lakes QLD 4509
From 8am till 12 noon.
What: A Walk & Talk around the Lake, as many times you wish. (3 times = 5kms)
Who: Everyone who has been impacted by or cares about Mental Health - dogs are welcome!
Entry fee: $30 includes a t-shirt. Kids 15 and under walk for free (no shirt).
Covid Safe Plan includes (but not limited to): All participants must register and
Maximum participants will be 450
Ticket purchase including your t-shirt - cut off is 9am Monday 2nd November.
Entries purchased after 9am on November 2nd will NOT receive a t-shirt, so get in early!
All orders from then will only include your ticket entry into the WALK
Registration:
From 7am in the main park - Please register and collect t-shirts.
You can register from 7am on the day, credit card facilities available (shirts not included with same day rego)
Water: Participants are encouraged to bring their own water bottles on the day for great hygiene and Covid safe management
"ABOUT THE WALK"
Originally the Rotary Club of Mooloolaba together with a number of other Rotary Clubs on the Sunshine Coast has for the past three years, staged a WALK FOR MENTAL HEALTH in October to coincide with Queensland Mental Health Month.
The "point of difference" is that the walk is not a race. It is a family occasion offering an organised "fun" walk from Mooloolaba to Maroochydore and back. Walkers have the option to turn around at any time.
The inaugural Walk was held in October 2016 and has grown to include hundreds of participants and raised almost $35,000 so far.
This year our exciting new look LIFT THE LID WALK for Mental Health will be held in many community locations across Australia.
Our target this year given COVID management is to aim for 450 walkers at each event and raise more than $10,000 funds for vital Mental Health Research along the way.
PROJECT BENEFITS
This is a great project because it:
1. Raises much-needed funds for ARH Mental Health Research
2. Offers an opportunity for the community to identify with those suffering from mental health issues.
3. It provides an outlet for those suffering from mental health issues. For example, every year there have been families and friends wearing their own special t-shirts honouring a loved one who has been lost as a result of a mental health issue.
4 Will bring visitors to the region which is good for local businesses and tourism.

YOU and YOUR safety are very important to us and so are the RULES
We're only too aware of the impact of COVID 19 on the mental health of Aussies and while we can't wait to get outside in the fresh air and walk and talk with you, keeping our community safe is of the utmost importance to us too.
The first few WALK events taking place this year are Queensland based and as required we are working to the relevant COVID 19 Safe Event Checklist to ensure we deliver you the safest experience we can.
Before the WALK
We are working to an approved COVIDSafe Plan as required by relevant federal, state and local health authorities.
Registration details will require you to share relevant contact information for every individual so we are able to get in touch with you if need be
We may need to assign you to a grouped arrival/registration time to manage and limit the number of people registering at any one time. You will be notified of this via email in your safety briefing update.
We are keeping our website updated with all information and we will send a safety briefing update to you via email in the week prior to the event.
On the day at REGISTRATION​
All volunteer event staff will be fully briefed and wearing masks
There will be dedicated Marshals to managing social distancing compliance
Hand sanitiser will be available to you at stations We may need to provide you with staggered registration and start times to manage on-site traffic
Registration and T-shirt collection areas will include digital options and marked social distancing requirements will be shown.
We encourage you to register as efficiently as you can and disperse to a safe socially distanced area before you start
While you are WALKING
As it's not a race we encourage you to spread out across the WALK path and maintain social distancing requirements at all times.
Please bring your own water bottle to ensure good hydration and safe use
When you're done
While we'd love you to stay around and enjoy the activity that each local event provides we still need you to do so in a safe and compliant manner.
Every location will feature signage and instruction per their specific event details on-site for you to follow
Just in case we ASK
If you feel unwell, have a cough, cold or fever, sore throat, fatigue or shortness of breath. We will miss you but please stay home
If during the WALK you feel unwell and need medical assistance please locate a Marshal, event official, or First Aid officer.
Maintaining the required social/physical distance is your responsibility, please do it
Please follow the signage and instructions
Keep on eye out on the website, social media and email for event updates
In the EVENT we did get COVID cancelled.
Just in case the current walk format is cancelled because of COVID we'll still be going ahead just differently. We'd love you to get out on the day of the event and walk and talk with us. We will shift it online and do it virtually! We encourage you to share it on socials while adhering to any necessary restrictions, of course. Given we are raising vital funds for mental health research and it's honestly never been more important, your ticket registration donation will make a huge difference to what Australian Rotary Health research funding can achieve. Your shiny new t-shirt will still be waiting for you to collect and we'll keep you up to date of a safe place and time for that to happen via email in the event we can't go ahead on the day.
​LET'S GET WALKING AND GET EVERYONE TALKING ABOUT MENTAL HEALTH