Description
New & Improved Annual Pastors' Appreciation Event!
Pastors and pastoral church staff and spouses - AM 1160 would like to invite you to LIFT 2016- a free conference on Thursday, October 27th at Willow Creek Community Church in South Barrington.
At this FREE one-day conference you'll enjoy:
-2 keynote messages
-Breakout Sessions
-Ministry Expo
-Pastors Panel Discussion
-Fellowship with Fellow Pastors
-Delicious Boxed Lunch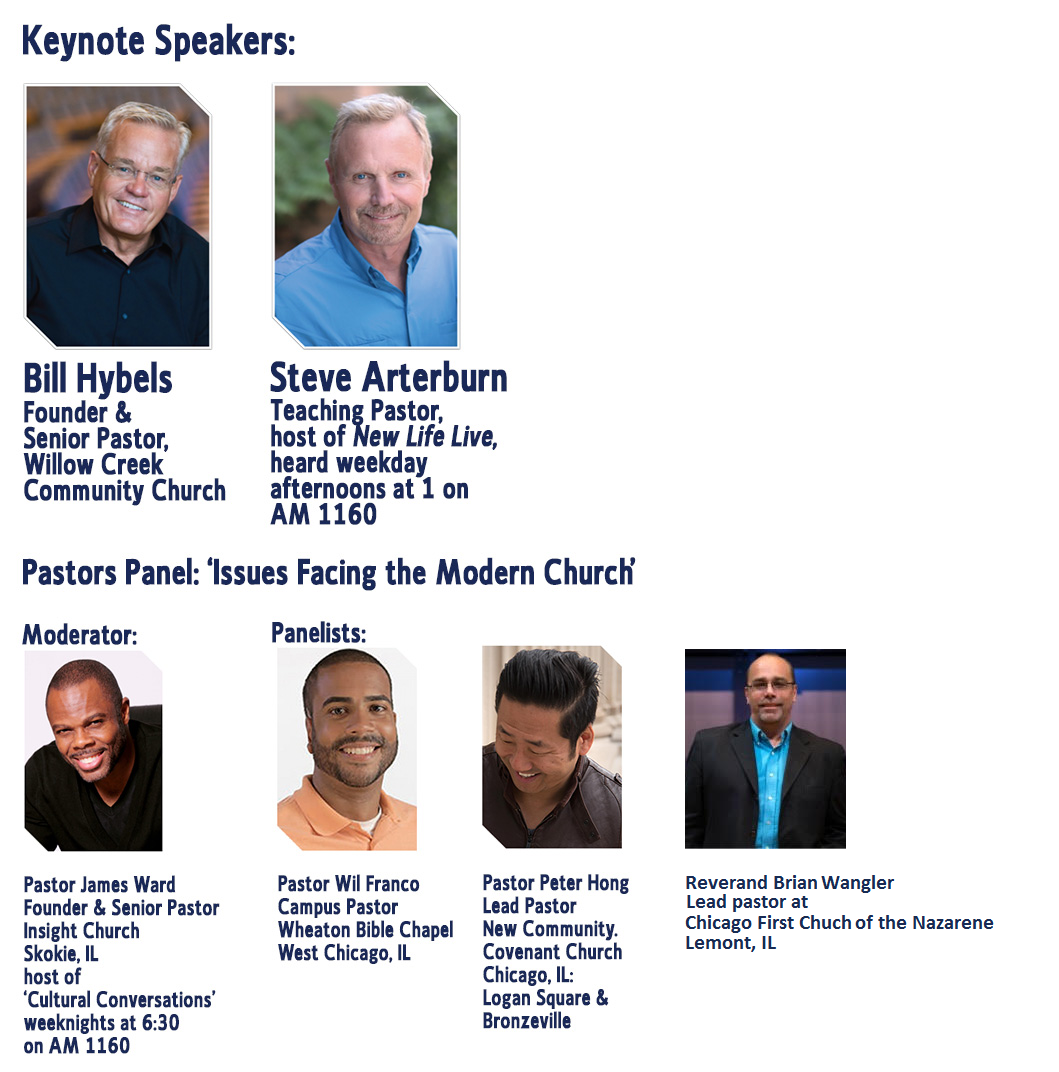 Just for attending LIFT, all pastors will receive a FREE lifetime license to the "New Testament plus Psalms" abridged version of the brand new The Discovery Bible software ($220 value) which allows you to "Read the Bible Jesus Read" and fall in love with Scripture all over again. PLUS, once you RSVP you will receive a link to download the FULL VERSION of the Older Testament and Newer Testament for a FREE trial until October 26th.
Presented by:





Breakout Sessions:



The 5 Reasons:

The 5 Reasons presentation by Christian attorney Daniel Buttafuoco is an eye opening journey through the history, accuracy, and importance of the Word of God. Since 2004, the Historical Bible Society has been committed to the preservation of ancient Biblical texts and dissemination of the Word of God. As Dan presents his best arguments for the Bibles importance to Western Civilization, you'll have the opportunity to look at artifacts dating as far back as 1900 years. Bishop Roderick Caesar called the presentation "one of the most insightful and beneficial I've ever seen on the Holy Scriptures." Even the most doubtful person is sure to leave with a new perspective and a desire to dig deeper into the most important book ever written.



The Most Valuable Time With Your Guest:
You have only one chance to make a good first impression. And most of your first time guests will decide in their first 10 to 15 minutes on campus if they want to return again. Architecture is not the most important factor in that decision, but it is something you can improve to influence their first impressions. We will discuss some practical measures that you can take to improve your facilities for great first impressions. People's expectations for a church building are rising, and you need to see your campus through their eyes.
Presentation by:
Dennis Ehrman, founder and CEO of Church Building Consultants
Chris Lauriat, AIA, Director of Architecture
Dr. James Rodgers, Architectural Pastor


Five Legal Concerns of the Church:

Churches of all sizes are confronting an increasing number of legal issues that threaten their growth and witness. Experienced attorneys Richard Baker and Noel Sterett of Mauck & Baker, LLC will outline five emerging legal concerns for which every church should be prepared.
We'd also like to thank our event partners: