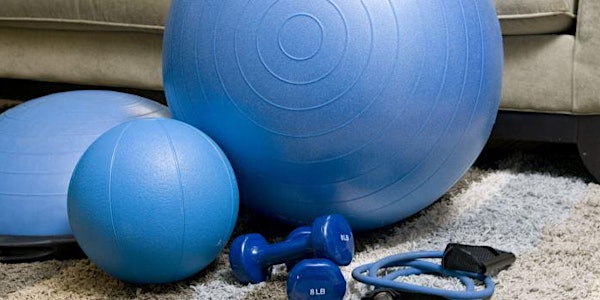 LIFT Online - Lifelong Improvements Through Fitness Together!!
Adults of any age and fitness level can join us for a fun and FREE group education program to improve strength, flexibility and balance!
About this event
Are you an adult (of any age or fitness level) who would like to learn how to achieve and maintain a healthier lifestyle? Would you like to learn and practice exercises that are designed and evidence-proved to help increase strength, flexibility and balance? Would you like to make new friends and build community connections? Would you enjoy a FREE interactive program in a group setting, yet still from the convenience of your own living room?
The Fall 2020 Online LIFT Program is perfect for you!
The guidelines for Americans indicate that every adult needs at least 150 minutes of moderate physical activity each week, AS WELL AS full body strength training twice a week, and balance and flexibility with cool-downs and warm-ups. This program is designed to help you meet the guidelines for strength training. This is NOT a weight loss program.
Join us on Tuesdays and Thursdays at 9 am using the online zoom platform. For your security, a link to join will be sent to you after your registration is complete.
We have put together an amazing instructional team from Anson, Alexander, Montgomery and Stanly Counties to lead this program. Many of you may have worked previously with Hayley Cowell and Rhonda Peters, but we are super excited that Der Holcomb and Roshunda Terry will also be joining us for this Fall 2020 series.
FREQUENTLY ASKED QUESTIONS
Do I have to live in one of the four counties to join? Absolutely not. The beauty of virtual programming is that you can LITERALLY live anywhere, even outside of North Carolina or the United States and still participate. Just note that all sessions will occur at 9 am Eastern Standard Time.
Can I bring a friend? Oh please do! They can join you at your house if you prefer, or from the comfort of their home. For our records, we would really like each person to register individually so we can keep a good participation count.
I don't exercise hardly at all. Is this going to be too hard for me? Absolutely not! Everybody will join the same link at the beginning of each session for group time and warmups. Then we will enter into breakout groups for those who are getting started and prefer a slower pace and a separate group for those who would like to workout at higher levels. Then, we will all come back together for more group time! Nobody will be alone in either group!
I exercise pretty regularly. Is this class going to be too easy for me? Remember, there's huge differences between cardio workouts and strength training. This class is intended to focus on strength training. There are always modifications provided that can help you work out at the level you think most appropriate for you.
I've participated in LIFT before. Should I do it again? Of course! We'd love to have you back. Every time you are able to make a plan to engage in regular physical activity is going to give you HUGE benefits. Plus, you never know who else you might meet!
I can't meet at 9 am on those days. Or, I can meet most of the time, but not every time. Can I still participate? YES, yes and yes! We will record every session and the recordings will be made available afterward for you to view at your convenience. So, if you miss a session, you can just watch it later!
Do I need fancy equipment? No! While we do encourage you to use a set of hand weights, you can make just about anything work! We've seen people use flashlights, rolling pins, water bottles, canned foods, even jugs of milk! All you really need to participate is a chair (that doesn't roll), and a willing-to-try attitude!
I'm kinda uncomfortable exercising in front of people. What do I do? We understand - we really really do! You have a couple of choices. You can always leave your video off during the program. That way you can still see the instructors and other participants, but they don't have to see you while you exercise. You can always turn it on when you want to talk! Or, you can always watch the recordings later. The choice is yours. We are just excited to have you join us!