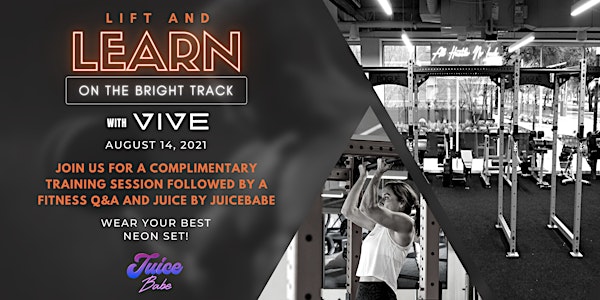 Lift and Learn at VIVE Personal Training
Grab a workout buddy and join VIVE on August 14 for "On the BRIGHT Track" and choose from two full body workouts – strength or pilates!
When and where
Location
4925 Greenville Ave 4925 Greenville Avenue Dallas, TX 75206
About this event
VIVE has announced a new summer Lift and Learn activation, "On the BRIGHT Track," that will kick off in VIVE's new fitness studio located at 4925 Greenville Ave, Suite 108 on Saturday, August 14, at 10:00 a.m.!
The Lift and Learn will offer two parts for Dallasites to enjoy. Attendees can sign-up for either the Strength Fitness Session with various stations for a full-body burn or the Pilates Session to improve core strength and function. Both parts are complimentary to new and current clients and will consist of 45-minute sessions led by multiple VIVE trainers for an all-encompassing experience. Grab your favorite workout buddy and sport your favorite neon-themed workout set to promote the event theme, "On the BRIGHT Track." Spots are limited, and all attendees will need to register through this Eventbrite.
Following the workout sessions, attendees can participate in a Q&A focusing on the benefits of strength training, all things fitness, and recovery with co-owner Jon McDowell. Attendees can also participate in giveaways and raffles featuring VIVE merch, gift cards, and other brand products.
Before you go, re-VIVE your body with complimentary fresh juices and smoothies provided by JuiceBabe, the partner for the event, and learn how JuiceBabe's products can fuel your body and promote a healthy, enjoyable lifestyle.
Current or new clients can visit www.vivepersonaltraining.com or email info@trainvive.com to learn more.
VIVE
4925 Greenville Ave, Suite 108
Dallas, TX 75206