About this Event
Activate Your Stem Cells
As we age, stem cells become less effective and their ability to repair damaged tissue is reduced. Our body shows the signs of this by "aging", we see more wrinkles, have less energy, wounds don't heal as fast, hair thins, sleep is more restless, etc.
LifeWave X39™ is THE WORLD'S FIRST patented, Drug-Free, Non-Invasive product that elevates a copper peptide (GHK-Cu) clinically proven to ACTIVATE your own STEM CELLS by restoring your bodies to a healthier and more youthful state. And the best part? It's SAFE, NON-INVASIVE, NO INJECTION, NO DRUGS to take, NO Side-Effect, and incredibly COST-EFFECTIVE.
What most companies are working on in the field of stem cell medicine is to inject stem cells from a younger donor person into an older recipient. While this is promising, the problem is that this is potentially dangerous (uncontrolled cell division), costly (in excess of $ 10,000 for a single treatment) and not legal (most countries have not approved stem cell therapy). But what if there were a way to "reset" our own stem cells and get them to start acting like younger, healthier cells. This would be incredibly safe, incredibly effective and extremely inexpensive.
The Future is NOW with LifeWave X39 Stem Cell Patch! Experience Drug-free Pain Relief & learn how to put aging in suspension.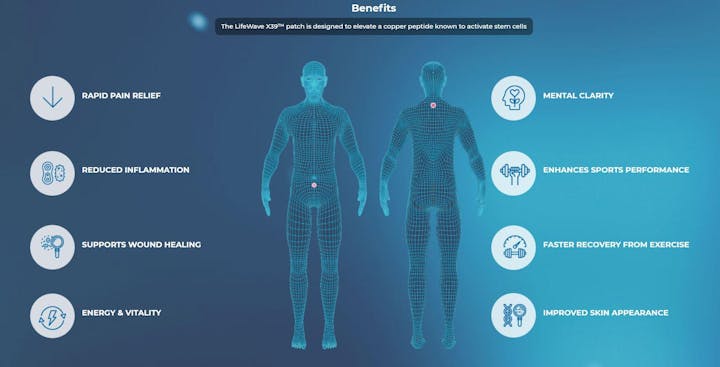 According to Diane Sawyer... Did you know 80% of all the prescription pain killers in the world are taken by the Americans?
Americans are more likely to die from accidental Opioid overdoses today than from car crashes, according to a study released Monday from the National Safety Council. Learn more about THE FUTURE OF MEDICINE and why you need to know what LIGHT THERAPY is and how it works! Energy healing is natural, inexpensive, no Drug, no medication, no stimulant, and the best part is that it is non-transdermal. Nothing enters the body, and there's no side effects!You will hear from the inventor himself and discover how this Advanced patented-technology can positively impact your health and your lifestyle.
LEARN what is Possible with Science Today to ELEVATE CELL ENERGY, COLLAGEN REPAIR, CELL PROTECTION AND INCREASING CELL DIVISION. Every one of these factors is required for Radical Health, Longevity & Anti-Aging!