Event Information
Location
First Unitarian Church
2125 Chestnut Street
Philadelphia, PA 19103
About this Event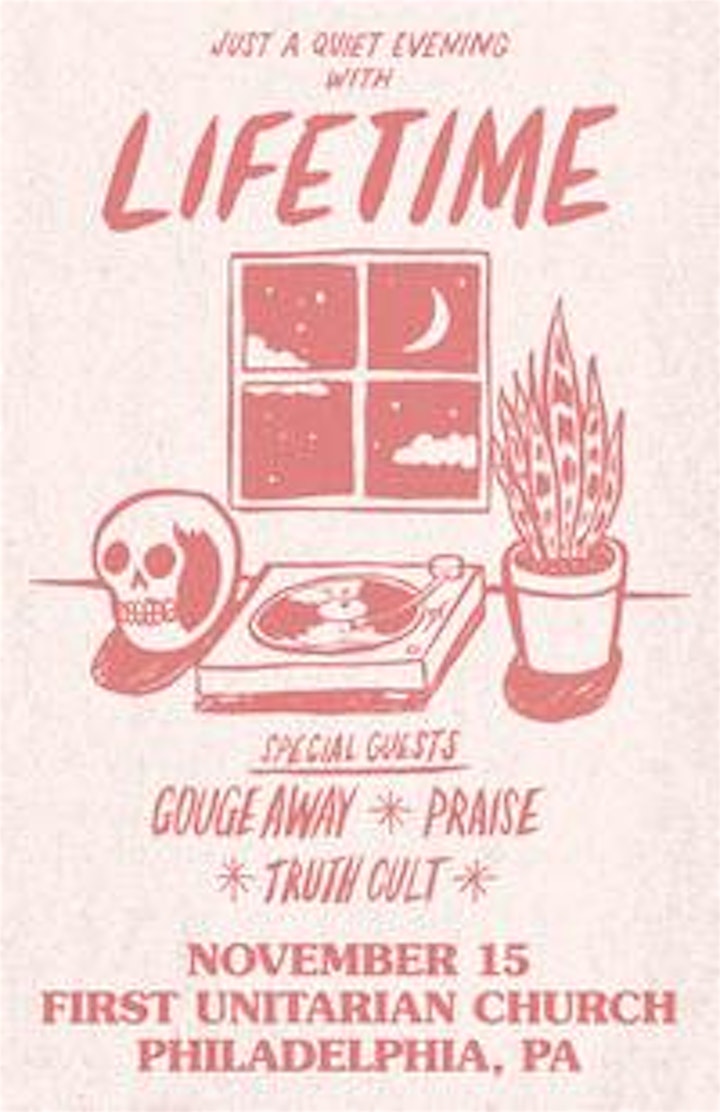 Lifetime
Originally forming in early '90s New Jersey, the legendary Lifetime had the dubious honor of watching most of its peers fade out or fall off. Rather than wallowing in nostalgia, like fellow celebrated Jersey musicians, the band became its own Boss, reinventing its sound, leaving a hardcore-by-the-rules scene to decide for itself. That many since have decided to further explore Lifetime's blueprint has proven something to be thankful for, although few compare to the real thing.
Allowing the emotional cracks of its early days to fuel the passionately crafted classics of its later period, Lifetime draws from a tradition of melodic rockers ever committed to maintaining the bite of punk's explosive side, from Husker Du to Pinhead Gunpowder.
By the late 1990s, Lifetime had redefined underground music in America, steering it towards a progressive transition from the hardcore of yesteryear.
Gouge Away
What started as an outspoken hardcore band around 2013, has mutated into an angular blend of sass and spitefulness. Taking cues from bands of yesteryear such as Unwound, The Jesus Lizard, and Fugazi, we find Gouge Away pulling no punches.
Vocalist, Christina Michelle, comes with a deeper introspection on struggles with mental health, not holding back with this incredibly personal outpouring. Guitarists, Mick Ford and Dylan Downey, bring a dissonance to their sound that separates the listener from what could be expected while the rhythm section made up of Tyler Forsythe and Tommy Cantwell aggressively keep the songs in place.
The Florida born five-piece recently recorded their Deathwish Inc. debut with Jack Shirley at Atomic Garden (Deafheaven, Oathbreaker, Jeff Rosenstock) which was co-produced by Jeremy Bolm of Touche Amore. Burnt Sugar appeared on many Best of 2018 lists including those by Revolver, Stereogum, AV Club, NME, and Brooklyn Vegan.
Having shared the stage with bands such as Touche Amore, Ceremony, Culture Abuse, Drug Church, Daughters, G.L.O.S.S., Thursday, Paint It Black, and Russian Circles, the band has no plans of slowing down anytime soon.
Praise
Praise is not a religious band, Praise is a Straight Edge band. In the fall of 2007, I was staying with Andy in Baltimore and spent a night discussing life, hardcore, new bands, 7Seconds, and Straight Edge. Andy brought up that he had a couple of songs written for his previous band and sooner or later would like to use them for a new band. After discussing the ideas behind the music and lyrics I knew that Andy was going to create something special and we agreed that whenever it comes together REACT! would put it out. The interesting part about this story is that I was in town for a TFS show that Andy had set up, and not only was it the first time I saw Mindset, but also the first time Andy was introduced to Michael who would go on to help Andy bring Praise to life.
For almost two years Andy worked on finding the right line-up but time, distance, and life kept things from coming together. But finally in September of 2009 Praise was solidified with Michael Clarke and Colby Malone on guitar, Chris Bavaria on bass, Daniel Fang on drums and Andy Norton on vocals. In January 2010 the band, with their good friend Kevin Bernsten, entered the studio for the first time and created a hardcore record that is not only honest and inspiring, but is also a representation of the lasting friendship between Andy, Michael, Colby, Chris, Dan, and Aram.
Truth Cult
American emo-hardcore band from Baltimore, Maryland.
Performers
Date and Time
Location
First Unitarian Church
2125 Chestnut Street
Philadelphia, PA 19103
Refund Policy