Actions and Detail Panel
LifeStream.tv Presents Digital Dominion WorkShop 2017 | Atlanta, GA.
Fri, May 19, 2017, 10:30 AM – 3:30 PM EDT
Description
Pastors, Media Team, Web Team, Online Pastors, Live Streaming Production Team, Video Editing Teams all are Invited to attend this FREE two day workshop. Call today for more information 1-888-317-5433 Ext: 1 Register online Today and secure your spot. You do not want to miss this opportunity. Come Meet Our Team... When you register be sure to select both dates.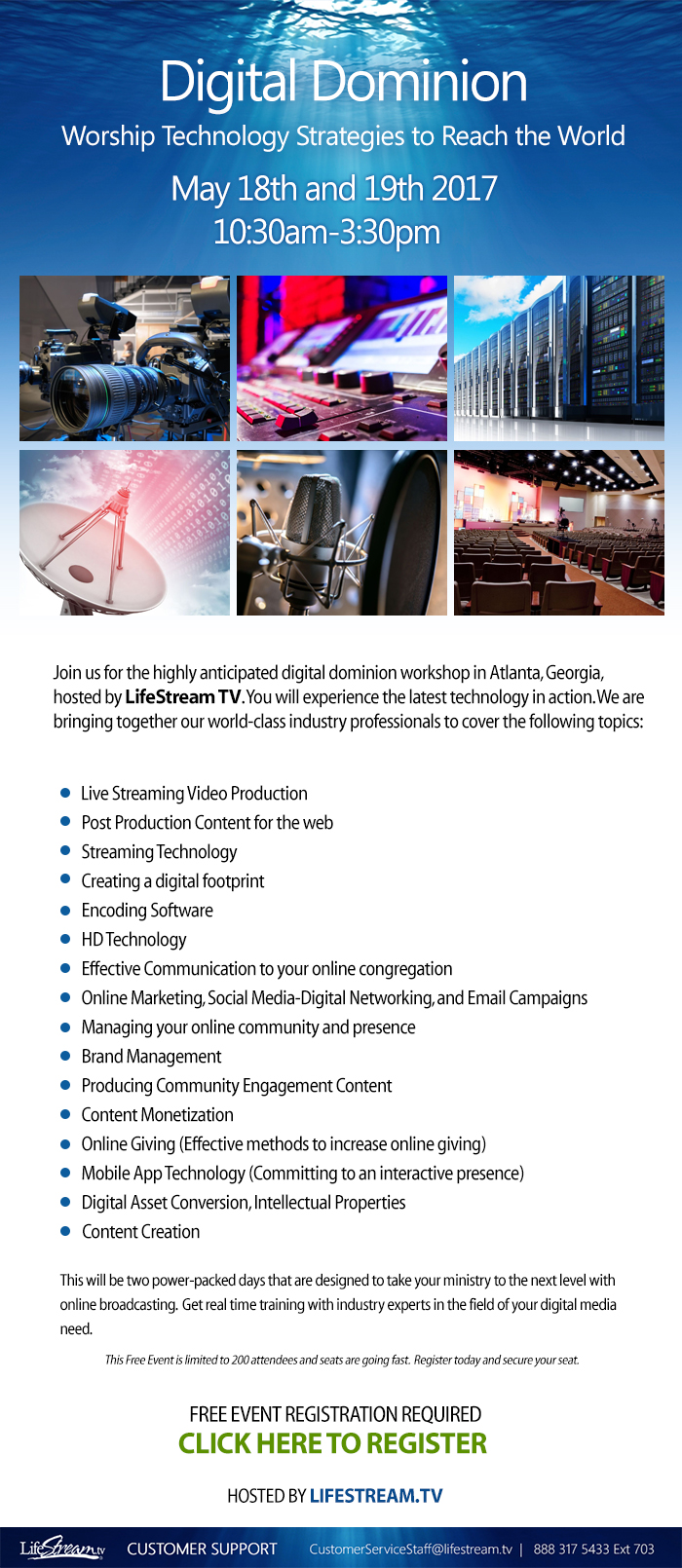 Workshop Facilitators
Michael P. Upshaw Sr. President, LifeStream.tv

Nathaniel D. Jiles - Founder & Owner of Nationwide Ministry



Dr. Robert Hughes COO of iPMG/Director of Video Consulting LifeStream TV
Paul Wilson Jr. MBA. CEO of KBU/ Director of Communications LifeStream TV
Jonathan Young National Account Manager, LifeStream.tv
Frank Griffin Digital Media and Content Specialist, LifeStream.tv
Jason Arcega Business Development Agent, Interactive LifeSteam
Art Franklin, CEO of iPMG
Robert Eliis, CEO of Sight and Sound Production Conferences
Raymond Stieb Jr.

Director of Communications/Media Chaning A. Generation
Area Hotels:
1. Sheraton Suites Galleria – Atlanta
2844 Cobb Parkway SE, Atlanta, Ga, 30339
http://www.sheratonsuitesgalleriaatlanta.com/
2. Renaissance Atlanta Waverly Hotel & Convention http://www.marriott.com/hotels/travel/atlrb-renaissance-atlanta-waverly-hotel-and-convention-center/
3. Hampton Inn
2733 Circle 75 Parkway, Atlanta, Georgia, 30339
http://hamptoninn3.hilton.com/en/hotels/georgia/hampton-inn-and-suites-atlanta-galleria-ATLGRHX/index.html
4. Homewood Suites by Hilton Atlanta-Galleria/Cumberland
3200 Cobb Parkway, Atlanta, Georgia,30339
http://homewoodsuites3.hilton.com/en/hotels/georgia/homewood-suites-by-hilton-atlanta-galleria-cumberland-ATLCLHW/index.html
5. Hampton Inn Atlanta-Cumberland Mall/NW
2775 Cumberland Parkway, Atlanta, Georgia, 30339
http://hamptoninn3.hilton.com/en/hotels/georgia/hampton-inn-atlanta-cumberland-mall-nw-ATLCMHX/index.html
6. Hotel Indigo Atlanta- Vinnings
2857 Paces Ferry Road SE, Atlanta Georgia 30339
https://www.ihg.com/hotelindigo/hotels/us/en/atlanta/atlrc/hoteldetail