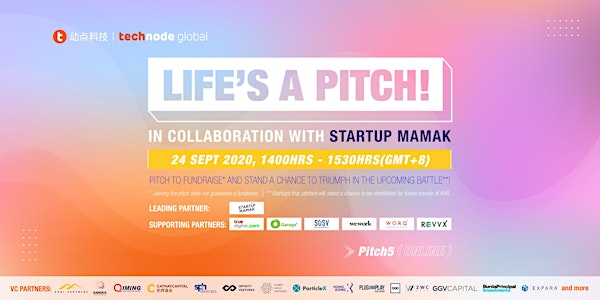 Life's A Pitch! - Malaysia Special with Startup Mamak
Pitch to fundraise online with regional VCs!
About this event
Life's A Pitch! - Malaysia Special
in collaboration with Startup Mamak
Pitch 5: 24 September 2020, 1400hrs(GMT+8)
Welcome to our 5th round of Life's A Pitch! - Malaysia Special. Proudly organized with Startup Mamak.
If you're in the following verticals:
IoT
AI
Smart mobility
Proptech
Medtech
Edutech
Foodtech
Fintech
New retail
Startups, join to fundraise and stand a chance to battle with the best in the region for a coveted title and amazing prizes.
VCs, Corporates, apply today to be on our panel of investors and judges(applicable for AHB only).
Joining requirements:
Seed-stage to Series B startup with proven business traction.
*Note that this online pitch does not guarantee immediate funding and typical due diligence process applies should investors express interest.
**Pitching slots are limited, are based on a first come first serve basis, and are subjected to shortlisting. The organizer's decision is final, nonetheless, we will try to help as much as we can. You will be notified should you are selected for the pitch. If you are not shortlisted this round due to oversubscription or any other reasons, you will automatically be in our waitlist and we may reach out to you for our subsequent pitches.
***Startups that pitched will stand a chance to be shortlisted for future rounds of AHB.
Dates of future pitches:
Investors joining us this round:
- 500 Durians
- Kairous Capital
- SixThirty Ventures
Format:
5 minutes Pitch + 5 minutes Q&A
Things to prepare once you have registered successfully:
1. Pitch deck in a google link (this will be submitted during registration)
2. Pitch deck or any form of other materials to be used during the pitch
3. A pre-recorded mind-blowing 5 minutes pre-recorded pitch to be sent to us after being shortlisted. This serves as a back-up, in the event of technical issues.
*Shortlisting process:
Once you have successfully registered, wait for our email response(latest will be 3 days before the pitch date). For shortlisted Startups, we will follow-up with an email with a pitch kit containing the instructions for the pitch.
Only shortlisted Startups will be contacted. For those who did not make the shortlist, please re-register for other available slots or the waitlist so that we can keep you in our pool in the event when an opportunity pops up.
Please note that once you have been confirmed, we appreciate your responsible and timely participation of the pitch. Should you have any last minute changes, do inform us min. 2 days in advance so that we may offer your slot to other interested parties.
Disclaimer: The organizer's decision is final and we seek your kind understanding. We're all in this together and we will strive to facilitate as many fruitful connections as possible.
Should you have any queries, feel free to email stanley@technode.com or fengyan@technode.com.