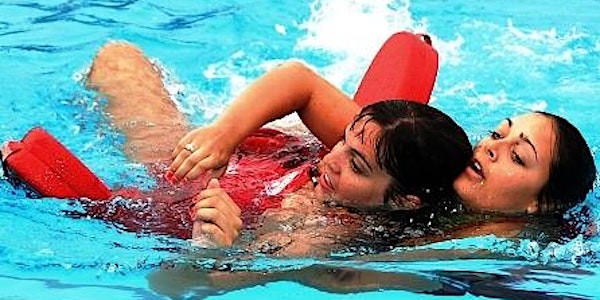 Lifeguarding Certification Course (Shallow Water Certification)
The purpose of the Shallow Water Lifeguarding course is to provide entry-level shallow water lifeguard certification.
By Safety First CPR & Safety Training
Date and time
April 14 · 4:30pm - April 16 · 5pm EDT
Location
St. Johns Golf & Country Club 205 St. Johns Golf Drive St. Augustine, FL 32092
Refund Policy
Contact the organizer to request a refund.
About this event
The purpose of the Shallow Water Lifeguarding course is to provide entry-level shallow water lifeguard participants with the knowledge and skills needed to prevent, recognize and respond to aquatic emergencies in shallow water up to 5-feet deep and to provide care for breathing and cardiac emergencies, injuries and sudden illnesses until emergency medical services personnel take over.  Upon successful completion of this course, participants will receive an American Red Cross certificate for Shallow Water Lifeguarding/First Aid/CPR/AED, valid for 2 years.
Course Type - Blended LearningThis is a Blended Learning course, combining online learning with the in-person classroom/swimming pool skills course.  After registering here, participants will be contacted by Safety First with their online course link to complete it prior to the start of in-person course in June.
Prerequisites Candidates must:1. Be 15 years old on or before the final scheduled session of the course (June 8, 2017).2. Swim 100 yards continuously demonstrating breath control and rhythmic breathing. You may swim using the front crawl, breaststroke or a combination of both, but swimming on the back or side is not allowed.  Swim goggles may be used.  Tread water for 2 minutes, using only the legs. Candidates should place their hands under the armpits.3. Complete a timed event within 50 seconds:- Starting in the water, swim 20 yards using the front crawl or breaststroke. Your face may be in or out of the water. Swim goggles are not allowed. - Submerge to a depth of 4 to 5 feet to retrieve a 10-pound object. Return to the surface and walk or swim 20 yards to return to the starting point with both hands holding the object at the surface of the water.- Exit the water without using a ladder or steps.
Location St. Johns Golf & Country Club, Room inside pool area, 205 St. Johns Golf Drive, St. Augustine, FL 32092
Course Dates Fri, Apr 14, 4:30-8:30p; Sat, Apr 15, 8a-5p; Sun, Apr 16, 8a-5p
Instructor Bio Course instructor, Tukz Taaca, is co-owner of Safety First CPR & Safety Training, LLC and has an extensive background in aquatic safety.  With 25+ years of experience, he has taught swim lessons and lifeguard certification courses through a variety of systems such as the American Red Cross, Ellis & Associates and the YMCA. He has taught for such organization as The Walt Disney World Company and the YMCA of Florida's First Coast. Come learn under one of the best!
Next Steps 1. Register for the course here.  After doing so, you will receive an email confirmation.2. Watch for another email from us with your online course link and information about classroom course materials needed in class.3. Purchase your Red Cross course books through the information we provide you.4. Complete your online course. IT MUST BE COMPLETED PRIOR TO JUNE 6 OR YOU CANNOT PARTICIPATE IN THIS COURSE.5. Practice your physical skills as listed above under Prerequisites.
Cancellation / Refund Policy If cancelling 8-14 days before the class date, 90% of your fee will be refunded. From 4-7 days before class date, 75% is refundable. From 2-3 days before class date, 50% is refundable. From 1 day prior to anytime after the date of the class, 0% is refundable/transferable.