Description
LifeArts Girls Dayshop is a creative arts & life skills mIni conference designed to equip young girls ages 8-14 to be trailblazers. Our goal is to inspire creativity and give girls real world tools and skills they need to pursue their dreams while maintaining a virtuous lifestyle. This quarterly mini-conference.
Each session we will bring in innovators, creatives, and professionals in various fields to ficilitate workshops, providing hands on activities and open dialogue about topics that matter to this age group. Girls will receive a special certificate after they complete each dayshop and we will hold a special ceremony at the completion of the final dayshop for the year to honor the girls who have successfully completed all of the dayshops.
Registration is $15 per girl.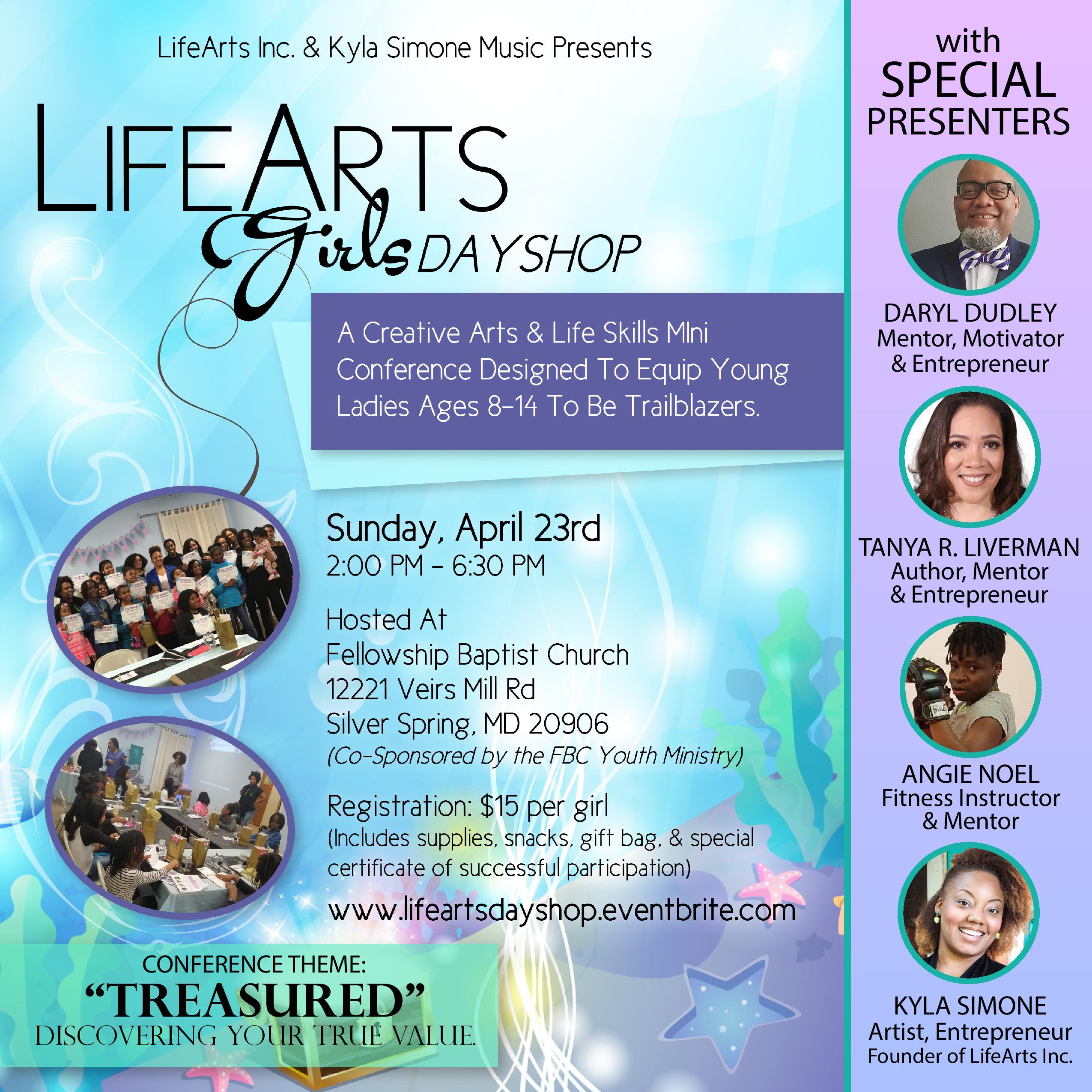 CONFERENCE SCHEDULE:
1:00 pm – 2:00 pm Lunch is served
2:00 pm – 2:30 pm Opening Session (sign in, welcome, ice breaker)
2:30 pm – 3:30 pm Fit Girls Bootcamp with martial artist instructor and mentor Angie Noel
3:30 pm – 4:25pm Cre8tively U Workshop with entrepreneur, music and visual artist Kyla Simone
4:25 pm – 4:30 pm Short break/Transition to next workshop
4:30 pm – 5:00 pm Chat & Chew with entrepreneur and mentor Daryl Dudley
5:00 pm – 6:00 pm LifeSkillz Workshop with author, entrepreneur, and mentor Tanya R. Liverman
6:00 pm – 6:05 pm Short break/Transition to closing session
6:05 pm – 6:30 pm Closing Session (Thanks, certificates, and beauty bar giveaways)
*Registration for the next conference will be available following closing session.
PRESENTERS:
Daryl Dudley - Founder of She's My Daughter organization and the Dudley B Sharp Music Academy located in Washington, DC.
Angie Noel - Fitness Instructor and Mentor
Tanya R. Liverman - Author, Mentor, and Entrepreneur, Co-Director at SMZBT Teen Leadership Academy, Founder of Native Productions
Kyla Simone - Founder of LifeArts Inc., Entrepreneur, Visual Artist, and Acoustic Soul Music Artist
REGISTER TODAY!
2017 SCHEDULE...
Session 1: Sunday, January 29th (registration has passed)
Session 2: Sunday, April 23rd (registration now open)
Session 3: Sunday, July 23rd (registration opens April 23rd)
Session 4: Sunday, October 22nd (registration opens July 23rd) *Includes special honors ceremony
Girls who have completed all 4 conferences will receive a special gift during the honors ceremony!!!