Life So Far Tea With Inspiring Women
Sales Have Ended
Registrations are closed
Thank you so much for registering. We look forward to seeing you on Nov. 17th.
Sales Have Ended
Registrations are closed
Thank you so much for registering. We look forward to seeing you on Nov. 17th.
About this Event
The Barnard, Smith, and Wellesley College Alumnae Clubs of France proudly announce our first joint alumnae event:
The Life So Far Tea with Inspiring Women
November 17th, 2019 at Reid Hall from 2:30 to 5:30 pm.
Reserved to alumnae (and current students) from the 3 colleges, the program features:
Six outstanding alumnae living in France and excelling in their unique career paths. Each will give a brief, inspiring glimpse of her life so far. They represent graduating classes from six different decades.
Networking time to meet not only your own alumnae but the members of the other clubs
Delicious French pastries and refreshments
Reid Hall, a historic venue that has served as a link between many leading academic communities of the US and France for over a century.
This event is lovingly prepared by:
Denise Silber (center) for Smith, who will also be our emcee,
Pamela Boulet (left) for Wellesley,
and Genevieve Acker (right) for Barnard.
PS 1 for out of towners, we unfortunately are not equipped to provide assistance with transport or lodging. Rome2Rio.com (website and app) is helpful for comparative point to point travel time and costs; Booking, AirBNB, etc for finding lodging near Reid Hall.
PS 2 Feel free to contact your alumnae rep Denise or Pamela or Genevieve directly to let them know you're attending, as well as registering.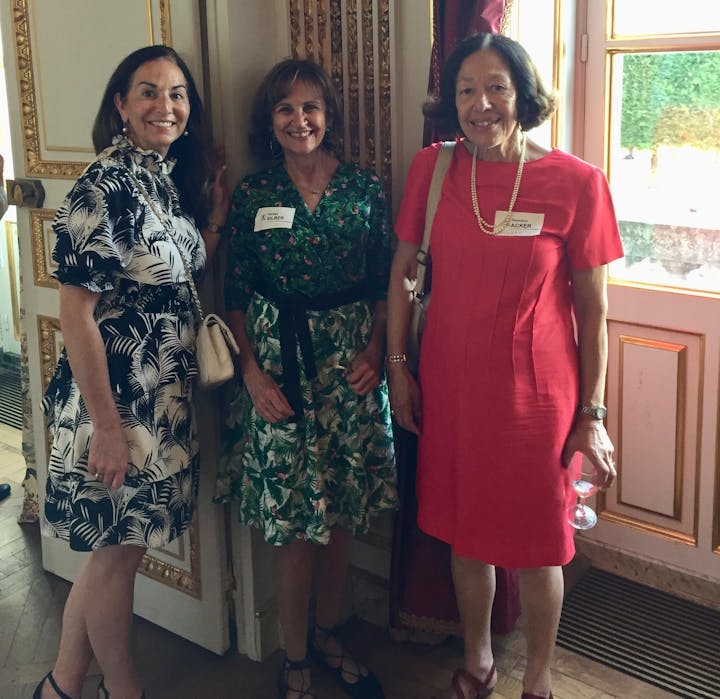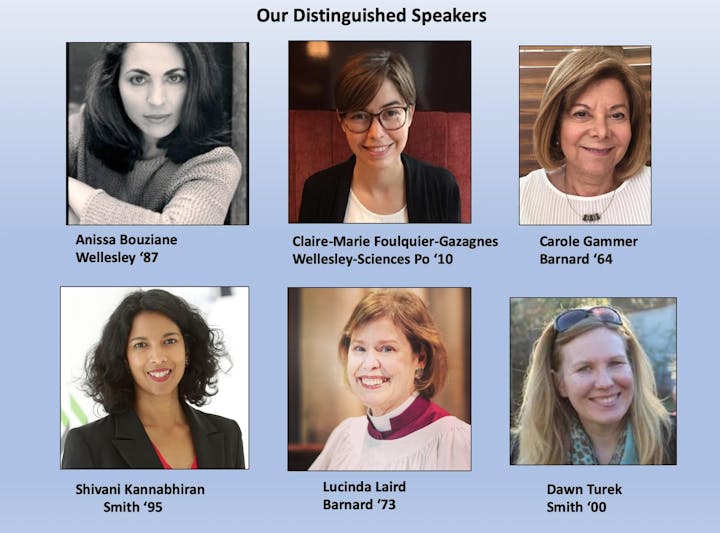 Biographies
Anissa M. Bouziane was born in the US, daughter of a Moroccan father and a French mother. She grew up in Morocco, but returned to the US for college at Wellesley College, and went on to earn an MFA in fiction writing from Columbia University.
Writer, filmmaker, and artist, Anissa is a keen observer of the space between East and West. Dune Song, her first novel, is rooted in the author's experience of witnessing the collapse of the Twin Towers.
***************************
Claire-Marie Foulquier-Gazagnes Claire works at the intersection of Tech and Social Impact. She manages Product Partnerships for Google Search and leads on Civics and Education across Europe, Middle East, and Africa. She previously strived to make culture available to everyone everywhere at Google Arts & Culture and to encourage voter turnout within the Google Elections taskforce.
From Montpellier, France, Claire has served in France's Chief Data Officer team, Etalab, and rotated at the White House Office of Science and Technology Policy. She holds a BA from Sciences Po, participated in the Wellesley College/Science Po Exchange program, and has a Dual MA from HEC Paris and Sciences Po. She enjoys teaching Public Interest Tech at Sciences Po and advancing gender equality at Women@Google.
***************************
Carole Gammer moved to Paris by choice in 1981. She created and currently directs training institutes in family and couple therapy in France and Germany. Carole finds it thrilling to have a profession where wisdom, experience and age are valued. At Barnard College, Carol majored in mathematics, planning to get her doctorate and become a professor.
After graduation in 1964, she decided to become a clinical psychologist, which has brought much fulfillment to her life. After getting her Ph.D., she went to work at Children's Hospital, Harvard Medical School and then on to California in the 70's, as it was there that many innovations in psychotherapy were occurring.
Eventually wanting more adventure and culture, Carol accepted invitations to train therapists in France, Germany, Switzerland and Sweden. Mastering German and French was a challenge. Carol has published 2 books: "The Child's Voice in Family Therapy," which has been translated into French and German, and "Adolescence, Crise Familiale".
***************************
Shivani Kannabhiran is a specialist in risk-based due diligence and has worked at the OECD's Responsible Business Conduct unit since 2012. She provides advice to policy makers on integrating due diligence considerations into national policies and standards and works closely with industry, civil society and workers to address risks in human rights, labour, natural resources and governance to achieve the Sustainable Development Goals.
Shivani's experience spans the private as well as the non-profit sectors. She is a former management consultant (AT Kearney and Business for Social Responsibility), and spent many years as an advocate for educational and inclusion issues with The Boys' Club of New York and the NGO Impact.
Shivani has a BA from Smith College and an MBA from Insead. Originally from Kuala Lumpur, Malaysia, she now calls Paris home, together with her husband and their two teen-aged children.
***************************
Lucinda Laird Since March 2013, The Very Rev. Lucinda Laird has been the Dean and Rector of the Cathedral Church of the Holy Trinity, commonly known as the American Cathedral in Paris. Lucinda is from New Orleans, LA. She holds a B.A. from Barnard College, Columbia University, and an M.Div. from The General Theological Seminary. In the years between college and seminary, she was a (not-terribly successful) actor in New York City.
Before coming to Paris, Dean Laird served for 15 years as Rector of St. Matthew's Episcopal Church in Louisville, KY, and for 11 years as Rector of St. Mark's Church in Teaneck, NJ, as well as serving in leadership positions in both dioceses, and in the national Episcopal Church.
***************************
Dawn Turek A Floridian with an international business and policy background, Dawn Turek followed a reverse "snow bird" path to live in New York, Geneva, Prague, Brussels and now Paris. As a Marketing & Communications Manager at Comgest, an international equity boutique focused on responsible investment that is employee-owned, she specializes in advertising, press relations, writing and lots of regulatory compliance. Since moving to Europe in 2013, she has also managed her parents' health issues from afar.
Her experience spans legal, Cravath, Swaine & Moore; finance, AllianceBernstein and Rockefeller & Co.; and public policy, the Council of Bars and Law Societies of Europe, the European Parliament, the ILO, and the NGOWG on Women, Peace & Security.
With a B.A. from Smith and a M.S. from NYU, Dawn's creative spirit has likewise led her to do freelance food and travel writing and self-renovate two apartments. She lives in Paris with her puppy, Zelda.
*******************************************************************************************
Coordinators
For Smith College
Denise Silber, emcee and creator of our event, an ex-New Yorker, founder of Basil Strategies digital communication in Paris, has developed a combined expertise in digital health, patient engagement, start-ups, public speaking, and conference curation. Her pioneering role in building bridges between eHealth innovators and medical communities globally was recognized in 2011, when she was awarded the Legion of Honor. In December, 2018, Denise was named to the "Inspiring Fifty Women in Tech in France."
After her BA at Smith College, Denise was a US Foreign Service Officer in Mexico City, She then did an MBA at Harvard and moved to Paris, with a first position in pharma. After a successful decade in the corporate world, Denise chose the entrepreneurial route before it became so popular, creating and or joining innovative health start-ups in New York and Paris. Denise serves on the Smith College Club of France board and is vice-president of the Harvard Club of France.
*********************************
For Barnard College
Genevieve Acker Originally from Newport, RI, Genevieve holds a BA from Barnard College and an MA from Middlebury College. A resident of France since 1963, she made her career 1965-96 with the Fulbright Scholarship program in Paris, as Manager of the American Scholars' program and Deputy Director. She was a founding member of WICE (Women's Institute for Continuing Education) in Paris and former Vice President of the Paris Alumnae Network.
Genevieve is, since 1997, a volunteer Human Resources Manager at AGIRabcd, a French association of retired professionals who carry out volunteer consulting and training missions in France and abroad. She has also done several missions in Ivory Coast and Eastern European countries.
Since 2007, Genevieve has been President of the Barnard Alumnae Club of Paris' which in addition to its bi-monthly book group functions as an ongoing convivial support system where all Barnard alums are welcome, whether long-term residents or new arrivals
******************
For Wellesley College
Pamela Boulet is co-founder of Alma Mater Europe, an education consultancy company based in Paris with offices in Rio, Sao Paolo, and Westchester. She is on the board of the University of Pennsylvania Parents Council and Outreach Committee and President of the Wellesley College Alumnae Association in France, having previously served as their VP.
She was named to President Obama's Campaign Finance Committee and a 'Hilllraiser' for Senator Hillary Clinton's 2016 Presidential campaign. Upon graduation from Wellesley College in 1987, Pamela worked for PMK Public Relations, an entertainment PR firm in NYC where she promoted foreign films in the United States, moving to France to organize a film festival with the American Center in Paris. She resides with her husband and two boys in France, but maintains her loyal support of the NY Yankees.
*******************
And, in addition to our coordinators:
Macey Smith, Smith College '75, a longstanding officer of Smith College Club of France, first as treasurer since 2010 and then as president since 2016, now lives in Lisbon, where she is working on the Smith in Europe 2020 Reunion in Paris. She will also join us in November to present the SCCF activities. Macey's major at Smith was "Urban Studies," a program she invented, because there was no degree in Architecture or Planning; she spent her "Junior Year Abroad" in New York City, apprenticed to a studio of architects and got her Masters' in Architecture in 1979 from Harvard. Macey then returned to Chicago and worked in Finance and Construction until her retirement.