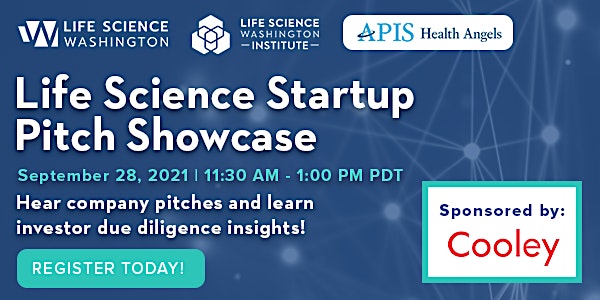 Life Science Startup Pitch Showcase
Special thanks to Cooley for sponsoring this event! To join the meeting: https://us06web.zoom.us/j/85041714239
About this event
Within the broader field of Life Sciences, there are unique due diligence considerations. Startup Pitch Showcase is a stage for startups and investors in the biotech, digital health and medical tech spaces.
Curated Startups will share their pitches in one of the above three categories.
Expert Investors will provide commentary on important things to evaluate when considering an investment in this sector.
If you are currently investing, or aspiring to invest in, lifesciences, this showcase will drive more informed due diligence.
LSWI and Apis Health Angels invite you to register.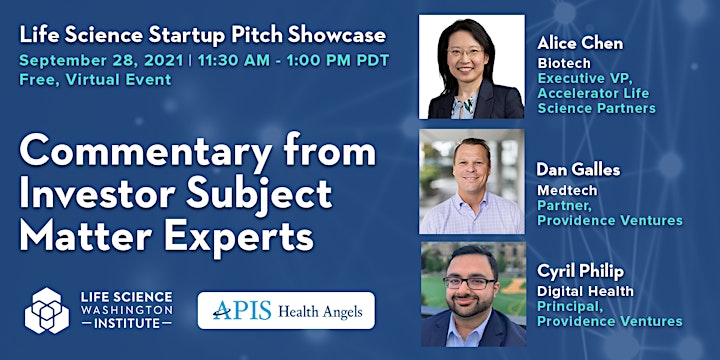 Pitching Companies
Nine Early-Stage Life Science companies have been selected by our panel of investors to present at the event. All are seeking their first round of significant investment.
Medical Devices
Delivering real-time lab testing in the home without sacrificing sensitivity or specificity and providing consumers access to most lab testing needs.
KinAptic wearable solutions deliver clinical quality diagnostic and treatment solutions to everyday garments.
Despite the value of retinal imaging, the expense and operational overhead of the current solutions on the market limit the widespread adaptation by eyecare providers. Envision's approach is radically different.
Biotech
Utilizing a UW David Baker Lab de novo technology to bring truly quantitative, robust and multiplexed biosensor capabilities to the Point of Care and the At-Home Market.
Developing advanced microbiology tests to identify disease pathogens and determine antimicrobial resistance. Pataigin's mission is to make BACLIB a market-leading diagnostic test that significantly improves outcomes for infectious disease patients, reducing hospital expenses and saving patient lives.
Addressing a pervasive bottleneck impeding progress in life science R&D: growing cells is slow. We have a unique approach for reducing the number of these physical experiments our customers perform thus getting their competitive products to market faster.
Digital Health
Remmie is a digital health solution for remote ear-nose-throat (ENT) care that allows users, especially parents, to obtain professional evaluations of ENT conditions safely from home. Coupling an ENT monitor with an app/SDK for telemedicine, Remmie enables users to visualize, share, upload, and stream symptoms in real time with a telemedicine provider and Remmie.ai to assist with accurate diagnosis of ENT conditions.
Building an end user marketplace to funnel tailored end users with matched provider criteria, adding the convenience model of a direct to consumer platform and removing barriers to health.
Automating a historically complex and manual provider incentive problem while providing expanded ability to align compensation incentives of providers and other healthcare workers to an organization's strategic direction.

This event generously made FREE to our guests by Cooley, LLP.