About this Event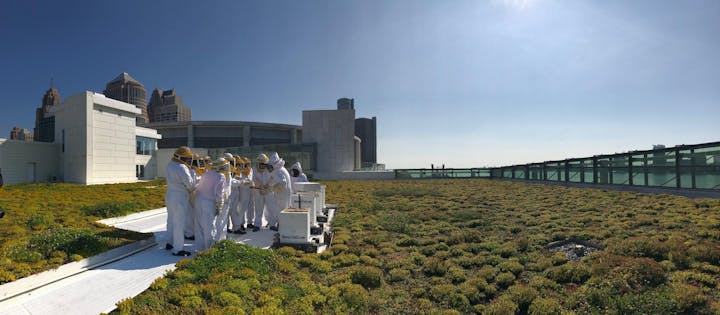 Bee our guest! Join Cobo Center for the first Cobo Cares dinner party: Life is sweet, a celebration for Detroit's honeybees. Cobo Center's exclusive caterer, Centerplate has curated an incredible five-course menu of local honey and pollinator dishes and cocktails - showcasing Executive Chef Stephen Blaser's passion for culinary creativity, offering a truly unique dining experience.
Cocktail hour and registration starts at 5:30PM, with dinner service at 6:30 PM.
First course: Local Charcuterie, rooftop garden-grown herb biscuits and summer fruit; house-made cheese varieties and Detroit honey paired with Honey Parker house sourdough with lemon thyme honey butter, smoked sea salt and black garlic.
Second course: Grilled Firestone Peaches, Mozzarella, Thai Basil, Honey Comb Crouton and Lime Peach Vinaigrette (Vegetarian, GF, NF)
Third course: Honey Ginger Lacquered Ruby Red Trout, Forbidden Rice, Yuzu Vinaigrette (GF, DF, NF)
Fourth course (select one):
Braised Honey & Herb Short Rib, Pomme Mousseline, Thyme Roasted Young Roots (GF,NF)
Cauliflower "Chicken", House Durkee Sauce, Squash Ribbon, Malted Vinegar Honey Cole Slaw (Vegan GF, DF, NF) (select vegetarian ticket choice)
Final course: Detroit Honey Flan with Compote of Summer Stone Fruit (Vegetarian, GF, NF), Assorted House Madelaine Cookies (NF), Michigan Vegan Bark (Vegan, GF, DF, NF)
Beverages include: Paired Michigan craft beer and local wine. Faygo soda, craft cocktail pairing.
All tickets for this event will also include and exclusive tour of Cobo Center's five rooftop hives as well as a live honey harvest experience, where each guest will be able to take home their own Detroit honey.
In the spirit of community, proceeds from this dinner will be donated to Bees in the D. Bees in the D is a non-profit organization whose mission is to create a cooperative effort between residents, schools, organizations, and businesses in the city of Detroit and Southeast Michigan to contribute to both the health of honey bee colonies and the education of their importance to our environment.
This dinner party will offer an exciting evening of discussion and education paired with a delicious selection of food, cocktails and a memorable evening in Cobo Center's stunning marble Atrium, with views of the Detroit River.
Tickets are available individually or by table, and are on a first-come, first-serve basis. Please consider your ticket purchase a contribution to Bees in the D, a 501(c)(3) non-profit organization supporting beekeeping and conservation in Michigan. Please forward all questions and inquiries to Kristin at kshaw@cobocenter.com.