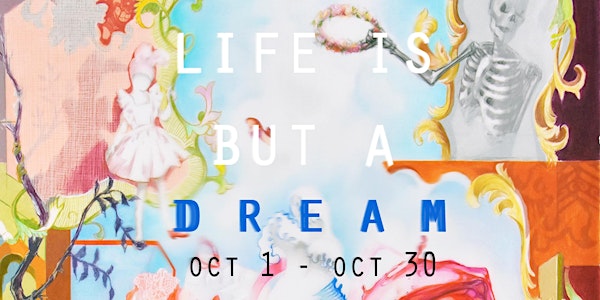 Life Is But A Dream | Opening Recep
Life is But A Dream is a group exhibition featuring Mary Fortuna, Scott Northrup, Luzhen Qiu and Sarah Rose Sharp
When and where
Location
Galerie Camille 4130 Cass Avenue #Suite C Detroit, MI 48201
About this event
Galerie Camille is pleased to announce Life is But A Dream, a group exhibition featuring fiber artist, Mary Fortuna; interdisciplinary artist, Scott Northrup; mixed media artist, Luzhen Qiu and fiber artist and writer, Sarah Rose Sharp. Life Is But A Dream is visually poetic fever-dream exhibition presented by four prolific Detroit based artists each exploring their own dream-like themes. Visitors will experience feathers, bones and stones delicately balanced and suspended on an earth mobile by Mary Fortuna. Sarah Rose Sharp's embroidered fiber paintings and intricately adorned doll-houses. Sacred thoughts in collage and film form by Scott Northrup; and striking and psychological multi-layered vellum collage drawings by Luzhen Qiu. All of which makes for a quadrupled layered hallucination for our retinas to absorb.
Life Is But A Dream opens to the public on Oct 1st and runs through the 30th. Join us on Friday, October 1st for the opening reception, 25 people per hour and tickets via Eventbrite. Gallery hours: Weds-Sat, 12-5pm.
An artist talk will be held at the gallery with limited seating of 25 people on October 9th at 2pm. Masks required.
Merrily, Merrily, Merrily…
Mary Fortuna  is a fiber artist and has been active in the Detroit art community for more than 25 years. She graduated with a BFA from Wayne State University in 1992. She has exhibited her puppets and creatures all over Michigan; in Berlin, Germany; Bregenz, Austria; Beijing, China; Prague, Czech Republic; Mirabor, Slovenia; and elsewhere in the United States. She is a member of artist collectives The Slippery Weasel Society and Changing Cities/Moving Walls. She worked for 13 years at Paint Creek Center for the Arts, as an Exhibition Director and Education Coordinator.
Scott Northrup is a Detroit-based interdisciplinary artist, writer, curator, and educator. He has exhibited with museums, galleries, film and design festivals, and alternative spaces including The Ann Arbor Film Festival, Media City Film Festival (Canada), Museum of Modern Art's Pop Rally, Museum of Contemporary Art Detroit, The Museum of Loss and Renewal (Italy), The Arteles Creative Center (Finland), N'Namdi Center for Contemporary Art, Dlectricity, Detroit Design Festival, and the Gesamtkunstwerk Projectraum in Miami. He holds an MA in Media Studies from The New School ('03) and a BFA in Fine Arts from College for Creative Studies ('92), where he is currently Associate Professor and Chair of Film and Photography, teaching experimental, documentary, and narrative film production and interdisciplinary studios.
Luzhen Qiu is a Chinese American artist living in Metro Detroit. She was born in 1971, in Hangzhou, China. She graduated from Wayne State University in Detroit with a MFA degree. Her work focuses on her Chinese culture which she creates dreamscapes of memories in her collage, drawings and paintings. With 28 years of art teaching experience, Luzhen has taught art classes at Birmingham Bloomfield Art Center, Paint Creek Center for the Art in Michigan, and The National Academy of Art School in China. Luzhen's artworks have been exhibited in numerous galleries including Form Gallery in Cranbrook Art Museum, MI, Lansing Gallery; High Art Gallery in Traverse City; Ann Arbor Art Center; Eastern Michigan University gallery; Michigan Museum of New Art; Touch Stone Gallery in DC; Farmington Museum in New Mexico; and the China Academy of Fine Art School.
Sarah Rose Sharp is a Detroit-based writer, activist, photographer and multimedia artist. She writes about art and culture for Art in America, Hyperallergic, Flash Art, Sculpture Magazine, ArtSlant and others. Sarah was named a 2015 Kresge Literary Arts Fellow for Art Criticism and is a 2018 recipient of the Rabkin Foundation Prize. She is a guest lecturer at several universities in Southeast Michigan and served as a mentor in the NYFA Immigrant Artist Mentorship Program in 2018. Sarah has served as guest curator and juror for institutions including Penn State University (State College, PA), Scarab Club (Detroit, MI), The Terhune Gallery (Toledo, OH), and The Ann Arbor Art Center (Ann Arbor, MI). Sarah has shown her own work in New York, Seattle, Columbus & Toledo, OH, Covington, KY, and Detroit—including at the Detroit Institute of Arts—with solo shows at Simone De Sousa Gallery and Public Pool. She is primarily concerned with artist and viewer experiences of making and engaging with art, and conducts ongoing research into the state of contemporary art in redeveloping cities, with special focus and regard for Detroit.