Life Interrupted Virtual Film Screening and Panel Discussion
About this event
The Network of the National Library of Medicine (NNLM) and the American Association on Health and Disability (AAHD) is proud to present a virtual screening and panel discussion of LIFE INTERRUPTED, an intimate film, featuring empowering stories of breast cancer survivors told through unflinching graphic imagery from the survivor's perspective.
Access the LIFE INTERRUPTED film through our Eventive page where you can watch the film on-demand or join our watch party.
After our Watch Party on June 24th Paula Mozen, Director of LIFE INTERRUPTED will moderate a live Q&A panel discussion at 7:05 pm ET / 4:05 pm PT, that you will not want to miss! She will be joined by:
Roberta Carlin, Executive Director of the American Association on Health and Disability (AAHD)
June Kailes, Disability Policy Consultant
Wanda Lucas, Founding Member, Georgetown Breast Cancer Advocates and Vice President, Board of Directors for the National Breast Cancer Coalition (NBCC)
The virtual on-demand screening, watch party, and panel discussion will be hosted on Eventive. Access the film and upcoming panel discussion on our Eventive page.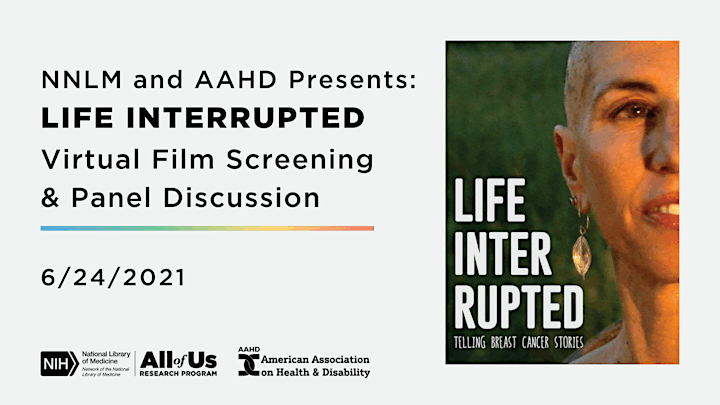 Watch the trailer for LIFE INTERRUPTED.
Organizer of Life Interrupted Virtual Film Screening and Panel Discussion