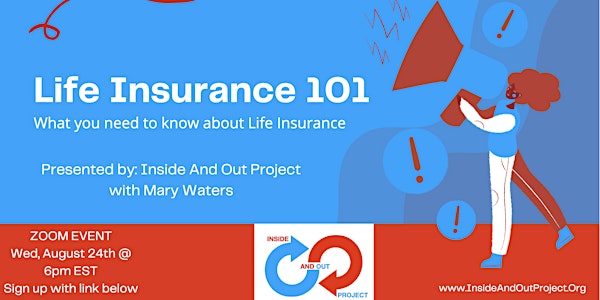 Life Insurance 101: Presented By - Inside And Out Project W/Mary Waters
IAOP & Mary Waters (Licensed Agent), present a FREE Life Insurance 101 webinar. Topics: Policies, Cash Value & additional benefits.
About this event
The Inside And Out Project is working with Mary Waters, a licensed expert insurance agent; to bring a FREE webinar for Life Insurance 101. She will address the basics of life insurance policies, cash value (what it means and how to use it), different types of policies, and how to make the policies work for you. We will have a Q&A and Mary can follow up with individuals with sensitive or specific questions.
There are 60 slots available, the session will fill up fast. Feel free to ask questions prior to the event through the form when you register.
This is a FREE event but donations are welcome and appreciated. The Inside And Out Project is a nonprofit that focuses on Youth Outreach. Everyone in the family should be protected and know their options. The earlier you start the better. Hope to see you there!