Description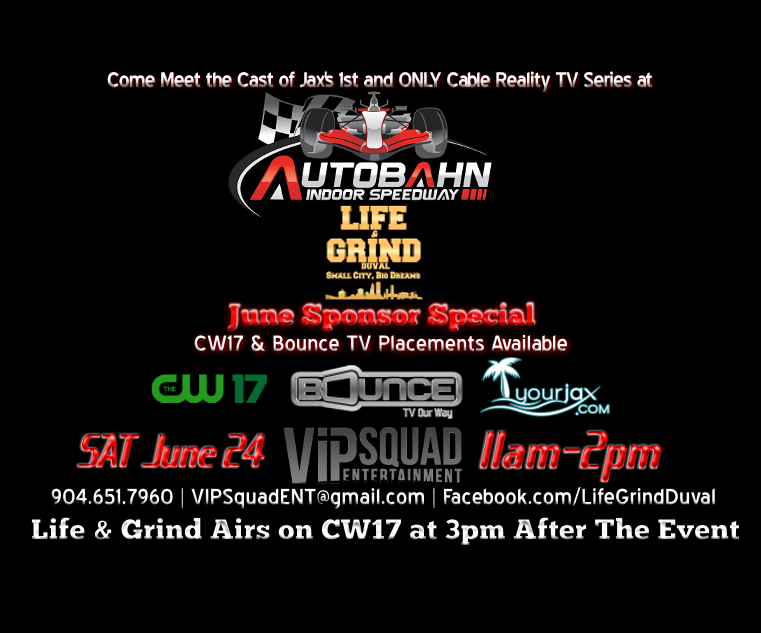 CW17, Autobahn Indoor Speedway-Jacksonville, Capture The Moment Photography, AOM Management, and VIPSquad Entertainment are teaming up to produce a segment of Jacksonville's 1st and ONLY cable reality TV series about up-and-coming entertainers and entertainment entrepreneurs at Autobahn June 24th, 11am-1:30pm.
Locals and those visiting Jacksonville will be able to meet, greet, and even race the cast of the city's first and only cable reality show, Life & Grind: Duval, a cast that consists of a group of up-and-coming singers, hip hop artists, models, promoters, and fashion designers.
The show itself is a unique docu-reality TV series based on artists of all types, content creators, models, and entertainment entrepreneurs along with their brands. The main focus is a select cast of 8 artists/business owners, and the concept behind the show is an authentic, first-hand look into the lives and daily grinds of these individuals, showing what they go through and what it takes to "make it big". In essence, showing the parts of your favorite celebrity's story as they are happening in real-time (this is the reality aspect), stories/experiences that are usually never told until after they've made it big and those stories are far in the past after the artist/entrepreneur has grown into their full potential (this is the documentary aspect).


**The show is 100% funded by sponsors and donations**
The main platforms on which the show can be seen are cable networks (CW17/Bounce Network-Jacksonville - cable television network broadcasting in Jacksonville, FL/St. Mary's, GA/St. Augustine, FL) and DeKalb-Comcast 25 (cable television station broadcasting to DeKalb County, Atlanta, GA; Life & Grind: ATL).
This is an all-ages event, where a couple cast members are expected to perform and after the event, the show itself can be viewed at 3pm on CW17 regionally.
For feature/vendor or sponsor inquiries, please refer to the media info below and contact 904.651.7960 or VIPSquadENT@gmail.com for further information.
Please direct general inquiries to the show's Facebook Page @ www.facebook.com/LifeGrindDuval
MEDIA INFO
[Press, April 2017] Life & Grind: Duval was confirmed for 8 episodes (Season 4) in May, to start at the end of May, ending by January 2018 – Approximate ad reach is an average of 87,000 TV consumers (25,000-35,000 households) weekly (For the Saturday, weekend 1-6pm block; [0.36 rating rounded down to the lower tenth percent is 0.3, multiplied by 50% of total Cable viewership which was approximately 290,000 as seen in the Feb-17 TVB graph available upon request, adjusted for inactive viewers/margin of error and minority market share of less than 10, according to the data below from Nielsen];
(Nielsen Rating x Total Households with Cable) x 0.5 [adjustment for inactive TV sets/minority share] = Life & Grind: Duval Viewership Expectation as of February 2017.
Duval series will air 3pm monthly, Saturdays at 3pm (time subject to change) starting May 26th

St. Mary's, GA, Fernandina/Jacksonville, St. Augustine [NE Florida/SE Georgia]

Atlanta series first aired Sunday March 26 and will continue to air until September

4 episodes per season for Life & Grind: ATL
Ad reach for Atlanta market is approximately 15,500 TV consumers weekly: DeKalb county, Atlanta

Additional online consumer reach and in-person/venue consumer reach during the Life & Grind Summer Tour which as of April 23, 2017 has over 12 confirmed dates/events in 7 of the largest national and international media markets in the western hemisphere during some of the most attended summer events of the year; this increases our platforms' reach about 20,000 more consumers weekly