Life Drawing Lounge - Prepaid Lounge Pass

Tuesday, November 7, 2017 at 7:00 PM

-

Thursday, June 28, 2018 at 9:30 PM (PST)
Event Details

Do you love admiring the human body? Why not take your admiration to a higher level and develop your artistic abilities?
Learning Curve's extremely popular Life Drawing class has been loosened up and is now perfect for everyone, beginners and experienced artists alike. The Life Drawing Lounge is the perfect please to learn to draw or hone your skills in a fun and low-pressure environment. 
Buy a single Lounge Pass or a dozen. And, the more you buy, the more you'll save (some restrictions apply).
Details & Restrictions
Life Drawing Lounge Passes are available in various quantities (1-12). Online purchasers will receive a transaction confirmation via email once their purchase is completed. Purchaser must present the email confirmation at The Village Ticket Booth prior to attending first session. Ticket Booth will provide you with a Life Drawing Lounge Pass — Punch Card. Lounge Pass holders must present their Punch Card for entry. Single Lounge Passes holders may proceed directly to class. A limited number of Lounge Passes will be available for purchase each week at the door.
Students must provide their own drawing papers, pads or sketch books, pencils, felt-tip pens, markers, crayons, pastels, charcoal, paint or other preferred media, (Students using paints or similarly permanent media must provide their own drop cloths and will be expected to leave their work areas clean.)
Instructor: Ron Anderegg
Course Meeting Times: Tuesdays, 7 - 9:30 p.m.
INSTRUCTIONS FOR STUDENT PARKING AT LOS ANGELES LGBT CENTER'S YOUTH CENTER ON HIGHLAND
As you are aware, the Center is undertaking a large construction project to build affordable intergenerational housing for LGBT youth & seniors. During this project, parking will no longer be available at the Village. To accommodate all those who use the Village, we are offering parking at the Center's Highland Youth Center at 1220 Highland Ave., just one block from the Village. See map below.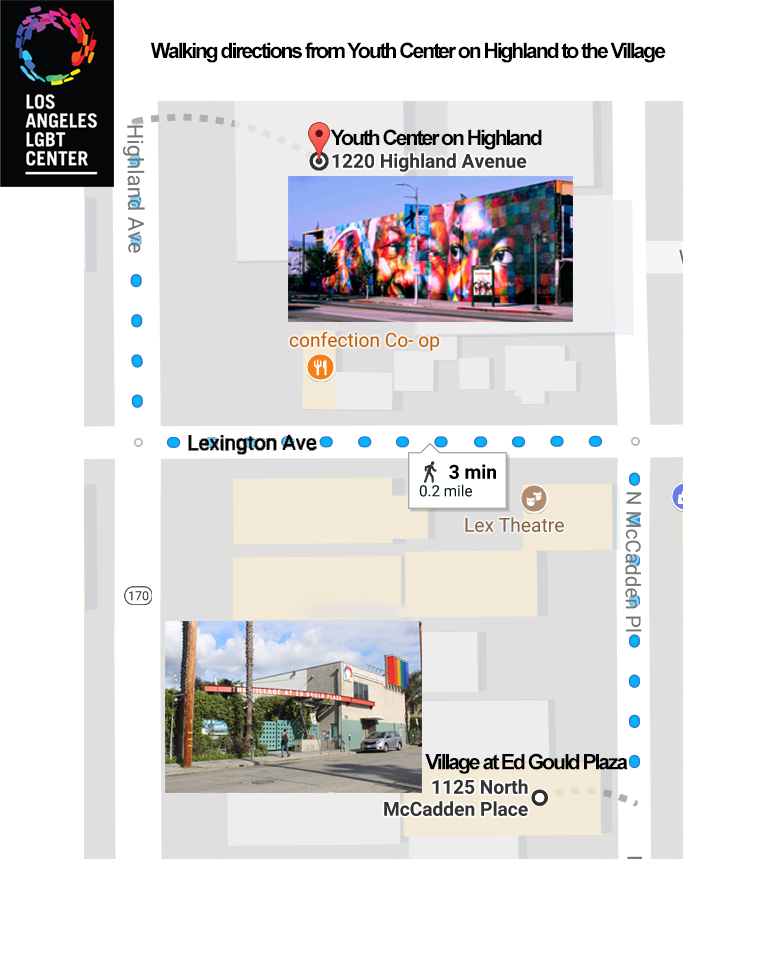 There are several Center departments that use the Village for meetings and events, so please understand that we are doing our very best to make sure that there is minimal frustrations and inconveniences during the construction process. Designated parking spaces have been reserved for you and your fellow students in the Youth Center parking lot. See map below...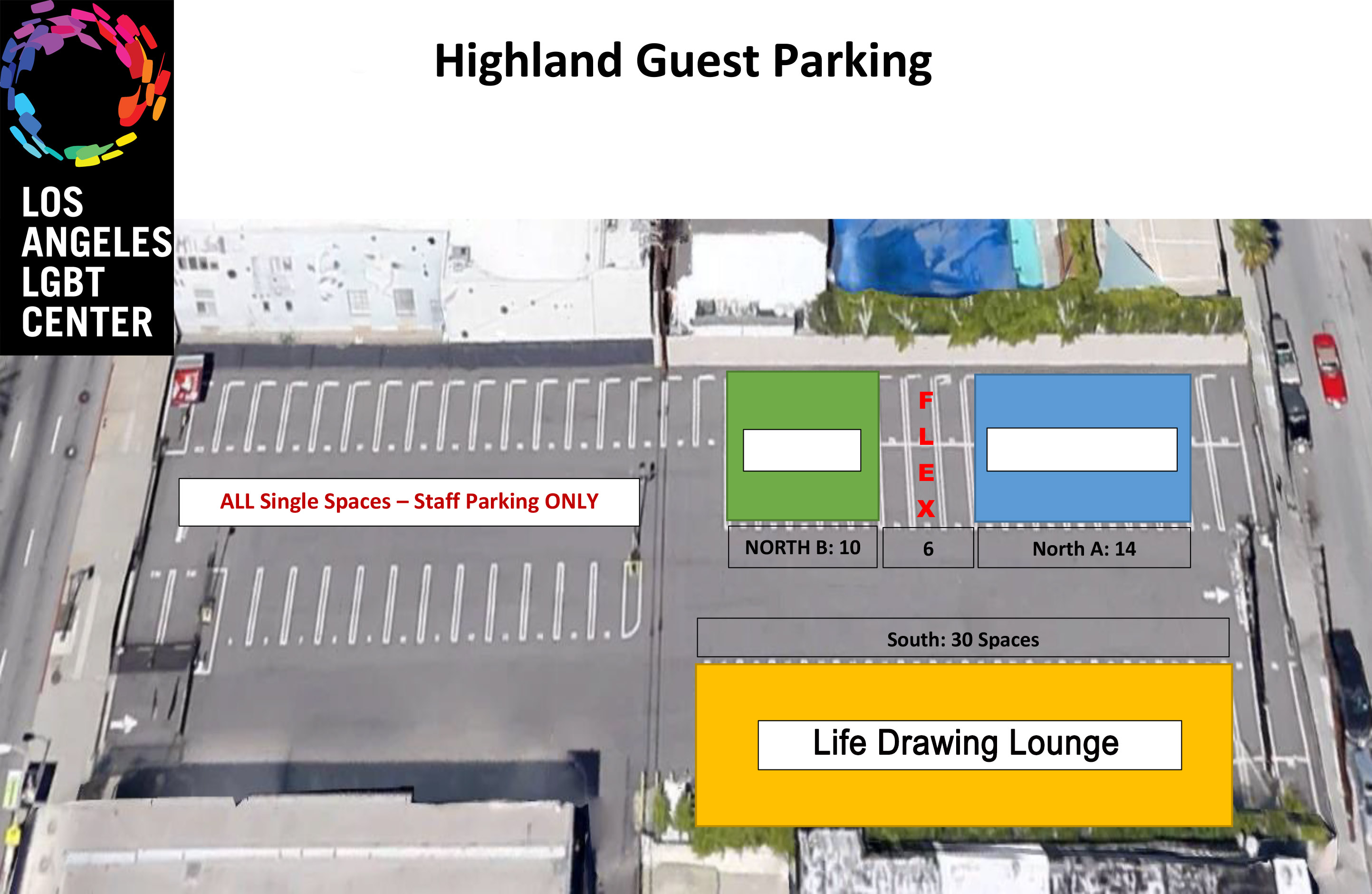 Please note that these spots are on a FIRST-COME, FIRST-SERVED basis. If you arrive after the start of your class and our section of the lot is full, YOU WILL NEED TO EXIT THE LOT AND FIND STREET PARKING. Below are instructions from our facilities staff on parking at Highland…
Arriving at the Youth Center: 
Student must enter the lot from the Highland Ave. entrance. See image below...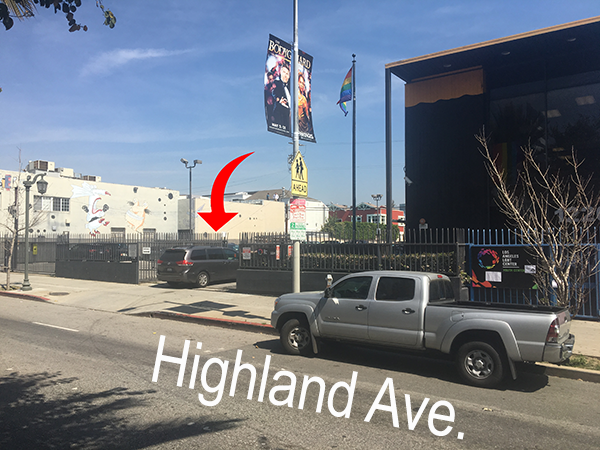 The Highland entry gate closes at 5pm every day. This is to prevent random people from speeding thru the parking lot to avoid the Highland Blvd traffic. We ask that you please try to time your arrival to occur AFTER 6 pm. There is a note on the gate at Highland that has the number to the security desk. That number is 323-860-3701. When you arrive, you must call the security desk number from your personal cell phone, (the keypad on the callbox does not work).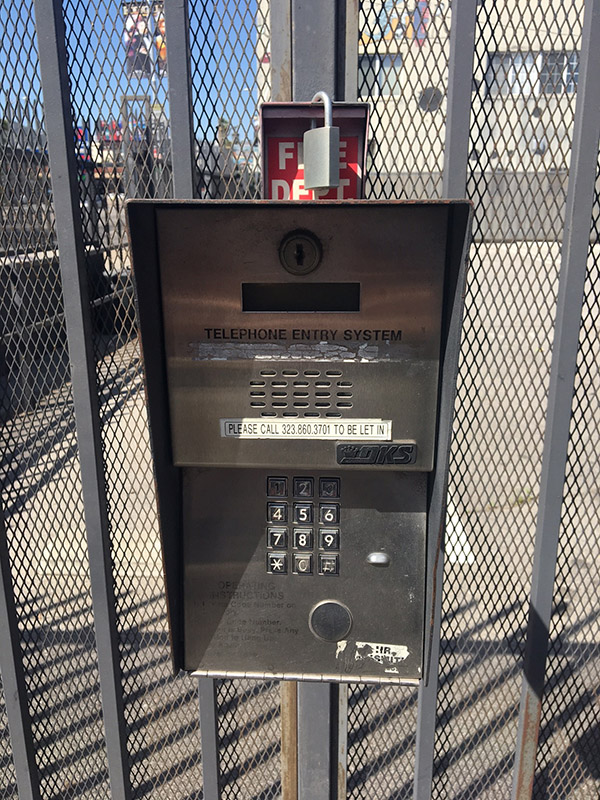 The Security Officer on duty will come out and use the remote to open the gate. IF there is no answer, the Officer may have stepped away from the desk – please be patient and try again. We are currently working on having an Officer available to be IN the lot at 6pm.
Returning to your vehicle following class:
To maintain the security and safety of all parties – the gates at Highland will always remain closed "after hours". The McCadden gate is a staff and/or exit ONLY and will not be opened for access after 4pm. So, all entry and exit should be through the Highland Gate. Be sure all guests have the security desk number (323-860-3701) and call the Security Officer on duty once again to gain access to the lot and your vehicle.
This is something new for all of us. We appreciate your patience as we navigate these new procedures and please know that we are doing all we can to continue to make your time at the Center a fun and fulfilling experience. If you have any questions or concerns regarding this situation, you can contact me at 323-860-7336 or gbigham@lalgbtcenter.org.
Thank you for your continued support of the Center and we look forward to seeing you in class!
Save This Event
When & Where

The Village at Ed Gould Plaza
1125 N McCadden Pl
Los Angeles, CA 90038


Tuesday, November 7, 2017 at 7:00 PM

-

Thursday, June 28, 2018 at 9:30 PM (PST)
Add to my calendar
Organizer
LEARNING CURVE
Learning Curve is an alternative adult education and empowerment program expressly committed to improving and elevating the lives and lifestyles of LGBT people and their friends and allies from all over Southern California. This is accomplished by presenting a wide array of powerful, educational, enriching and inspirational courses, workshops, seminars, panel discussions, special events, conferences, social- and empowerment-groups.
Learning Curve's varous offerings include courses that fall under a large variety of categories, including: Language & Culture, Career Development, Arts & Entertainment, Performance, Creativity & Fun, Dating & Intimacy, Computer Technology, Photography & Video Production, Self-Improvement, Health & Wellness and Wealth & Security.
Learning Curve is a program of the Los Angeles LGBT Center. Everyone is welcome to take part in Learning Curve various course and program offerings regardless of sexual- or gender-identity. A part of Learning Curve's mission is to offer high-quality courses for adults, geared toward serving the needs of LGBT people, our friends and allies. 
For more information, visit us at LearningCurveLA.org
Life Drawing Lounge - Prepaid Lounge Pass