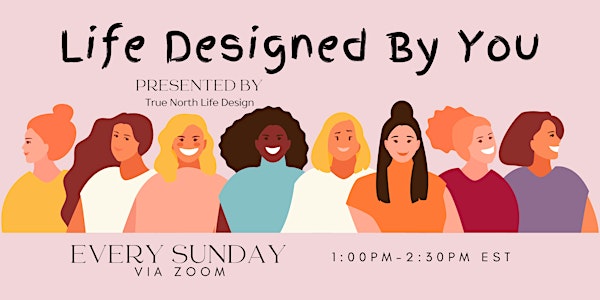 Life Designed By You
✨Awaken ✨ Inspire ✨ Empower ✨ Conscious Women ✨Unearth Power ✨Impact Community ✨ Live Authentically ✨Life Designed By You!
Refund Policy
Contact the organizer to request a refund.
About this event
1 hour 30 minutes

Mobile eTicket
✨True North life Design group sessions are an opportunity for women to come together for the purpose of self-empowerment and growth.
We are creating a safe group coaching space to help you grow through sharing and listening as we unpack the issues that challenge us the most.
We believe that women are amazing beings who are often overworked, overlooked, and undervalued in society. This has negatively impacted how we're showing up in the world.
✨ We struggle with our self-concept and self-confidence
✨ We struggle with stress and anxiety radiating from our past experiences
✨ We struggle in our relationships with ourselves, each other, and the opposite sex
✨ We struggle to try to make sense of the narratives and themes of womanhood given to us by family and society that are deeply ingrained in our psychology.
Whatever your struggle, you're not alone!
Our mission is to teach you how to change the deeply held limiting beliefs that keep you stuck on the hamster wheel of life unfulfilled.
✨If you're ready to reroute and take your life on an upward spiral
✨If you're ready to access the potential and power that has been crushed by the weight of the stress and mental anguish of your past.
✨ If you're ready to tackle life's most challenging problems with confidence and pride, with the help of a community of amazing women
✨If you're ready to learn how to set boundaries that'll allow you to show up authentically in your relationships.
✨If you're ready to connect to your purpose and power and live unapologetically in your truth!
Register today!
We are building a tribe! Let me help you stop giving away your power, get your life on track and start connecting with you, by design.
** You will receive an email with a ZOOM link after your registration confirmation.
Connect with us:
email Ticola@truenorthlifedesign.com