Description
Spend a day working on the most important design project of all – your life.
Life Design Workshop is a hands-on workshop retreat that helps you learn and use a process that's always chasing after the why in order to understand the what, how and when. You will leave with mindful awareness of where you are right now, new designs for balance and energy, new ways to frame problems you've been trying to solve for a while, insights on how to hone your decision making, and possible future paths for your life.
Exploration x Design is your partner in designing your best life.
Whether you're experiencing a loss, changing jobs or professions, getting married or newly single, ready to retire or launching into a career, trying to loose weight or build strength - Design Thinking is the tool for uncovering the best solution for your life.
Overview
Retreat ​​price:​​ Early Bird Tickets $229 + booking fee, Regular Tickets $269 + booking fee
Workshop sessions from 9:00am-5pm
Breakfast, lunch and snacks
Life Design worksheets for your activities
A one-hour post retreat call with the facilitator and fellow attendees for follow-up and coaching
Often we imagine other peoples ideas for ourselves instead of designing our own ideas. We borrow from other people's lives because we can't imagine anything better. We buy books written by gurus, follow fad diets, adopt unrealistic workout schedules - all in the hopes that we will transform, but the truth is that the secret sauce for your transformation is unique and only you can design it.
Design Thinking trains you to view constraints as positive aspects of your solution. The most creative solutions come from constraints. The trick is to get our biases in check and not allow our limited points of view to blind us from to the amazing, innovative solution that is waiting to be uncovered.
Design Thinking is a human-centered innovation process that emphasizes observation, collaboration, fast learning, visualizing ideas, rapid concept prototyping and validation. Design Thinking been around since the spark of the Industrial Revolution and has been an important part of the curriculum at design schools for nearly fifty years. Design Thinking can be used to create services, products, culture, curriculum and even your life.
The process of Design Thinking is simple:
Discover
Ideate
Implement
In order for Design Thinking to be effective we have to train ourselves to adopt an enthusiastic optimism and curiosity. Each stage celebrates learning what doesn't work in order to get closer to what does work. Embracing failure as a strength and not a weakness is an important aspect of Design Thinking.
Reframing our perspective helps us remain optimistic, creative and nimble. When you're trying to do something new; something that hasn't been done before, you need a process that helps get skepticism, bias and fear out of the way.
About Exploration x Design
In 2017, Jess Lowry launched Exploration x Design to provide design thinking coaching to teams and individuals. Jess believes it's important to cultivate your own creative problem solving skills and practice generating ideas that solve problems.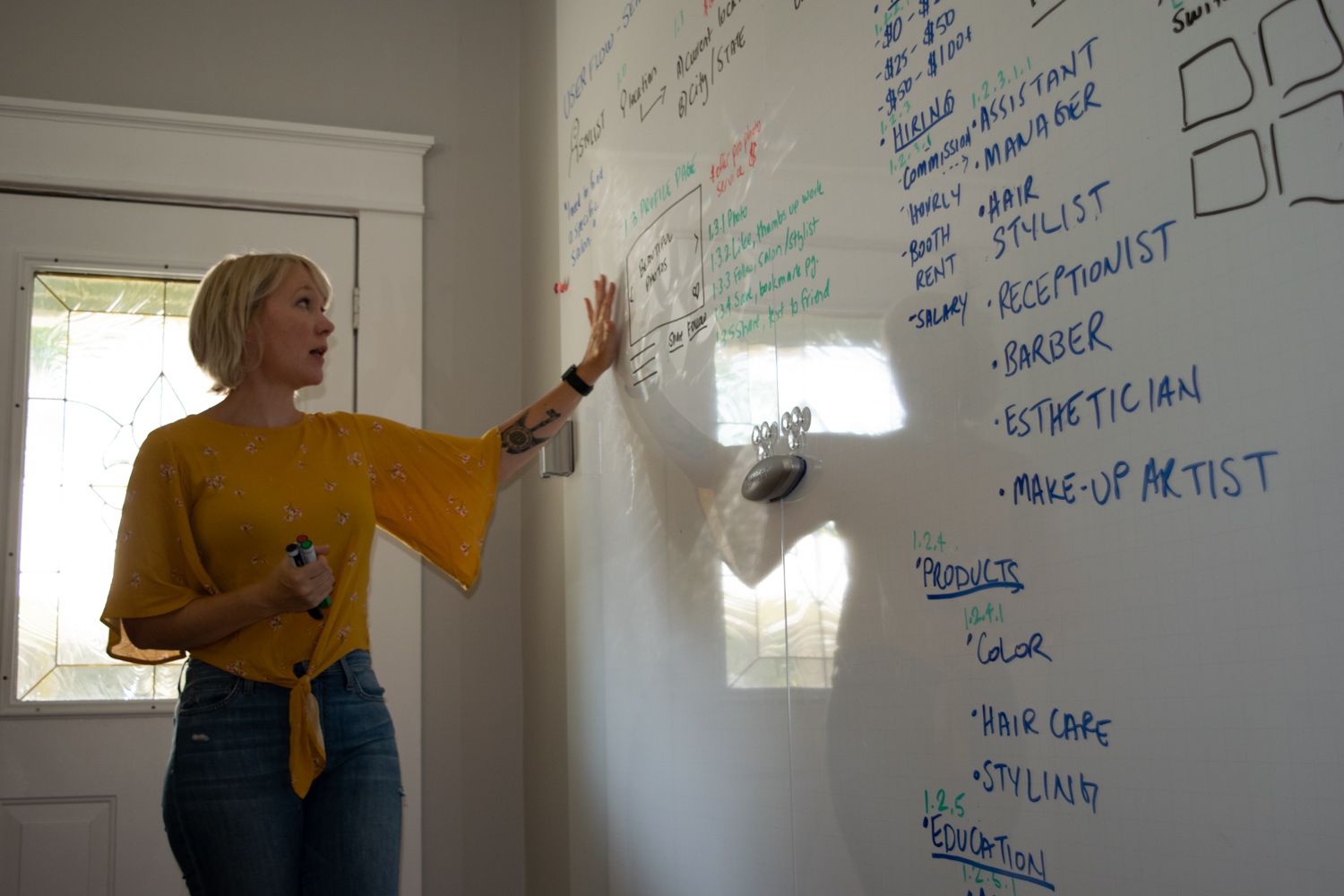 Over the past decade, Jess has worked with clients to innovate products and services. Throughout her career she's delivered solution strategies for over one hundred clients. She's worked with individuals and teams to improve, scale and develop existing products and services with startups, government agencies and fortune 500 companies. The same principles of design thinking process can apply to ourselves.
About Villa Vigneto Texas
Villa Vigneto Texas is an intimate and beautifully crafted Vacation Rental with stone floors, custom wood trim, and a walking trail that surrounds three private, terraced acres. It is a luxurious and charming home as well as a peaceful space for gathering with friends or a romantic getaway to regenerate, refresh, or just relax in a hammock under the shade of large oaks.