About this Event
Please join us at our 2nd annual Walk for Life! We have so much to celebrate this year. We opened our center in the middle of the quarantine despite having several obstacles - God is faithful and his generosity will not be out-done!!!
We are offering 2 ways to participate this year. You may attend the walk in-person at the Life Choices center, or participate virtually. If you chose the virtual option, you may walk alone or with your group anywhere between the dates of Sept 6-12. We ask that you take a photo or video of your walk and text it to 865-973-5433 or send it to events@lifeCRC.org. By sending the media, you are also giving us consent to post your photo/video on our Facebook and Instagram page. Virtual walkers may either scan their completed pledge sheet and email it to Lifechoicesfinance@lifecrc.org, or can drop it by the center.
Print out the pledge sheet below and start collecting pledges for your walk. We also ask that you encourage your friends to select the 'bill me' option. Please be sure that they fill our their complete address.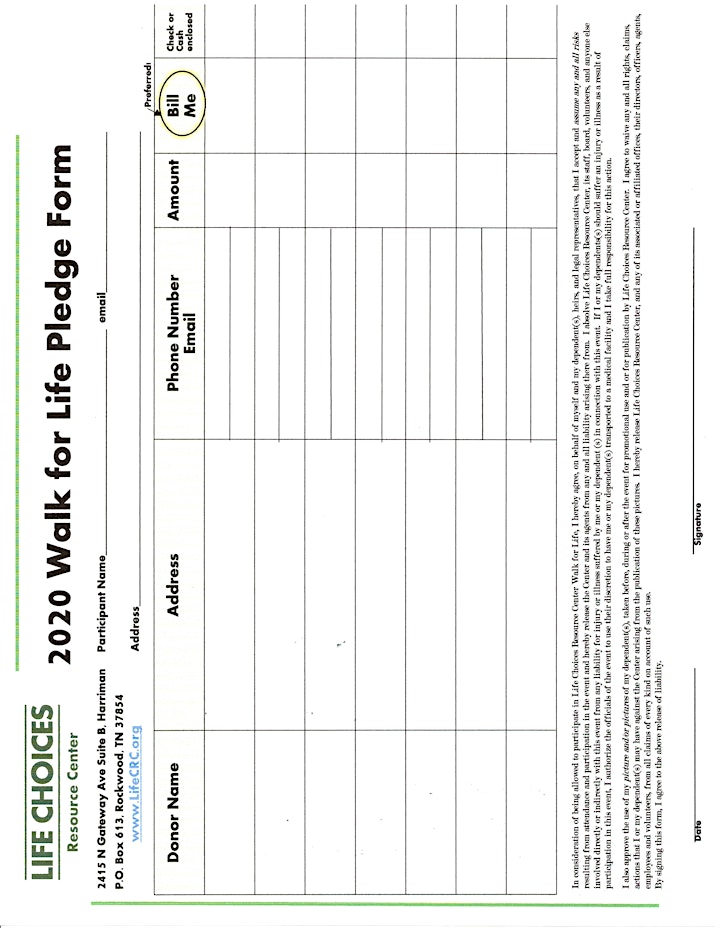 Your safety is important to us! We are prepared to hold a completely 'virtual' walk, if needed. You will receive an email if anything changes.
Legal stuff:
In consideration of being allowed to participate in Life Choices Resource Center's Walk for Life, I hereby agree, on behalf of myself and my dependent(s), heirs, and legal representatives, that I accept and assume any and all risks resulting from attendance and participation in the event and hereby release the Center and its agents from any and all liability arising there from. I absolve Life Choices Resource Center, its staff, board, volunteers, and anyone else involved directly or indirectly with this event from any liability for injury or illness suffered by me or my dependent (s) in connection with this event. If I or my dependents(s) should suffer an injury or illness as a result of participation in this event, I authorize the officials of the event to use their discretion to have me or my dependent(s) transported to a medical facility and I take full responsibility for this action.
I also approve the use of my picture and/or pictures of my dependent(s), taken before, during or after the event for promotional use and or for publication by Life Choices Resource Center. I agree to waive any and all rights, claims, actions that I or my dependent(s) may have against the Center arising from the publication of these pictures. I hereby release Life Choices Resource Center, and any of its associated or affiliated offices, their directors, officers, agents, employees and volunteers, from all claims of every kind on account of such use.
By registering for this event, I agree to the above release of liability.