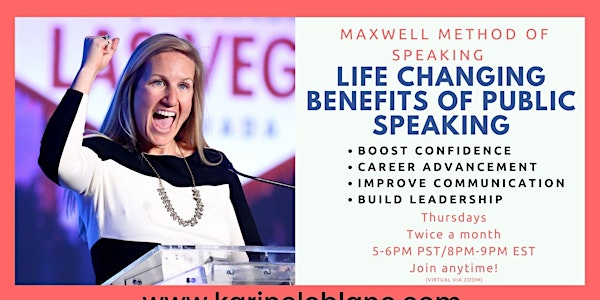 Life Changing Benefits of Public Speaking-Maxwell Method of Speaking
Life Changing Benefits of Public Speaking - Maxwell Method of Speaking
Refund Policy
Contact the organizer to request a refund.
About this event
Everyone communicates but not everyone does so effectively.
Learning to speak in front of an audience is a process and important communication skill. Learning to do it effectively is necessary to do it well.
*BECOME A STORYTELLER - HOLD AN AUDIENCE LONGER - CONNECT WITH YOUR AUDIENCE - CONQUER FEARS - LEAVE YOUR AUDIENCE WANTING MORE *
YOU CAN NOT WALK THE LEADERSHIP PATH WITH YOUR MOUTH CLOSED
This Speaker Club will provide a powerful interactive speaker presentation training that will help you to You will develop your communication skills in any setting.
You will learn to speak in a more interesting, exciting, and engaging manner in order to become a more effective communicator. You will learn steps for getting your point across in a powerful and interesting way to any audience. After every session, you will have more knowledge and skills to effectively become a better speaker.
We will meet twice a month, you will practice what you learn every 2 weeks.
The sessions will be on Zoom and the link will be changed every month.
*********************************
Do you struggle with:
Lack of skills to create and deliver a clear presentation
Difficulty to give engaging and easy to understand talks
Speech anxiety
Lack of confidence when delivering a presentation
**********************************
Learn to:
Understand yourself as the messenger
Develop your own style of communication
Speak in a more engaging way
*******************************
Outcomes:
Master the art of delivery
Deliver relevant and meaningful content
Become an effective communicator
https://www.karineleblanc.com/about
------------------------------------
About the Facilitator:
https://www.karineleblanc.com/about
Not your typical engineer™, Karine Leblanc is passionate about helping engineers step up their leadership skills by learning how to build lasting relationships, communicate effectively and become an influencer without relying on any title.
Like you, Karine has been exposed to the good and the bad of leadership over the last two decades.
She uses her experience to teach and impact her peers by speaking as a distinguished lecturer for ASHRAE all over the world. Karine values real-life stories and conversational with her audience making everyone feel like they matter.
connectionsKarine has served on the ASHRAE Society Board of Directors, (a 57,000-member trade association) from 2014-2017 and became the first female Region X Director Regional Chair since 1959. She is now serving as the President-elect of the National Speaker Association Los Angeles Chapter. She has received the ASHRAE Distinguished Service Award and was awarded an honorary medal as part of the 50th anniversary of the University of Quebec for her exceptional contribution to the university.