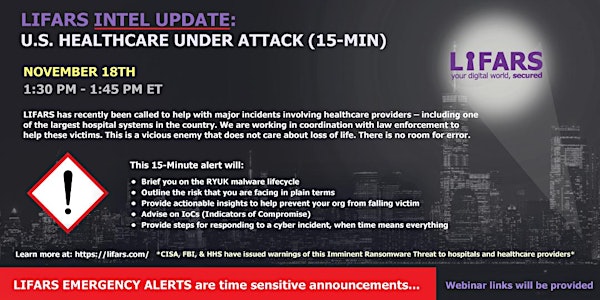 LIFARS INTEL UPDATE: U.S. Healthcare Under Attack (15-Min)
Providing the latest intelligence on the scourge of cyber attacks against U.S. Healthcare in 15 minutes. Hundreds more attacks expected.
About this event
LIFARS has recently been called to help with major incidents involving healthcare providers – including one of the largest hospital systems in the country. We are working in coordination with law enforcement to help these victims. This is a vicious enemy that does not care about loss of life. There is no room for error.
Join us to receive the latest intelligence on this imminent ransomware threat and learn how to fight this battle.
This 15-Minute alert will update you on the following:
Brief you on the RYUK malware lifecycle
Outline the risk you are facing in plain terms
Provide actionable insights to help prevent your org from falling victim
Advise on IoCs (Indicators of Compromise)
Provide steps for responding to a cyber incident, when time means everything
*CISA, FBI and HHS have also issued warnings of this Imminent Ransomware Threat to hospitals and healthcare providers*
Learn more at: https://lifars.com/