Description
Chicago, Flint, East Chicago, Detroit, and Milwaukee are just a few of the cities across the nation experiencing an ongoing lead crisis. City and government officials often keep the problems under wraps while concerned community members and organizers fight to bring attention to the crisis.
The UIC Social Justice Initiative and the Freshwater Lab come together to bring you an interactive program that explores the issues of water rights, environmental justice, and the lead pipes jeopardizing the health of Midwest communities. Join us to address these issues with a panel of experts from different fields, a digital activity, and information about what to do about lead pipes in the short and long term future.
-Speakers Include:
Michael Hawthorne - Chicago Tribune Investigative reporter covering lead pipes in Chicago and Northwest Indiana.

Monica Lewis-Patrick - Organizer, "Water Warrior" President and Founder of We The People of Detriot.

Melissa Mays - Flint Water Activist and Founder of Water You Fighting For

La'Kisha Girder - Project Manager at Stanhope Consulting and Organizer of the Northwestern Indiana Water Summit

Toni Anderson - Founding Executive Director and Board President of the Sacret Keepers Sustainability Lab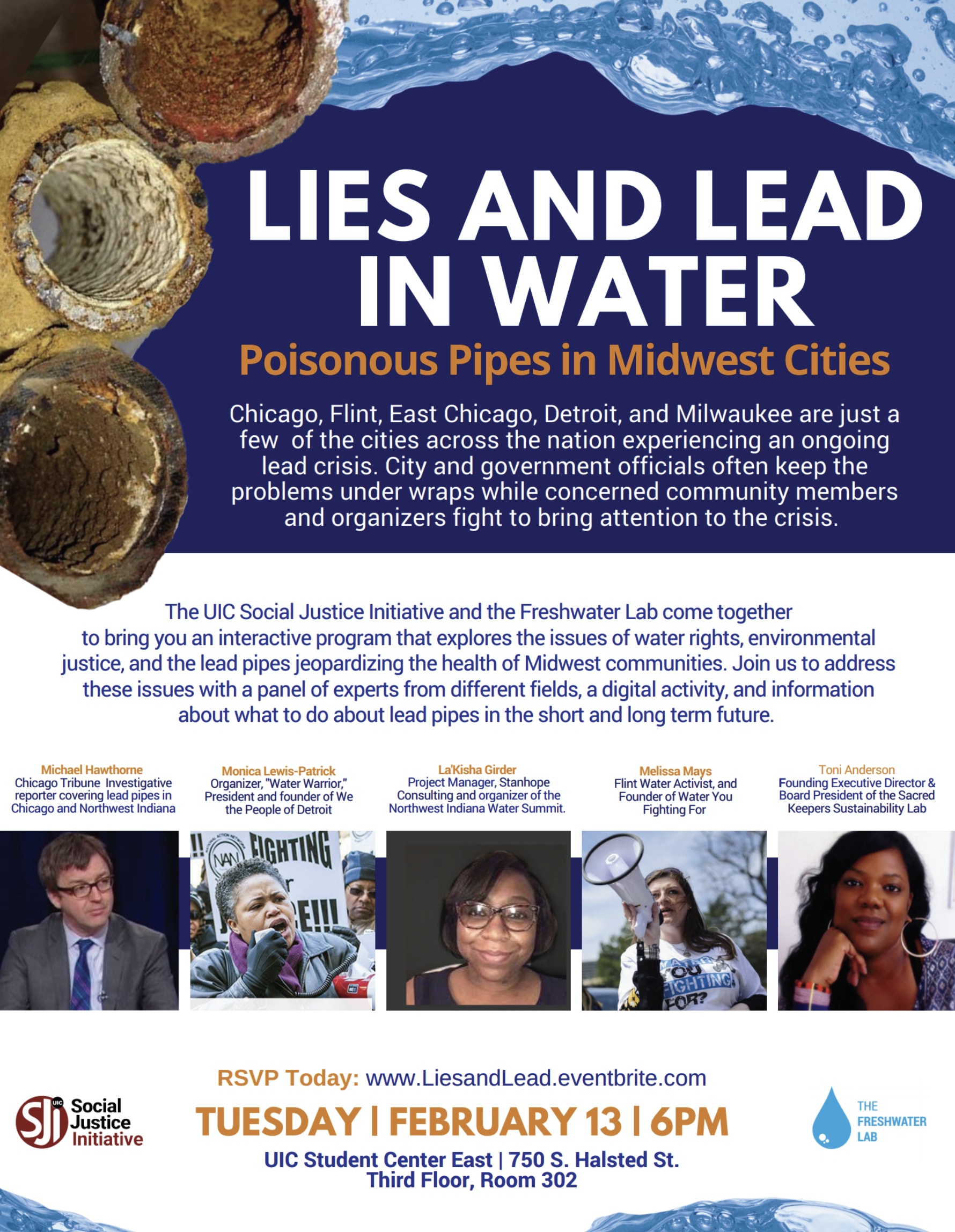 Organizer of Lies and Lead in Water : Poisonous Pipes in Midwest Cities
The Social Justice Initiative (SJI) is a unit at the University of Illinois at Chicago.
Our work is focused on promoting a greater good, serving the under-served, and improving lives through scholarship, teaching and community engagement.

Over 200 UIC faculty and staff describe their research, teaching, and professional work as social justice related. From studies of racial and gender violence, to oral histories of undocumented workers, to health care providers that intervene in crises all over the world, UIC scholars are engaged in life altering research that promotes greater equity, inclusion, justice and sustainability.
Through the work of its faculty advisory committee, staff, student affiliates and community partners SJI has four ongoing program areas: the Pop Up JUST Art (PUJA) gallery, the Pipeline to Justice Scholarship and Mentoring Program for Undergraduates, and public programs and special events. We also support and collaborate with the Social Justice Minor, housed in the Gender and Women's Studies Program in the College of Liberal Arts and Sciences.