About this Event
Composer, poet, and performer are merged and distilled in song. Before the form crystallised on the world's concert stages, art songs (Lieder) were born in the vibrant, churning world of poets, composers, artists, and rebels who worked, lived, and partied together. Virtuosity, philosophical exploration, outpouring of desire, and the entire spectrum of emotion were given shape and voice in songs first "performed" in living rooms and smoky bars, in the company of friends. tenor Javier Bernardo, mezzo-soprano Caitlin Redding, baritone Stephen Barchi, and pianist Jessica Rucinski have collected some of their favorites to share. We invite you to join us, grab a glass, sit back and enjoy the music in its original context: at a party.
Knutson Studio:
Ahornstrasse 6 - Steglitz
U9 Haltestelle Schlossstrasse. Entrance left through the Hof, (Hinterhaus) First floor.
-----------------------------------------------------------------------------------------
Getränke. Gemeinschaft. Willkommen zur LiederParty.
Komponist, Dichter und Performer werden im Lied vereint.
In der pulsierenden Welt der Dichter, Komponisten und Künstler, die gemeinsam gearbeitet, gelebt und gefeiert haben, wurde die Ausdrucksform der Kunstlieder geboren. Virtuosität, philosophische Erkenntnisse und die gesamte Bandbreite der Emotionen wurden in Liedern, die zuerst in Wohnzimmern und verrauchten Bars "gespielt" wurden, in Begleitung von Freunden gestaltet und gesungen. Tenor Javier Bernardo, Mezzosopranistin Caitlin Redding, Baritone Stephen Barchi und Pianistin Jessica Rucinski haben einige ihrer Favoriten zusammen gestellt. Wir laden Sie ein, sich uns anzuschließen, ein Glas zu nehmen, sich zurückzulehnen und die Musik in ihrem ursprünglichen Kontext zu genießen: auf einer Party.
Knutson Studio:
Ahornstrasse 6 - Steglitz
U9 Haltestelle Schlossstrasse. Eingang links durch den Hof, (Hinterhaus) Erste OG.
------------------------
PROGRAM
TOSTI
Chitarrata abruzzese
Ideale
Non t'amo più
HENRI DUPARC
Chanson triste
L'invitation au voyage
Élégie
Phydilé
RICHARD WAGNER
Wesendonck Lieder:
Der Engel
Stehe still!
Im Treibhaus
Schmerzen
Träume
RACHMANINOFF
Oh no, I beg you, forsake me not
Morning
In the silence of the secret night
GRIEG
Lauf der Welt
Zur Rosenzeit
Ein Traum
TCHAIKOVSKY
None but the lonely heart
FRANZ SCHUBERT
Ständchen
The ticket price is 15 €.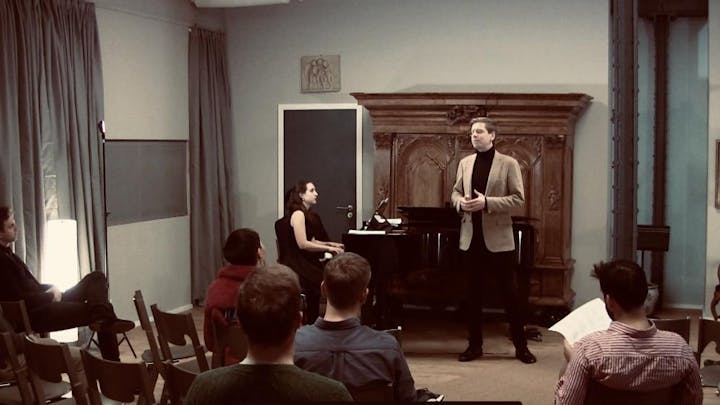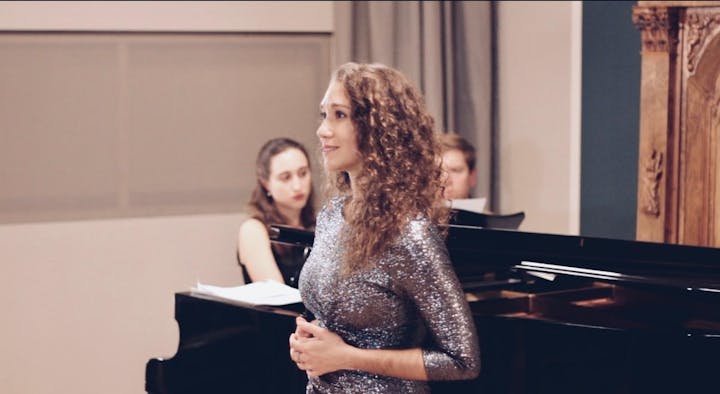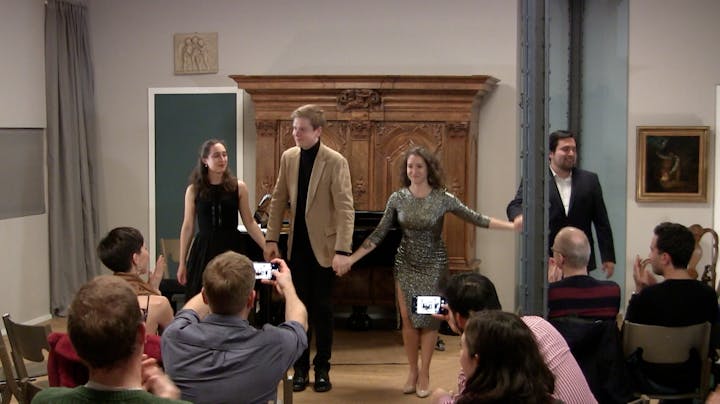 To watch the video of our last performance click here.