Lido Pimienta at The Chapel
About this event
$22 advance / $25 day of show
PLEASE NOTE: Beginning February 1, 2022, all patrons attending any events at The Chapel are required to show proof of full vaccination AND if eligible*, vaccine booster administered at least one week prior to the event. Ages 6+ only
*Get your booster based on when you were fully vaccinated
Pfizer and Moderna, after 5 months
Johnson and Johnson, after 2 months
We will NOT be accepting negative COVID-19 tests. You are also required to wear a mask at all times while indoors (unless actively eating or drinking.) *Policy is subject to change
Lido Pimienta's new album 'Miss Colombia,' the anticipated follow-up to 'La Papessa,' which was awarded the Polaris Music Prize in 2017, is available now. The Colombian-born, Toronto-based global beats trailblazer recorded the album in her home studio, with some additional recording done in the historic Colombian town of San Basilio de Palenque. Miss Colombia boasts 11 new and original songs that boldly celebrate Lido's ecstatic musical hybridity of electronic meets cumbia, and is at once defiant and delicate, exploratory and confrontational. All of the songs were written and arranged by Lido, and she co-produced the album with Matt Smith aka Prince Nifty.
The album title was partly inspired by the Miss Universe gaffe in 2015, when Steve Harvey mistakenly awarded the crown to Miss Colombia instead of Miss Philippines. It caused Lido to reflect on the anti-blackness she's experienced, and how she was viewed as an outsider in adolescence, a "weird artistic tomboy" for not adhering to the expected norms projected upon her. Lido – an Afro-Indigenous, queer feminist – created Miss Colombia as a canvas for introspection, with pieces about love (and self-love), and loss. Other songs confront divisive politics in Colombia, Indigenous inequality and racism, and ultimately to bring her closer to home.
Musically it digs deeply into the history of Afro-Latin musics, from Palenque to cumbia – styles that Lido embraced after being introduced to Sexteto Tabala, one of the most representative musical expressions of the African communities in Colombia (who are also featured on the album). The album also features Bomba Estereo's Li Saumet. Lido has an affinity for acts like A Tribe Called Red and Inuk throat singer Tanya Tagaq, but her work also resonates with British-Sri Lankan rapper MIA and she draws unabashed inspiration from the New York-bred Dominican-Trinidadian rap queen Cardi B.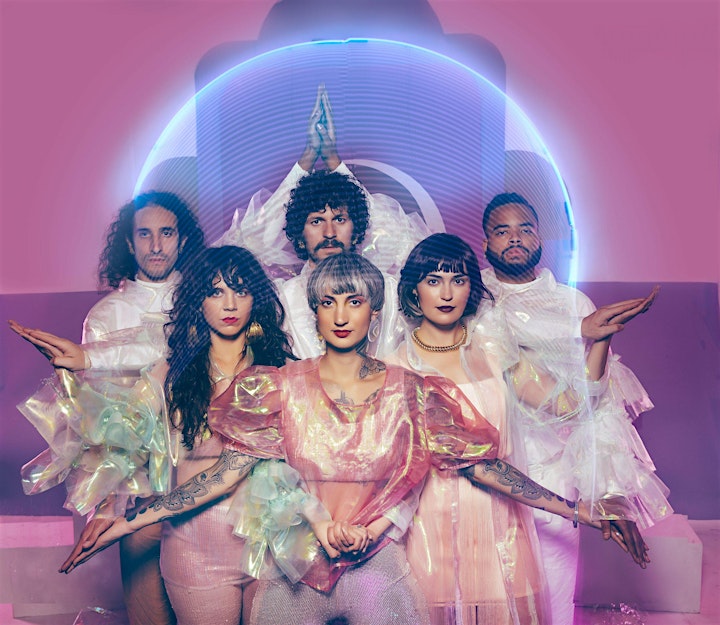 Y La Bamba has been many things, but at the heart of it is singer-songwriter Luz Elena Mendoza's inquisitive sense of self. Their fifth record, Mujeres, carries on the Portland-based band's affinity for spiritual contemplation, but goes a step further in telling a story with a full emotional spectrum. Coming off Ojos Del Sol, one of NPR's Top 50 Albums of 2016, Mujeres exhibits the scope of Mendoza's artistic voice like never before. "Soy como soy," Mendoza says, and that declaration is the bold— even political— statement that positions Mujeres to be Y La Bamba's most unbridled offering yet.
The record exists in the post-2016 landscape of a national identity crisis, and Mendoza explores what it means to be a Mexican American woman by leading us through places we are afraid to go. Mujeres ventures in to the discomfort of the stories we tell ourselves. Those of our past, our futures. We all have these stories somewhere inside of us, but with Y La Bamba, Mendoza forges new narratives from old stories of heritage and family, tracing history while forging modern chicana feminism.
"Music is an extension of everything I have inside. It's how I emote," Mendoza says. The raw honesty of Mujeres is in fact the raw honesty of Mendoza. Armed with the emotionality of traditional música mexicana and the storytelling of American folk, Y La Bamba's artistry is not just their musical ability but Mendoza's search for unadulterated truth. It is in an ancestral, spiritual journey in which Mendoza comes to terms with the influence and limitations of her upbringing. Mendoza's experience of childhood summers in the San Joaquin Valley listening to mariachi, of being raised strict Catholic by immigrant parents, of being a woman having to prove herself to the boys, paints strokes of both melancholy and healing on the tracks. "From the way that my family struggles, to the way they shoot the shit… it's so different from whiteness," Mendoza says. "It's a different dimension."
Y La Bamba exists in the dimension of the Mexican American imagination: somewhere cynical and optimistic at the same time. While there is a celebration of the Mexican creativity that has informed Mendoza's life, there is a darker side to reconcile with. Where do mujeres fit in to the American story? What are the sins for which we are all guilty? How do different generations interact with the world? How can a culture become visible without tokenization? It is no surprise that in Mujeres, Y La Bamba's first record with Mendoza at the helm of production, Mendoza contemplates these questions to tell her story. But it is not just Mendoza's story. Challenging a narrative and dealing with the emotionality of that effort— that is everyone's story.
Mujeres was recorded by Luz Elena Mendoza and Ryan Oxford at Color Therapy Studios and Besitos Fritos Studios in Portland, Oregon. Mixed by Jeff Bond, with Grace Bugbee on bass, John Niekrasz on drums, Margaret Wher Gibson on keys, and Ed Rodriguez and Ryan Oxford on electric guitar.
Organizer of Lido Pimienta
All patrons will need to show valid proof of full vaccination in order to attend indoor shows at The Chapel. ("Full vaccination" means two weeks after your final dose of a COVID-19 vaccine.) We will NOT be accepting negative COVID-19 tests. You are also required to wear a mask at all times while indoors (unless actively eating or drinking.) Let's all stay safe!
PLEASE NOTE: Beginning February 1, 2022, all patrons attending any events at The Chapel are required to show proof of full vaccination AND if eligible*, vaccine booster administered at least one week prior to the event.
*Get your booster based on when you were fully vaccinated:
Pfizer and Moderna, after 5 months
Johnson and Johnson, after 2 months