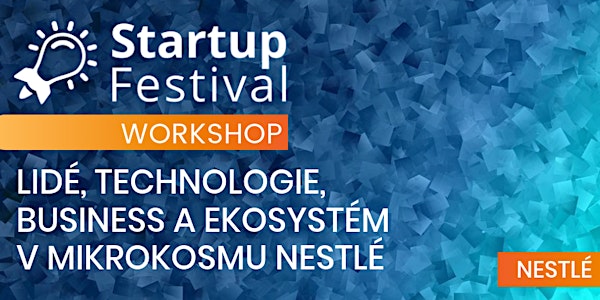 Lidé, technologie, business a ekosystém v mikrokosmu Nestlé
Dorazte na workshop s Nestlé a zjistěte odpovědi na otázky týkající se nejen technologií, business procesů a celého ekosystému.
When and where
Location
Vysoká škola ekonomická v Praze 1938/4 náměstí Winstona Churchilla 130 67 Praha 3 Czechia
About this event
Analytika pro analytiky nebo pro business? Jak na efektivní business procesy a jak naložit s mnoha lidskými "roboty" ve firmě? Na workshopu s Nestlé se proberou nejen tato témata. Těšit se můžete i na rozdíly mezi izolací a interakcí v ekosystému nebo na rozebrání tří "sudiček": e-, omni- a personalizace.
Kdo vás tématem provede?
Workshop povede Petra Kellermann, Information Systems and Insights manager společnosti Nestlé.
Workshop proběhne v Rajské budově VŠE v učebně RB 104. Nevíte, jak se do učebny dostat? Nevadí! Navigace na místě Vás do učebny dovede.
Zajímají Vás další akce ze Startup Festivalu?
Na Startup Festivalu vás čeká ještě více přednášek, workshopů a panelových diskuzí. Pro více informací navštivte náš web nebo sledujte fb event!
Na letošním Startup Festvalu se představí začínající startupy, ale i ostřílení hráči na trhu. Poznejte českou startupovou scénu offline v jeden den a ve skvělé festivalové atmosféře.
Těšíme se na Vás už 11. 10. 2019 na VŠE!