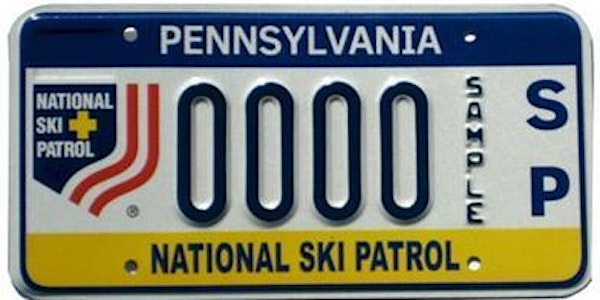 License Plate Program - State of PA NSP Vehicle Plates
License Plate Program - State of PA NSP Vehicle Plates
Refund Policy
Contact the organizer to request a refund.
About this event
4142 days 14 hours

Mobile eTicket
NSP PA License Plate Program
NSP PLATES
NEW - Motorcycle License Plates now available !
NEW - Two Options Available
1. You can now obtain "CUSTOM PLATES" Includes up to 5 letters and numbers with one space or hyphen.
The price for CUSTOM PLATES will be $159.95 
2. Standard Plate are issued with the next available number. Standard Plates price will be $49.95
During our November 2010 region meeting we obtained the rights to obtain a specialty NSP Pennsylvania License Plate.
After we overcame all the hurdles we are now ready to market the " National Ski Patrol License Plate".
 You are allowed to order up to two plates for your personal vehicles,  to obtain two (2) license plates the applicant has to be a current member of the National Ski Patrol with a vehicle registered in the state of Pennsylvania. Not allowed for vehicles with more than 4 wheels.
You have to undertake following steps:
Click the Register Button
Fill out the on-line application: Your Name, NSP Number and Patrol, to affirm your affiliation to NSP.
Submit your payment via Pay Pal.
Print a receipt as proof of payment and keep for your records.
Dr. Howard Rosenthal is the program administrator for the license plate program.
He will contact you upon receipt of your payment. (Usually within 72 hours).
Dr. Howard Rosenthal 4 Terry Drive Atrium Prof. Bldg. #8 Newtown, PA 18940
FAQ
Q: After I click the submit button, is there anything else I need to do?
A: YES ! You need to complete the OFF-LINE application form, you will be contacted via email with the appropriate form to complete. You should receive this form within 72 hours after completing your payment. Once that form is completed, it needs to be returned to Dr. Howard Rosenthal.
Q: How long does it take to receive my license plate after I submit my order?
A: We are required to send the license plate applications in a batch. Generally, this batch is sent in to the Commonwealth every other week. Once the commonwealth has the applications they can process the license plate within two weeks. So generally it will take from six  to eight weeks for you to receive your NSP license plates.
*** NOTE - Due to current staffing shortages at the State of PA, license plates may take up to 90-120 days to arrive. If you do not receive your license plate within 60 days, please email us to check on status.
 Q: Can I select my License Plate number ?
A: Standard License Plate orders will receive the next sequential number. Example: 0234, 0235, 0236, etc.....
  A2: Custom License Plate orders can request numbers and letters. Up to 5 letters and numbers with one space or hyphen. Example: 00000, 00 000, 00-000.