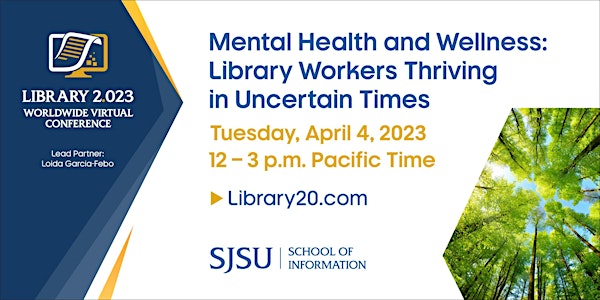 Library 2.023: Mental Health and Wellness
Our first Library 2.023 mini-conference. "Mental Health and Wellness: Library Workers Thriving in Uncertain Times."
By The Learning Revolution Project
Date and time
Tuesday, April 4 · 12 - 3pm PDT
About this event
Our first Library 2.023 mini-conference: "Mental Health and Wellness: Library Workers Thriving in Uncertain Times," will be held online (and for free) on Tuesday, April 4th, 2022, from 12:00 - 3:00 pm US-Pacific Time.
Libraries have the power to help transform lives, both for staff and patrons, through efforts that promote mental health and wellness. In this Library 2.0 mini-conference, we will specifically focus on helping library workers thrive in our current uncertain and complex times. We will also explore the "opportunity to reimagine our futures, to renew and adapt our institutions and to craft new stories about who we are and what we value" (United Nations' Human Development Report 2021/2022).
Our special conference chair is Loida Garcia-Febo who, as past president of the American Library Association, focused on workplace wellness areas including continuing education, creating a positive work environment, unions, gender equity, pay equity, and other activities designed to improve the salaries and status of library professionals. We are encouraging conference session submissions that focus on programs and initiatives supporting staff, team, leadership, and organizational health and wellness. Examples of topics that are encouraged include the following, but other related submissions are also welcome:
staff burnout;
trauma support;
mindfulness practices;
civility in ideologically or culturally polarized environments;
quality of work-life;
the "8 Elements of Wellness" defined by ALA-APA: Emotional, Environmental, Financial, Intellectual, Occupational, Physical, Spiritual, and Social (https://ala-apa.org/wellness/).
We look forward to gathering online with you for this event!
About the organizer
Welcome to the Learning Revolution.

The Learning Revolution Project holds online and physical learning events, and highlights professional development opportunities from a network of 200 partners in the learning professions. The great majority of these events are free to attend. We also highlight good conversations about learning taking place between educators, learners, leaders, and others from the school, library, museum, work, adult, online, non-traditional and home learning worlds. The technologies of the Internet and the Web are reshaping when, where, and from whom we learn--and even how we think about learning. As the boundaries of these learning worlds increasingly overlap, we believe these conversations will be critical to framing and preparing for the learning revolution starting to take place.