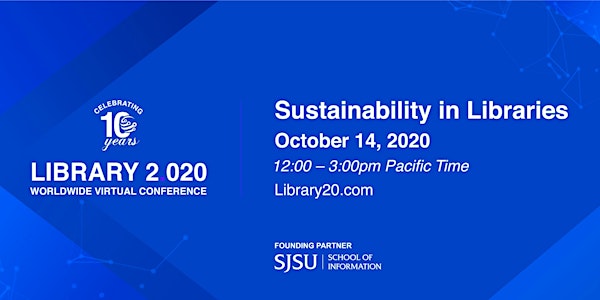 Library 2.020: Sustainability in Libraries
Details to come!
About this event
We're excited to announce our third Library 2.020 mini-conference: "Sustainability in Libraries," which will be held online (and for free) on Wednesday, October 14th, from 12:00 - 3:00 pm US-Pacific Daylight Time (click for your own time zone).
This mini-conference will focus on "Sustainability in Libraries." The event is being organized in partnership with Rebekkah Smith Aldrich (MLS, LEED AP), the Executive Director of the Mid-Hudson Library System. Rebekkah currently serves as the co-chair of the American Library Association's (ALA) Special Task Force on Sustainability, as an advisory board member for the ALA Center for the Future of Libraries. Rebekkah is the co-founder of the Sustainable Libraries Initiative and a founding member of the ALA Sustainability Round Table. Rebekkah was named a Library Journal (LJ) Mover & Shaker in 2010 and writes the LJ Sustainability column. A frequent international speaker on the topic of libraries and sustainability, Rebekkah is the author of Sustainable Thinking: Ensuring Your Library's Future in an Uncertain World and Resilience, part of the Library Futures Series from ALA Editions.Learn more about Rebekkah at http://SustainableLibraries.org.
Everyone is invited to participate in our Library 2.0 conference events, designed to foster collaboration and knowledge sharing among information professionals worldwide. Each three-hour event consists of a keynote panel, 10-15 crowd-sourced thirty-minute presentations, and a closing 30-minute keynote. Register (free) as a member of the Library 2.0 network to be kept informed of future events. Recordings from previous years are available as well as a Library 2.0 YouTube channel.The School of Information at San José State University is the founding conference sponsor.