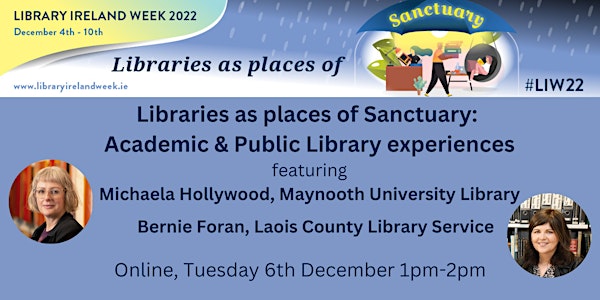 Libraries as places of Sanctuary: Academic & Public Library experiences
Join the Library Ireland Week 2022 Annual Webinar to discover more about academic & public libraries as places of sanctuary.
About this event
To mark Library Ireland Week 2022, and the theme of Libraries as Places of Sanctuary, the LAI is delighted to invite you to its first annual LIW webinar: Libraries as places of Sanctuary: Academic & Public Library experiences featuring Michael Hollywood from Maynooth University Library and Bernie Foran from Laois Libraries who will share their experiences.
About the speakers
Michaela Hollywood is the Engagement & Information Services Librarian at Maynooth University Library. She previously worked as Systems Librarian at Dublin City University and at The University of Roehampton, London. Her particular interests include Equality, Diversity and Inclusion in academic libraries, service innovation, and student experience and engagement. Michaela has been involved in supporting the University of Sanctuary Initiative from a library perspective.
Vanisanne Wesonga is a University of Sanctuary Scholarship student who is in her third-year studying Media Studies and Business at Maynooth University. She recently signed up to be a MU Sanctuary ambassador to help inform others about the Sanctuary scholarships, and also be a mentor to new University of Sanctuary students.
Bernie Foran is the County Librarian for Laois County Library Service with responsibility for the management and development of public library services, Local Studies and Archives in County Laois . Bernie has overseen the capital development, modernisation and upgrading of the Library services throughout Laois over the last number of years resulting in a high quality accessible service for the public . Portlaoise New Library will re-open in 2023 and will be a landmark library for the county. Bernie is a member of Laois County Council Culture team implementing the Creative Ireland Strategy Laois 2018-2022 which has been innovative and very successful in delivering opportunities for people to explore their creative potential locally in Laois. Bernie has overseen and supported the Library of Sanctuary Initiative in Portlaoise making it the only public library of sanctuary in the country.
More speakers to follow.
About Library Ireland Week
Library Ireland Week is the annual celebration of all libraries in Ireland, hosted by the Library Association of Ireland (LAI). It is a week for libraries to celebrate all that they do and the communities they engage with through events, online campaigns and an LAI public competition. Library Ireland Week includes the LAI-CILIP Ireland Library Staff Champion Award recognising inspiring colleagues who work in libraries across the island of Ireland. 2022 marks the first annual LIW Week webinar.
www.libraryirelandweek.ie #LIW22 @LAIonline
www.libraryassociation.ie