Description
Due to the overwhelming response, our "Liberty and Justice for ALL" Gala is now officially SOLD OUT! We are thankful for the support from our sponsors and the community. If you were unable to purchase a ticket prior, but would like to make a donation, please visit here or below. Thank you for making this Gala a success!
Join us on April 28, 2017 at the dLCVF's annual fundraising gala "Liberty and Justice for ALL" at The Place Innsbrook, Glen Allen, Virginia.
Come enjoy an evening of food, music, and live entertainment from
Susan Greenbaum.
We are pleased to announce that Bill Fitzgerald, news anchor for WTVR CBS 6, will be our emcee. Attire for the event is business.
Did you know there are 855,300 people in Virginia of all ages who have at least one disability?
The disAbility Law Center of Virginia (dLCV) helps people with disabilities and their families.
The dLCV also works with communities on issues related to accessibility; housing; education; employment; transportation; medical needs; and monitors institutions serving people with disabilities.
dLCV wants to and can do much more! The dLCV established the disAbility Law Center of Virginia Foundation (dLCVF) to raise funds to help address the needs of more Virginians with disabilities.
We are pleased to announce that Kathy Pryor has been named the recipient of the Darrel Tillar Mason Excellence in Advocacy Award.
This award is presented to an individual or group whose work embodies the spirit of the mission of the disAbility Law Center of Virginia, namely to fight abuse and neglect and to encourage people with disabilities to have choice, independence, and inclusion in all aspects of life. This year, the Foundation chose to honor an advocate who has worked on behalf of elders with disabilities. Ms. Pryor is a staff attorney specializing in elder law at the statewide nonprofit agency Virginia Poverty Law Center and has a career serving the elder community that spans nearly 30 years.
The year we have an exciting opportunity for you to serve as a table host.
What does a table host do?
Help us make new friends...
Invite guests, remind them of time and place, follow-up with them afterwards and thank them for coming.
Build a table of 10 people or a half table of 5 people.
Attend social and look after your guests, help them find the table, seat.
Please be a sponsor! Your sponsorship, tax deductible, of our gala will allow us to continue special projects and promote and protect the rights of people with disabilities in Virginia. Last year's sponsors enabled the dLCV Foundation to fund $12,000 towards special projects.
These projects include producing a video to show people with disabilities how to set-up an advanced directive for their health care, holding special education clinics to educate parents on how to protect their children's rights, and conducting a Coming of Age Conference to help young people with disabilities transition into adulthood.
Susan Greenbaum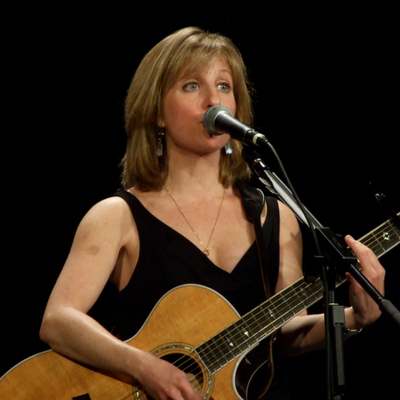 Susan Greenbaum signs her tax return as a singer-songwriter, after having graduated magna cum laude from Harvard University and done her time as a Fortune 500 corporate officer. She has released five CDs; the latest, "This Life," is on Compass Records. Susan has won several national songwriting awards, including the Smithsonian Songwriters' Award, the Philadelphia Songwriters Project, and the Mid-Atlantic Songwriting Contest.
Susan has performed on stages with a wide array of musical luminaries, including shows with Jason Mraz and Sara Bareilles, and as Jewel's opening act on her last major tour. She has been featured twice in Billboard Magazine, and country/Americana music website "Roughstock" calls her "a songwriting talent to be reckoned with," comparing her writing and singing to Mary Chapin Carpenter and Bonnie Raitt. Susan energizes club and concert hall audiences alike with enthusiastic performances reflecting her irrepressibly friendly personality. The most frequently heard comment at her gigs is, "Great songs—and how does all that big, beautiful sound come out of someone under five feet tall?" Find out at http://www.susangreenbaum.com.