Libertarian Party of Tennessee 2014 State Convention - NEW Date

Saturday, March 15, 2014 from 8:30 AM to 5:00 PM (CDT)
Event Details
Schedule

Saturday, March 15th 8:30AM - 5:00PM CST
8:30 – 8:40 Opening Remarks
8:40 – 8:50 Chairman's State of the Party Address
8:50 – 9:40 Treasurer's Report
9:40 – 9:50 Secretary's Report
9:50 – 10:00 Break
10:00 – 11:55 (New Business)
12:00 - 1:00 Break for lunch
1:00 – 5:00 Guest Speakers
Registration at the door will be $60

The morning business session will include selection of delegates for the National LP Convention in Columbus, Ohio in June  2014.

We will endorse all local and state candidates who are running for office as Libertarians in Tennessee. Any candidates are also welcome to speak. We are also inviting all declared candidates who are seeking the Libertarian Party nomination to speak during the afternoon session. Speakers and a detailed agenda will be announced when available.

Please make your reservations early. We will need to finalize the meal arrangement with the hotel a couple of weeks before the convention.
Afternoon Speakers
Key Note Speaker: Gary Johnson - 2012 Libertarian Presidential Candidate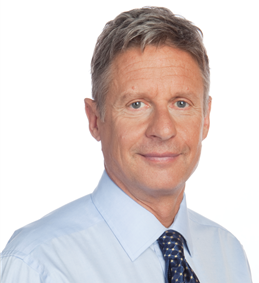 ABOUT GARY JOHNSON
Gary Johnson, who has been called the 'most fiscally conservative Governor' in the country, served two consecutive terms as  Governor of New Mexico from 1995-2003. Governor Johnson brings a distinctly business-like mentality to governing, believing that public policy decisions should be based on costs and benefits, rather than strict ideology.
HISTORY & FAMILY
A successful businessman before running for Governor of New Mexico in 1994, Gary Johnson started a door-to-door handyman business to help pay his way through college. Twenty years later, he had grown that business into one of the largest construction companies in New Mexico, with more than 1,000 employees. Not surprisingly, Governor Johnson brings a distinctly business-like mentality to governing, believing that decisions should be made based on cost-benefit analysis rather than strict ideology.
Johnson is best known for his veto record, which includes over 750 vetoes during his time in office, more than all other governors combined. His use of the veto pen earned him the nickname "Governor Veto." He cut taxes 14 times while never raising them. When he left office, New Mexico was one of only four states in the country with a balanced budget.

Term-limited, Johnson retired from public office in 2003. An avid skier, adventurer, and bicyclist, he has climbed the highest peak on five of the seven continents, including Mt. Everest.

In 2009, becoming increasingly concerned about the country's out-of-control national debt and precarious financial situation, the Governor formed the OUR America Initiative, a 501(c)4 non-profit organization that promotes fiscal responsibility, civil liberties, and rational public policy. He traveled to more than 30 states and spoke to more than 150 conservative and libertarian groups during his time as Honorary Chairman.

In the 2012 presidential election, Johnson garnered more votes than any other Libertarian candidate in history. He has two grown children --  a daughter Seah and a son Erik, and currently resides in a house he built himself in Taos, New Mexico.
Geoffrey J. Neale- National Libertarian Party Chair
Geoffrey Neale served as Chair for the Libertarian Party from 2002 to 2004 and was re-elected to Chair in May 2012. He was a member of the Libertarian National Committee for five terms and served two 2-year terms as the state chair for the Texas Libertarian Party.
During his 30-years of Libertarian Party activism, Geoffrey Neale has served on numerous platform and by-laws committees where he worked to ensure that the LP stays true to the party's principles of freedom, small government, a non-interventionist foreign policy, and civil liberties.
In stark contrast to the top-down management of the Democratic and Republican parties, Geoff Neale ran for Chair on a promise to focus the Libertarian National Committee on the needs and wants of party members; to make operations appropriately transparent to members; and to conduct LNC meetings in accordance with the party's bylaws.
While serving as a private sector insurance executive, Chair Geoff Neale was a bold and unapologetic advocate for withdrawing U.S. troops from foreign entanglements, ending the Federal Reserve, and advancing liberty.
Geoffrey Neale was the Operations Manager for the 2004 Michael Badnarik Libertarian for President campaign, and served as an officer for a 1980 California initiative to restrict the sales tax. In 1988, Neale worked with the Ron Paul Libertarian for President campaign.
Sharon Harris- President Advocates for Self Government
Sharon Harris serves as the President of the Advocates. An award-winning speaker, she also conducts our communication training seminars and administers our guest speaker program. Sharon has been active in the libertarian movement for more than 30 years, including running campaigns and running for office herself.
Michael Maharrey - National Communications Director The Tenth Amendment Center

Hailing from Lexington, Ky., he's extremely proud that his home state originated the Principles of '98 laying the groundwork for state nullification of unconstitutional acts, and he's the author of Our Last Hope - Rediscovering the Lost Road to Liberty, a historical, philosophical and moral case for nullification.
When & Where

Embassy Suites Nashville SE - Murfreesboro
1200 Conference Center Boulevard
Murfreesboro, TN 37129


Saturday, March 15, 2014 from 8:30 AM to 5:00 PM (CDT)
Add to my calendar
Organizer
Libertarian Party of Tennessee
Libertarian Party of Tennessee 2014 State Convention - NEW Date