Libertad Bajo Palabra: Censorship, Satire & the Press in Mexico

Thursday, May 1, 2014 from 9:00 AM to 6:00 PM (PDT)
Event Details
"Libertad Bajo Palabra: Censorship, Satire and the Press in Mexico"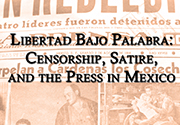 Date: Thursday, May 1
Time: 9 a.m. - 6 p.m.
Location: UC San Diego, The Village West (building two), Meeting Rooms on 2 (ground level)
Open to: Public
If a free press and a free society go hand in hand, by most accounts for most of its recent history Mexico has had neither. During the 20th century, as the story goes, the Partido Revolucionario Institucional (PRI) famously developed a panoply of tactics to produce a docile press, balancing the carrots of lucrative government advertising and cash-stuffed envelopes slipped to journalists against the cudgels of censorship and the lurking threat of violence.
Most commentators tend to think of the 20th century Mexican press as something of a journalistic eunuch, self censoring and obediently toeing the party line. In recent years, almost endemic violence against journalists reporting on the drug trade has seemingly darkened the outlook for Mexico's press.
Looking beyond the headlines of Mexico City's major papers, however, it has become increasingly clear that the relationship between the government, the press and the public was and is far more complex than previously thought and that the challenges facing journalists today are being met with courage and innovation.
This conference brings together papers that will enrich our understanding of both the past and the present of Mexican journalism, from the experience of the PRI regime to the process of democratization and the contemporary specter of narcoviolence. Contributors will explore how the press has functioned as a more open space for critique than commonly believed, examining the codes, negotiations and strategies that have enabled open expression, as well as offering new discussions of the nuanced mechanisms of official control and censorship.
Bringing together academics and journalists from both sides of the border, this conference seeks to expand our understanding of what a free press has meant to Mexico during the 20th and 21st centuries in four sessions: "The Press and the Public Sphere," "The PRI and the Press," "Perspectives on Censorship and Democratization," and a final roundtable discussion on censorship, democracy and contemporary challenges.
View the full conference agenda with schedule and speakers.
On Wednesday, April 30, Alfredo Corchado, Mexico bureau chief at the Dallas Morning News and author of "Midnight in Mexico," will be giving the keynote address to open the conference. Find more information on and register for Corchado's talk here.
The full list of participants will be posted once confirmed.
A reception will follow the conference at 6 p.m.
View the map for directions and parking instructions. Note the event is in building two on the ground level. There will be signs posted to give direction during the day of the event.
Please contact Lisa Lee for event information.
When & Where

UC San Diego
The Village West, Building Two
Scholars Drive North
La Jolla, CA 92037


Thursday, May 1, 2014 from 9:00 AM to 6:00 PM (PDT)
Add to my calendar
Organizer
Center for U.S.-Mexican Studies
Libertad Bajo Palabra: Censorship, Satire & the Press in Mexico