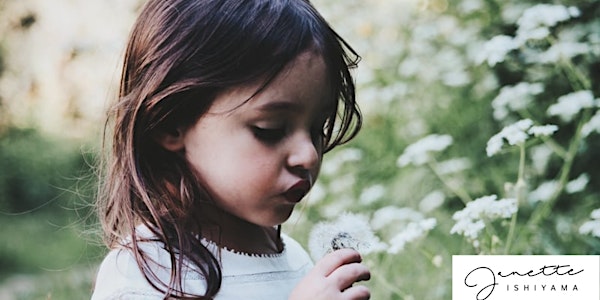 Liberating The Inner Child
Liberating The Inner Child
Refund Policy
Contact the organiser to request a refund.
Eventbrite's fee is nonrefundable.
About this event
LIBERATING THE INNER CHILD - Pre -recorded Workshop
If we are to create a new reality for humanity that is built on love and peace then we need to wholeheartedly achieve love and peace within ourselves. Inner child work liberates the adult and this is the first step to reaching unity consciousness. As we each move a step closer to self-mastery we simultaneously move closer to unity consciousness.
Our previous two workshops on narcissism and codependency have helped us arrive at this workshop which is about liberating the inner child.
The reason I chose to deliver these workshops in this flow was to help us better understand the programs that others had been running which we had on some level installed into the background of our operating system.
By bringing our conscious awareness to these programs I have been trying to help you become a conscious observer so you can see these events from a detached and higher place. This will help us forgive and move on with our lives.
The final piece to forgiveness is to now go back and liberate your inner child by sending it pure LOVE and JOY. Now you will be able to forgive because you see the programs that have plagued your lineage and ancestral line. There is no one to blame, nothing to defend, nothing to hide, and nothing to prove.
Now we move into acceptance and release by choosing to forgive. As we do this we move into unity consciousness within ourselves which ultimately impacts unity consciousness for all.
This has been my journey for the past two years and I share it with you with the hope it will help you move on and arrive at a place of peace, love, and acceptance.
In our one hour online workshop I will mentor you through your guidebook as you:
Quiz - is your wounded inner child still in the driver's seat of your life (pre-workshop)
Learn how your unacknowledged inner child is impacting your emotions and experiences as an adult.
Let go of the blame game and the emotions your inner child was taught to repress.
Discover the critical connection between your first chakra and your inner child.
Uncover the core needs of the inner child so you consciously re-parent the child within and prevent repeating these patterns with your children.
Get ready to commit to self-care practices to harness the inner child joy and innocence that are your birthright.
Liberate your inner child by writing her a loving letter as you take a trip down memory lane - prompts provided (post-workshop )
______________________________________________________________________________________________
FREQUENTLY ASKED QUESTIONS
1. Can I purchase this workshop from your website or just via Eventbrite?
You can purchase this workshop from both options. Here is the link to our website where you can order it directly.
https://www.janetteishiyama.com/product/liberating-the-inner-child/
2. Is there a guidebook provided?
Yes. A comprehensive guidebook is provided which we refer to during our workshop.
3. Is this an on-line event?
No. This is a pre-recorded workshop during a past live event. Once you make payment, you will be emailed our 1 hour workshop along with our comprehensive guidebook.
4. Is this for women only?
No, this soul session is open to all of humanity.
5. Is this ticket refundable?
No, there is no refund.
6. What subject matter will be discussed?
This month we will be addressing how to liberate the inner child.
Each month a different topic will be addressed, designed to empower you so you can live a life that is authentic and aligned to who you were created to be.
Topics will include but not limited to
shadow work
inner child work
self love
karmic relationships
setting boundaries
the awakening journey
inner work
how to work with energy
removal of conditioning and programming
consciousness
christ consciousness
the importance of stillness and silence
transcending the 3D construct
spirituality
new earth
parenting the star children (if applicable to the audience)
chakras
food for awakening
signs for an awakening
how to live in the flow
align your mind, body, and spirit
Narcissism
Co-dependency
Trauma Bonding
Healing the mother and father wound
7. What are Janette's area of expertise?
Energy Medicine, Feng Shui, Reiki practitioner, and Personal Development Mentor . I have spent the last 13 years in a teaching and training capacity and have lead thousands of soul-inspired conversations with clients. In 2019, I published a book called, "The Rise Of The Empowered Woman - 7 Step Quest": https://www.amazon.com/Janette-Ishiyama/e/B07NHHGCMD
______________________________________________________________________________________
MY BACKGROUND
On the 03.03.19 at 2.30 am, spirit came to me and said;
"Don't be afraid, you are a Palmer"
How did I know if what spirit said was true?
Because it spoke directly to my soul and not my ego. God has a plan for my life.
For so long I have been a teacher and healer but I'd never thought of myself this way until clients started saying, "Thank you, Janette, you were so good for my soul", "I always feel better after I've spent time with you".
Before spirit joined me on my awakening journey, I felt separate and disconnected from myself, mother earth and the world around me.
My journey back to myself began in February 2018 and amplified in September 2018 when I experienced a spontaneous kundalini awakening.
This experience sent me into a spiral. It forced me to go within and really look at all of my parts and to finally deal with my childhood trauma so I could finally heal my inner child.
Waking up was a tough and challenging experience. I had to release my ego self and come to terms with childhood wounds that I left buried for so long to maintain the status quo and appease others.
I HAD TO DO THE SHADOW WORK to release old stories, limiting beliefs and programs that had been holding me back for so long.
As a way-shower, God and my angels are asking me to share my light and lessons so together we can expand our consciousness, find balance within so we can move to unity consciousness.
These sessions are for you if you're:
feeling as though your life is false
craving for meaning and purpose
feeling anxious and fatigued
feeling like your inner work has surpassed your family
beginning to ask deep questions
realising that a lot of what you've been taught is a lie
feeling lost and alone
wanting to 'purge' your life
becoming aware of your old negative habits
wanting to deeply understand who you are
experiencing relationship troubles, unexpected life changes, health issues, a loss of a job
As your spiritual mentor, I will help guide you to your truth so you can live in the light, one spiritual step at a time.
By sharing my wisdom in my special way with those who are ready, I am helping my soul tribe rise vibrationally so they too can walk their chosen path and rediscover their birth promise.
It's time to be the person God has created you to be, the person the world is waiting for.