Liberating Structures: Stop Unproductive Meetings, Start Producing Dramatically Better Results

Wednesday, January 21, 2015 at 9:30 AM

-

Thursday, January 22, 2015 at 3:30 PM (PST)
Event Details
Have you ever been to unproductive and boring meetings that never seem to make any progress?
Do you feel like you and your team could be getting better results?
Does your organization need to be more innovative, but you're not sure how to make that happen?
Liberating Structures will help.
---
Liberating Structures dramatically improve the way your team works together. By making tiny shifts in the way you meet, plan, decide, and relate to one another, you will notice more participation and trust developing within your team.
Conventional structures are too inhibiting! Presentations, status reports, and managed discussions are KILLING your team's potential, and open discussions and brainstorms are disorganized and unproductive.
Liberating Structures are easy-to-learn microstructures that help you and your team live up to your fullest potential.
Here's what you get in this two day, beginner friendly, roll-up-your-sleeves immersion workshop:
Day 1: Get comfortable and confident using the most powerful and versatile Liberating Structures. 9:30am - 3:30pm
Day 2: Deepen understanding of how to use Liberating Structures in our work and personal lives to achieve better than expected results. 9:30am - 3:30pm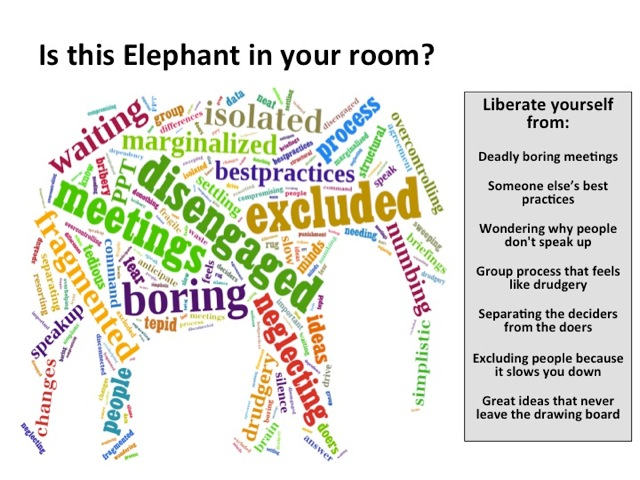 "I heard from some of our introverted team members after the meeting. They appreciated the way the tools encouraged their participation. What a fun methodology to gather input from those who might not otherwise participate or feel listened to!" - Laura P.
Using Keith, Zac, and Fisher's unusual blend of experiential education and emphasis on practical applications, you will learn how to:
Respond with agility to the surprising twists and turns of innovation efforts

Eliminate counter-productive behaviors to make space for innovation

Liberate and enliven meetings

Stop separating the deciders from the doers

Quickly develop strategy without excluding people

Find alternatives to forcing top-down "best practices" initiatives

Design inspired user research & customer interactions

Bootstrap a culture of innovation
"We have a great organization, and you guys were wonderful. I can't wait until the next training. Liberating Structures will take over, making our organization even better! Sorry, I think I drank the Liberating Structures Kool Aid..." - Lisa, H.
To improve your organization, you need to make changes. To take those innovative leaps, you MUST change. And to make change, you need to know the STRUCTURES that enable change. So invite anyone you know who wants to improve their team's efforts.
This workshop isn't for everyone. If you aren't open to change, and if you aren't open to learning new ways of innovating, this workshop is not for you. But if you are, we know your colleagues, teammates, collaborators, and friends will benefit too.
Bring your challenges to us. We will help you with them. We will help you with your product. Your policy. Your portfolio. Most importantly, we will help with your PROCESS. We will be using your real-life challenges whenever possible. You will make serious headway in generating better results.
"I work as a Business Systems Analyst and am involved in a ton of meetings. I, like most others have left many meetings thinking that we didn't accomplish anything. I believe the tools I learned today will help me get more out of the meetings I facilitate and hope to be a resource for others wanting to make their meetings more successful." - Shelly U.
Additional Details:
Refreshments and lunch will be provided.
Parking is available. 
You will also receive the Liberating Structures book: "The Surprising Power of Liberating Structures: Simple Rules to Unleash a Culture of Innovation" free with attendance. This definitive book will remind you how to use what you've learned, introduce you to advanced elements and applications of the LS repertoire, and explore the science behind Liberating Structures.
We have a few scholarships available for those that need financial assistance. If you work for a small non-profit, community organization, or are otherwise making your own way to the workshop, contact us and lets talk.
Questions? Contact Fisher Qua (fisher@back-loop.com), 206-734-7385
When & Where

Swedish Cultural Center
1920 Dexter Ave N
Seattle, WA 98109


Wednesday, January 21, 2015 at 9:30 AM

-

Thursday, January 22, 2015 at 3:30 PM (PST)
Add to my calendar
Organizer
Keith McCandless + Fisher Qua
Keith McCandless:
Co-founder of the Social Invention Group; Co-developer of Liberating Structures, Co-author "The Surprising Power of Liberating Structures – Simple Rules to Unleash a Culture of Innovation" (2014). Former Plexus Institute board member and scientific advisor.
I help people in organizations innovate and manage complexity by working with groups to unleash creativity, discover opportunities, and build on momentum. I am a founding partner of the Social Invention Group since 2000, and my eclectic skills are grounded in organization development, complexity science, business strategy, and graphic facilitation—all with an improvisational twist.
Born in Cincinnati Ohio, I hold Masters in Management of Human Services from Brandeis University in Boston and a BA from Evergreen State College in Olympia, Washington. Keith lives in Seattle with his wife, Anne, and Deacon, a whippet with talent to amuse.
Fisher Qua:
Practitioner, Back Loop Consulting
Eclectic background in history, modern dance, athletics, community farming, and 

nonprofit/higher education administration and 

management

Previously led innovation initiatives at the 

Washington Health Foundation

Currently works with organization's of all stripes 

from community-based neighborhood initiatives to 

technology startups to the State of WA and other 

large scale enterprises

BA from Bates College in Lewiston, Maine, (almost) 

an MA in Higher Education Administration from the 

University of Michigan and an M.Ed. in Intercollegiate 

Athletic Leadership from the University of 

Washington
Liberating Structures: Stop Unproductive Meetings, Start Producing Dramatically Better Results