Liberating Structures: Leading by Including & Unleashing Everyone (Part II)

Thursday, October 18, 2012 from 8:15 AM to 4:30 PM (PDT)
Event Details


Leading by Including & Unleashing Everyone
Main Event: Thursday, October 18th, 2012  8:15 AM to 4:30 PM
 + Workshop #1 redux October 17th 1:15-4:30pm
Plaza Building, 2nd Floor Conference Room
600 Stewart St, Seattle, WA 98101
•   What if everyone in your group or organization could move rapidly from novice-to-experienced innovators?
•   What if novices could make contributions much bigger and better than predicted by experts?
•   And what if including everyone could make it simple to implement, spread and sustain innovations?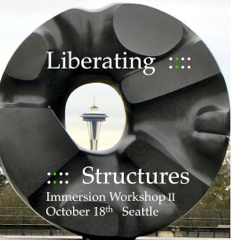 Liberating Structures draw out social inventiveness and self-organization. They have been introduced successfully, used widely, and spread quickly in many settings, languages, and countries. Inspired by complexity science, they require minimal structuring while liberating maximum creative adaptability. Micro-structural constraints enable more freedom AND more responsibility. 
In this session you will be introduced to how Liberating Structures work and immediately apply them to a challenge at hand. The workshop is the second of a series to be held in Seattle. Keith McCandless is the primary presenter joined by Henri Lipmanowicz (LS co-developer) for this session.
In this roll-up-your-sleeves immersion workshop, you will learn and immediately practice 10-12 Liberating Structures. A practical understanding of most individual LS microstructures can be developed in less than one hour each. This is enough to go out and try them in operational settings with little risk. LS users act their way into new thinking rather than thinking their way into new acting.
Examples of use in business, NGOs, healthcare, philanthropy, and schools will be shared.  The workshop is designed for change leaders of all stripes from the front line to the C-suite. Participation in pairs or small teams helps dramatically with getting started post-workshop. Special Guests have been invited to share their "on the ground" LS experience with teams, units, organizational transformations, and community movements.
Workshop #1 featured microstructures that liberate everyday meetings and routine interactions.  Workshop # 2 will introduce microstructures that liberate big projects and initiatives involving many people in widely distributed locations (e.g., action research, innovation prototyping, and launches of new products/services).
Including and Unleashing Everyone

Routine Interactions (October 17th)

 * If you missed wksp # 1

Including & Unleashing Everyone

Big Projects (October 18th)

Prototyping, Research Initiatives, and Launches

Impromptu Networking

Min Specs

1-2-4 All

Simple Ethnography

15% Solutions

Wise Crowds

Troika Consulting

User's Experience Fishbowl

Nine Whys

Social Network Mapping

Generative Relationships

Improv Prototyping

TRIZ

TRIZ

Wicked Questions

Drawing Together

Design StoryBoards

Design StoryBoards

What³ Debrief

Discovery and Action Dialogue

Helping Heuristics

Shift and Share

+ Liberating Workflow

Appreciative Interviews
We will build on the learning in Workshop # 1 as we dive into work involving more people and broader goals in session # 2.  If you have an interest in a ½ day introduction or workshop #1 redux for routine interactions, sign up for the afternoon of October 17th.
Please invite your friends and colleagues. For groups of 5 or more, please contact Keith or Fisher regarding potential discounts. 
We also have a limited number of need-based scholarships available. Please reach out if you would like to access one. 
Working groups can make very fast progress applying LS to the challenges at hand. 
When & Where

Plaza Building - 2nd Floor Conference Room (Suite 200)
600 Stewart St
Seattle, WA 98101


Thursday, October 18, 2012 from 8:15 AM to 4:30 PM (PDT)
Add to my calendar
Organizer
Keith McCandless + Fisher Qua
Keith McCandless:
Co-founder of the Social Invention Group; Co-developer of Liberating Structures, Co-author "The Surprising Power of Liberating Structures – Simple Rules to Unleash a Culture of Innovation" (2014). Former Plexus Institute board member and scientific advisor.
I help people in organizations innovate and manage complexity by working with groups to unleash creativity, discover opportunities, and build on momentum. I am a founding partner of the Social Invention Group since 2000, and my eclectic skills are grounded in organization development, complexity science, business strategy, and graphic facilitation—all with an improvisational twist.
Born in Cincinnati Ohio, I hold Masters in Management of Human Services from Brandeis University in Boston and a BA from Evergreen State College in Olympia, Washington. Keith lives in Seattle with his wife, Anne, and Deacon, a whippet with talent to amuse.
Fisher Qua:
Practitioner, Back Loop Consulting
Eclectic background in history, modern dance, athletics, community farming, and 

nonprofit/higher education administration and 

management

Previously led innovation initiatives at the 

Washington Health Foundation

Currently works with organization's of all stripes 

from community-based neighborhood initiatives to 

technology startups to the State of WA and other 

large scale enterprises

BA from Bates College in Lewiston, Maine, (almost) 

an MA in Higher Education Administration from the 

University of Michigan and an M.Ed. in Intercollegiate 

Athletic Leadership from the University of 

Washington
Liberating Structures: Leading by Including & Unleashing Everyone (Part II)