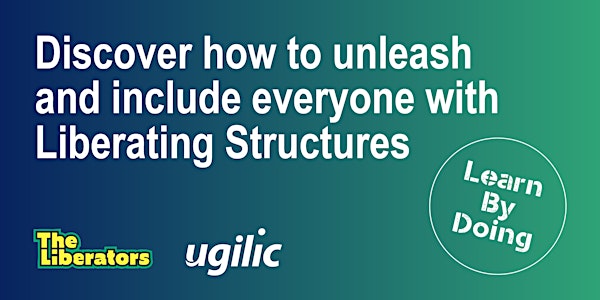 Liberating Structures Immersion Workshop: Unleash a culture of innovation
Location
KPH Volume
Enghavevej 80
2450 Copenhagen
Denmark
Learn to unleash innovation with the simple rules of Liberating Structures.
About this event
Learn to unleash innovation with the simple rules of Liberating Structures. A set of playful and effective facilitation techniques that will enable you to lead smaller and larger groups towards a common goal.
Join us for a 2-day Immersion Workshop and experience over 20 different Liberating Structures.
About Immersion Workshops
Immersion Workshops are designed to let you learn by doing. Each workshop is facilitated by a Design Team of between 2 and 4 people. They are purposefully intense, fun, and inspiring. Immerse yourself and discover how they enable groups to work at the top of their intelligence.  
Design Team
Immersion Workshops are always facilitated by a mix of experienced and beginning facilitators. You get to experience different styles of facilitation and see that Liberating Structures can be used by anyone, regardless of their experience.
The Design Team for this workshop consists of Christina Mumm from LEGO, Xhenisa Xhakollari from Bestseller, Rikke Kornby & Barry Overeem
Rikke is co-owner of Ugilic and works as an Agile Coach and Trainer at Ugilic. Barry is co-founder of The Liberators and an active member of the global Liberating Structures community. Together, we work hard to spread it far and wide. This event is organized by Ugilic and The Liberators.
Tickets & Venue
Tickets include lunch for both days and free drinks and bites throughout the day. A vegetarian and vegan option is available.
About Liberating Structures
Liberating Structures offer a revolutionary solution to collaboration in groups. Invented by Henri Lipmanowicz and Keith McCandless, Liberating Structures are a set of microstructures (33 at the moment) that use a handful of simple rules to unleash and involve everyone - no matter the size of the group. The picture below shows what it looks like when people are fully engaged - something that Liberating Structures make possible.
Questions & Answers
Can I pay by invoice? Booking through Eventbrite is simple, safe and fast. You receive a valid invoice after your purchase. This simplicity allows us to offer tickets through Eventbrite for a price that is 10% cheaper. However, if you need to pay by invoice, we can send you a manual invoice for the regular price instead. Please contact us and let us know the name of your company, the address, a purchase order (when relevant) and the VAT-number when your company is EU-based. 
Can VAT be reverse-charged? Unfortunately, no. Tickets for public events are exempted from VAT reversal. We effectively pay the VAT for you. You can reclaim the VAT from your invoice through your local tax agency.
More reading