Liberating Structures for Agilists - (Agility Today 2021 Special)
Achieve full engagement, high impact and psychological safety in your Agile events for remote teams. Design them with Liberating Structures
About this event
**Special prices for Agility Today 2021 un-conference participants
If you are not attending Agility Today un-conference, please register at the General Admission price.
This workshop will help you re-think your strategy for effective training and Agile workshops facilitation online. No more Zoom-fatigue in your Scrum events!
Prepare to roll up your sleeves and learn by doing:
Experience the most current adaptations of Liberating Structures, collaborate and build connection with other participants in Zoom breakout rooms, then gain practical insights into designing your own workshops in Liberating Structures Design Jam using Mural boards and Mentimeter.

Who is this training for?
Scrum Masters. If you've taken CSM class in 2020, this workshop is a must! It will help you improve engagement and facilitate Scrum Events like a pro.
Product Owners and Product Managers.This workshop will bring a new perspective and systems thinking into your Product Backlog and Portfolio Management.
New and experienced Agile Coaches. You will find new ways to facilitate large events with multiple teams and connect with the stakeholder in a brand new way.
UX Designers and Design Thinking practitioners. This will give you new tools to add to your Design Sprints and help you better know your users.
Leaders, who want to enable innovation and create robust strategies.
Facilitators, looking to bring energy and impact to large online meetings they facilitate.
What's in this workshop?
9 hours of learning (2 days of synchronous hands-on work - 4 hours each day with plenty of breaks + 30 min of individual pre-work/homework between the sessions).
10 Liberating Structures from the collection of 33+ Liberating Structures Library created by Keith McCandless and Henry Lipmanowicz.
Up to 16 workshop design opportunities on topics of your choice in a LS Design Jam Open Space. You will collaborate with others, design it in class, get feedback from your trainer and bring back a re-imagined design for your next Agile meeting, Scrum event, PI Planning or a leadership off-site.
We will collaborate in Zoom breakouts and will use Mural, Mentimeter as well as physical pen and paper.
Class is limited to 16 participants. Save your spot now!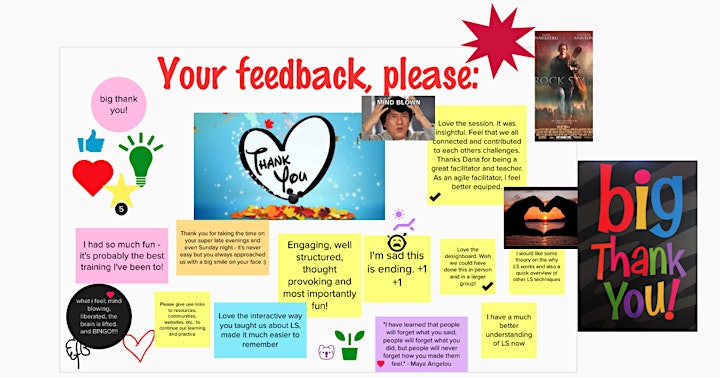 What others say about this training
"Dana is a wonderful trainer and facilitator who crams a lot of value into her workshops leaving you with lots more to research and try out!"
"I am excited to try it out, so best success indicator of the training. THANK YOU"
"Really excellent workshop, lots of tools that I look forward to applying"
"Dana changed my behavior. I will be using video on all calls from now on"
"If you're a coach or Scrum Master finding that your online sessions aren't working so well or are stuck in a rut running the same old formats again and again, Dana's "Agile Facilitation/Training – Virtual Edition" course is likely to be the boost to your facilitation toolkit that you need. Dana has figured out lots of clever tricks to use tools such as Zoom, Mural and Mentimeter to create highly engaging collaborative workshops and training. Even better, you'll gain techniques for many of the rich Liberating Structures in the virtual world. You even get to design workshops that string several structures together to achieve surprising results. I took many small and large techniques away from this course that I'll be applying straight away."
Organizer of Liberating Structures for Agilists - (Agility Today 2021 Special)
As an Agile/DevOps coach and trainer with over 20 years of diverse experience in IT, I bring unique perspective and stories "from the trenches". I've had an opportunity to work with co-located and distributed teams in US, Canada, Ireland, Japan, UK, India and Russia, and can share with you their distinct challenges, successes and effective practices. 
In the last 4 years, I trained over 2000 people, coached 30 + teams and delivered workshops and lectures at 50 conferences in 15 countries. I am actively involved in Agile community in various roles as a volunteer, reviewer, track chair, program chair and conference chair. I am the founder of Big Apple Scrum Day conference and NYC Liberating Structures meetup in NYC.
I am an educational games designer and author – check out my "Introduction to DevOps with Lego, Chocolate and Scrum" book published by Apress, "Self-selection game" on Leanpub and "Fear in the Workplace" game on The Gamecrafter.
My list of certifications includes:
 Certified Professional Co-Active Coach (CPCC) by Co-Active Training Institute
Associate Certified Coach (ACC) by International Coaching Federation
ICAgile Certified Professional - Agile Coaching (ICP-ACC), 
Scrum Alliance:
Certified Enterprise Coach® (CEC), Certified Scrum Professional® (CSP), Certified Scrum Master® (CSM), Certified Scrum Product Owner® (CSPO)
Certified Trainer, Training from the Back of the Room (TBR-CT), 
Certified LeSS Practitioner, Certified Practitioner Scrum@Scale, 
Kanban Management Professional, Lean Kanban University