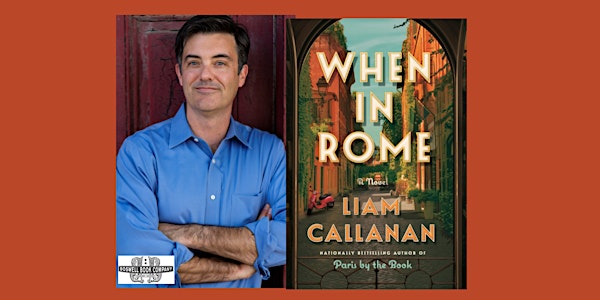 Liam Callanan, author of WHEN IN ROME - an in-person Boswell event
Liam Callanan, author of WHEN IN ROME - an in-person Boswell event
When and where
Location
Boswell Book Company 2559 North Downer Avenue Milwaukee, WI 53211
About this event
Boswell Book Company hosts an evening with Liam Callanan, author of When in Rome.
Meet Claire: fifty-two, desperate to do something new and get a fresh start. Enter the chance to go to Rome: Home to a struggling convent facing a precipitous end, the city beckons Claire, who's long had a complicated relationship with religion, including a "missed connection" with convent life in her teens. Once in Rome, she finds a group of funny, fearless nuns in a gorgeous villa, beautiful runs throughout a color-saturated city, and a chance to reflect. It all leads her to an unexpected question: should she join the convent? The answer startles her as much as it does those closest to her. A novel about faith and love, this is the thoroughly charming story of one woman who sets out to rewrite her past and future, only to be surprised by the plot twists life plants... when in Rome.
From Lauren Fox, author of Send for Me: "When in Rome is a love story, a tug-of-war between fate and faith, and Claire is its funny, thoughtful, searching guide... I happily followed her through the winding streets of Rome, and I'd go anywhere else she'd care to take me." And here's Daniel Goldin's take: "I love traditional family stories and also ones about found family, and one thing that's great about When in Rome is that I get both in one. But most of all, there's that setting. After reading When in Rome, I can't imagine someone not wanting to book a flight to Italy posthaste. Callanan brings the city to sparkling life, not just the well-known buildings (ruin or otherwise), statues, and fountains, but equally the lesser-known streets and neighborhoods. Even graffiti becomes romantic. It's the perfect setting for this engaging and heartfelt novel."
Liam Callanan's novel Paris by the Book won the 2019 Edna Ferber Prize, and his first novel, The Cloud Atlas, was a finalist for an Edgar Award. Liam's work has appeared in The Wall Street Journal, The New York Times, and The Washington Post. He is Professor of English at UWM and has also taught for the Warren Wilson MFA program for writers.
Click here to order your copy of When in Rome. Signed copies and personalization available on pre-orders. Please note that signed copies will not be shipped until after the event.